7 dead after a devastating medicane in Algeria, Tunisia and Italy! 320 mm of rain in Linguaglossa, Sicily, 246 mm in Ain Benian, Algeria and 136 mm in Kalaat Andalous-Ariana, Tunisia!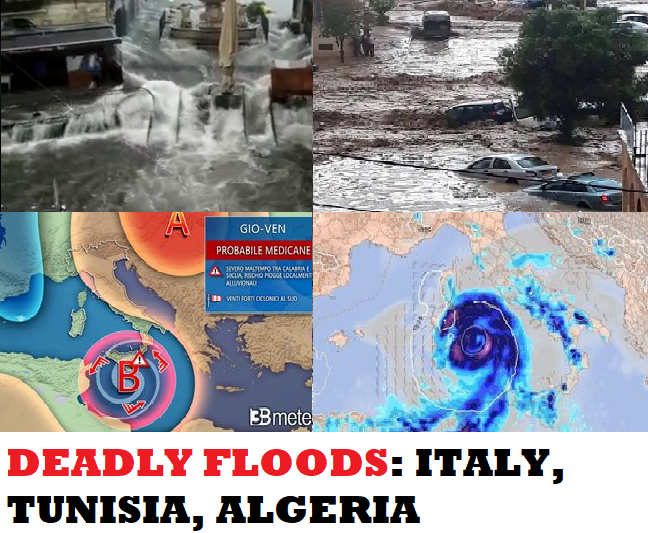 About extreme floods in Spain and Algeria from the Mediterranean low, we were informed already in the previous article /https://mkweather.com/floods-in-algeria-and-spain-the-mediterranean-low-is-shifting-above-tunisia-italy-and-libya//.
The system at the weekend and early this week strengthened into a medicane of colossal impacts and has become deadly.
3 deaths were reported from Tunisia, 2 from Algeria, and 2 from Italy, after anomalous amounts of rainfall flooded many cities and rural regions.
The heaviest rainfall was reported from Linguaglossa, Sicily, where on Sunday, 24. October, 320 mm fell in 18,5 hours /https://eswd.eu/cgi-bin/eswd.cgi/.
Catastrophic videos from Sicily immediately flooded the internet – in some places, floodwater was 1,5-meters high, high almost as cars and people had to save their lives in its streams.
The extreme situation was reported too from parts of Algeria, including the capital – Algiers. In Ain Benian in Algiers province, 246 mm was measured during an event, which is 5-times more than the average monthly rainfall for October.
Kalaat Andalous-Ariana, Tunisia reported on Sunday 136 mm of rain, after medicine hit the northern and eastern coast of the country.
Medicane is a product of the collision of extremely cold Arctic air above northern Europe (in Sweden, -24,6°C – the lowest October temperature in Scandinavia since 2006 was measured: https://mkweather.com/scandinavia-with-the-coldest-october-temperatures-since-2006-nattavaara-sweden-246c/) and upcoming heatwave in southern and central parts of the continent (+33°C in Spain, +30°C in France, +25°C in Germany or even +28°C in Ukraine is possible: https://mkweather.com/november-heatwave-hits-europe-germany-25c-france-30c-spain-33c/; https://mkweather.com/any-extreme-frosts-ukraine-romania-or-serbia-with-abnormal-28c-around-5-november/).
In late October and November are medicanes already relatively rare – their activity is strongest from late August to early October, cold Arctic air is shifting above very warm Mediterranean seas.
Winter 2021/2022 forecast count with the next possibility of Mediterranean lows in late November, December and early January 2021-2022, maybe in some period in February 2022, too /https://mkweather.com/winter-2021-2022-forecast-chances-for-white-christmas-2021-are-higher-than-usual-a-hope-for-nao-and-return-of-winter-conditions-in-february/; https://mkweather.com/winter-2021-2022-forecast-extreme-frosts-in-eurasia-in-december-in-north-america-in-february-early-canadian-stratospheric-warming-ne-pacific-blob-la-nina-qbo-and-shift-from-nao-to-nao-such-le/; https://mkweather.com/winter-2021-2022-forecast-for-europe-early-extreme-arctic-and-siberian-blasts-and-blizzards-late-dry-and-very-warm-conditions/; https://mkweather.com/winter-and-summer-2021-2022-forecast-for-africa//.