COVID-19: Autumn 2020 versus Autumn 2021 – Eastern Europe with very bad predictions for Winter season 2021/2022, Western Europe will be better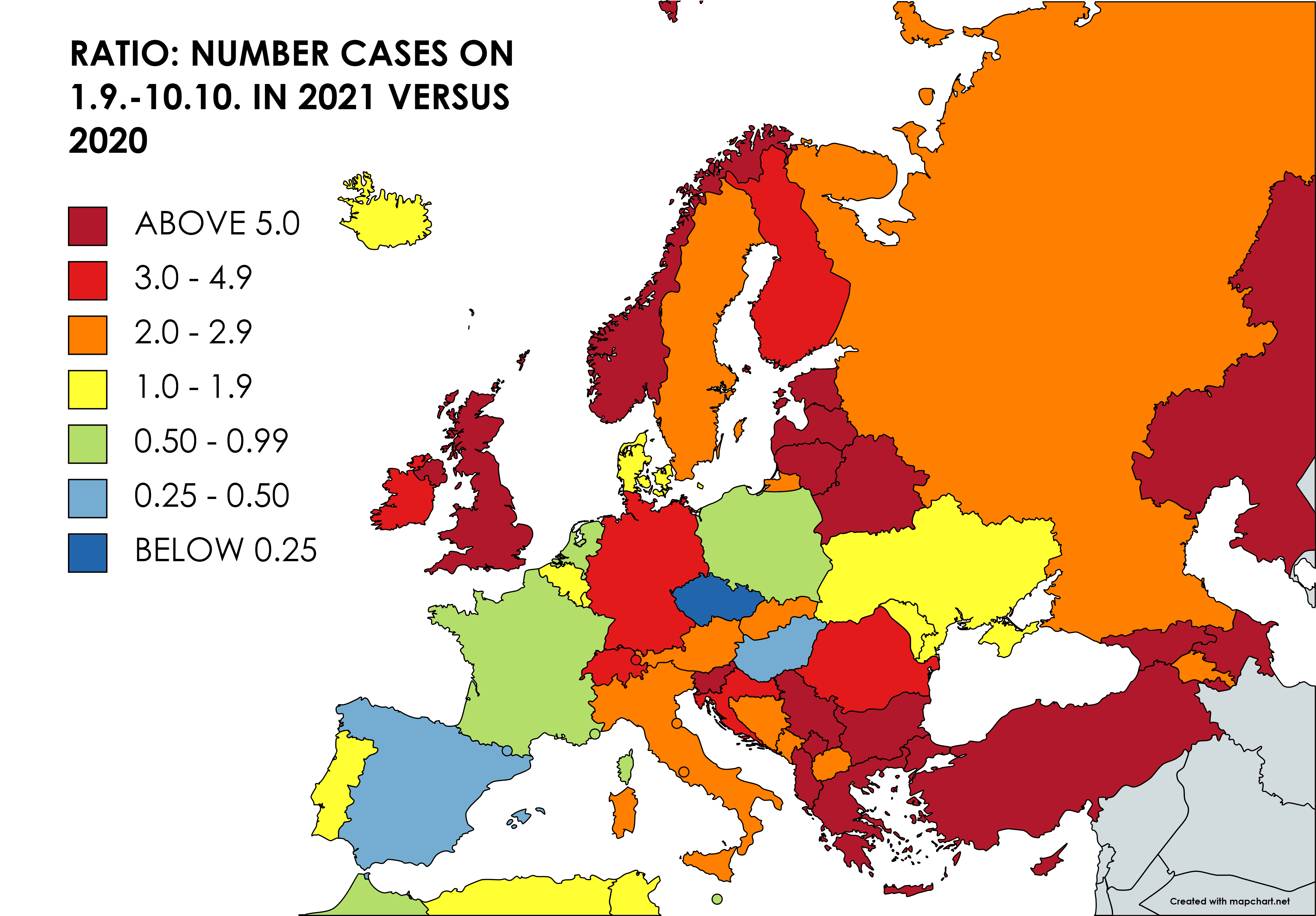 Already in the last 2 Mkweather articles, we were informed about the evolution of COVID-19 in the European region in early Autumn 2021 in comparison with early Autumn 2020 /https://mkweather.com/mkweather-covid-crisis-estimates-for-winter-season-2021-2022-europe-warnings-before-a-very-bad-evolution/; https://mkweather.com/very-bad-news-covid-19-situation-in-europe-is-in-early-autumn-2021-much-worse-than-in-2020-many-times-higher-incidence-and-increasing-trends-should-cause-tragic-winter-2021-2022-weather-is-worseni//.
The evolution of the spreading of COVID-19 across Europe is still very pessimistic, but according to a new approach used in this article, there are some countries, where during the period of 1.9. – 10.10. 2021 were lesser incidences than in period 1.9. – 10.10. 2020.
The best situation is in Czechia, where only 23% ratio in comparison with a previous year was found, better should be the situation in Spain and Hungary (ratios 0.25 – 0.49), too.
The next group, still with better results (ratio 0.50 – 0.99) includes Poland, Malta, France, the Netherlands and Morocco.
Not so much worse than in 2020 (ratio 1.00 – 1.99) is the situation in Ukraine, Belgium, Portugal, Denmark, Moldova, Luxembourg, Iceland, Algeria, and Tunisia.
Complications in the following winter season should appear in Russia, Italy, Sweden, Austria, Slovakia, Bosnia and Herzegovina, North Macedonia, Montenegro, or Armenia (ratio 2.00 – 2.99), probably associated with a percentage of the vaccinated population (e.g. northern and western countries have better outlooks).
Even worse (ratio 3.00 – 4.99) is the situation in Germany, Romania, Switzerland, Croatia, Ireland, and Finland, although, northern countries have very low counts of incidence in both years, in comparison with the rest of Europe.
The worst situation in Winter 2021/2022 should hit mainly countries with the most dangerous cluster (ratio above 5.00) – the UK, Turkey Serbia, Greece, Belarus, Bulgaria, Lithuania, Slovenia, Norway, Albania, Latvia, Estonia, Kazakhstan, Azerbaijan, Georgia, and Cyprus. Only one exception – Norway, which has very little incidence and vaccinated people in key age categories around 90%, other countries – mainly in eastern parts of the continent should be reported soon an unbearable crisis.
Weather conditions for the spreading of COVID-19 will be very "good" thanks to Arctic blast already in the next period /https://mkweather.com/extreme-frosts-close-to-30c-in-scandinavia-are-forecasted/; https://mkweather.com/winter-is-coming-an-extreme-arctic-blast-for-europe-temperatures-in-central-parts-and-balkan-should-reach-15c/; https://mkweather.com/british-islands-should-hit-the-coldest-october-temperatures-in-history-temperature-should-drop-up-to-12c/; https://mkweather.com/the-first-snow-in-europe-several-runs-of-gfs-are-extremely-cold//.
November 2021 brings mostly dry weather, which should be in combination with cold nights good conditions, too /http://mkweather.com/20c-in-northern-25c-in-southern-mid-latitudes-in-november-2021-untraditionally-late-indian-summer-for-northern-hemisphere-is-confirming// (COVID likes dry weather conditions and low humidity a lot).
Finally, extremely cold conditions and an expected peak of Winter 2021/2022 should bring the most disastrous conditions in December 2021 and January 2022 /https://mkweather.com/winter-2021-2022-forecast-extreme-frosts-in-eurasia-in-december-in-north-america-in-february-early-canadian-stratospheric-warming-ne-pacific-blob-la-nina-qbo-and-shift-from-nao-to-nao-such-le/; https://mkweather.com/winter-2021-2022-forecast-a-peak-near-nao-already-in-december-ne-pacific-warm-blob-nao-and-early-spring-in-february-north-america-oppositely-warm-start-cold-end-of-winter/; https://mkweather.com/russian-meteorologists-expect-extreme-winter-around-december-january-2021-22// and dry and warm rest of January, February, and March 2021 are thanks to expected drought questionable, for now,/in March 2020 NAO+ correlated with a higher incidence of COVID-19 despite warm weather /https://www.innovationinfo.org/articles/JBRR/JBRR-145.pdf/