Mould Bay, Canada: -23,7°C, extreme Arctic blast hits all western half of the USA, soon!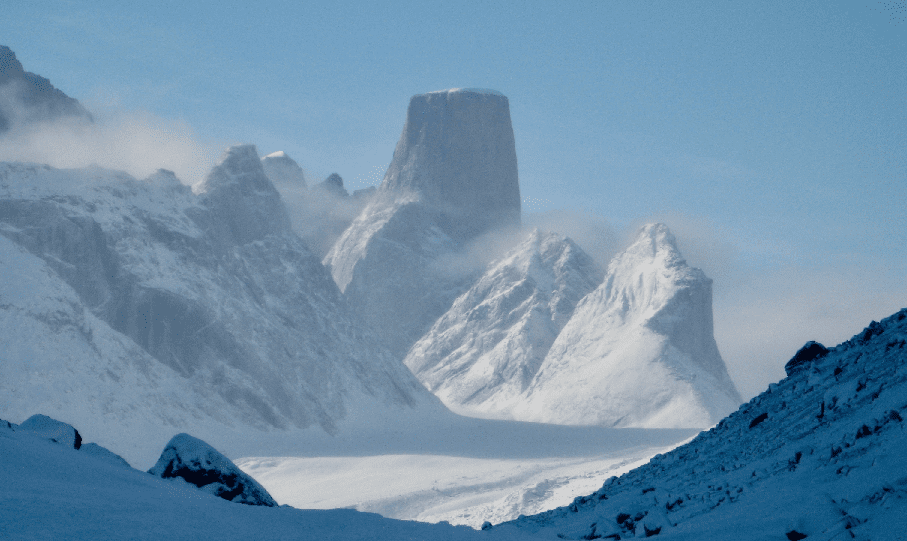 Severe frosts haven´t hit only in Siberia, the Arctic, or Antarctica, but temperatures are decreasing very deeply in Canada, too, and soon, early winter conditions will visit western USA /https://mkweather.com/labaznaya-siberia-249c-at-the-level-of-seasonal-temperature-records/; https://mkweather.com/arctic-sea-ice-extent-26-greater-than-last-year-12th-lowest-on-record-and-the-largest-since-2014/; https://mkweather.com/vostok-794c-only-06c-from-the-all-time-october-record/; https://mkweather.com/the-south-pole-with-the-coldest-winter-in-history-average-temperature-april-september-half-year-only-610c/; https://mkweather.com/siberia-with-the-coldest-september-temperatures-in-history-delyankir-220c//.
About prepared Arctic blast in the western USA and Europe, we already wrote here: https://mkweather.com/a-severe-coldwave-with-snow-in-west-hot-indian-summer-in-east-the-usa-canada-will-experience-with-winter-and-summer-at-the-same-time/; https://mkweather.com/the-first-snow-in-europe-several-runs-of-gfs-are-extremely-cold/; https://mkweather.com/winter-is-coming-an-extreme-arctic-blast-for-europe-temperatures-in-central-parts-and-balkan-should-reach-15c/.
Western Canada and Alaska already experience extremely cold conditions since late September 2021 – in some lower situated parts of Alaska, has snowed up to 50 cm / 20 inches of snow and Fairbanks, Alaska, such as more cities in the region, reported early snowfall records.
The latest news from the region are saying about a measured -23,7°C in Mould Bay, Canadian Arctic on 6. October 2021, what is a value deeply below seasonal average, only a few degrees below daily temperature records.
Snowing appeared already in lower situated parts of Alberta, too, while Saskatchewan and Manitoba are still reporting extremely hot Indian summer with temperatures up to +32,3°C / 90.1°F /the next Mkweather article/.
Extremely cold Arctic air mass will shift from northern latitudes already until Tuesday, 12. October 2021 above the western half of the USA, with the first severe frosts and snowfall in mountainous, and regionally lower situated areas, too.
Temperatures across all Canada will be during the next 5 months declining, with an expected peak of Winter around February 2021, maybe early March 2022, in contrary with Eurasia, where the peak of Winter 2021/2022 is expected from December 2021 to January 2022 /https://mkweather.com/winter-2021-2022-forecast-a-peak-near-nao-already-in-december-ne-pacific-warm-blob-nao-and-early-spring-in-february-north-america-oppositely-warm-start-cold-end-of-winter/; https://mkweather.com/russian-meteorologists-expect-extreme-winter-around-december-january-2021-22//. Severe blizzards gradually will hit northern, later southern parts of the USA, too.
It´s possible that until the end of the following winter, in Canada and Alaska should fall many temperature records, because expected temperature anomalies from the long-term average are really disturbing /link with Mkweather Winter 2021/2022 forecast above/.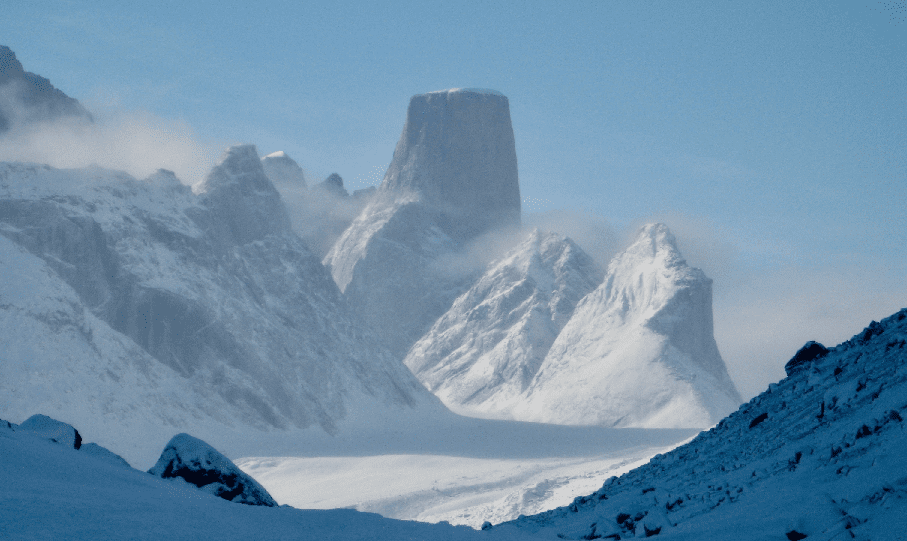 Illustration photo – Baffin Island, Canadian Arctic /https://www.baffin.com/blogs/where-we-go/baffin-island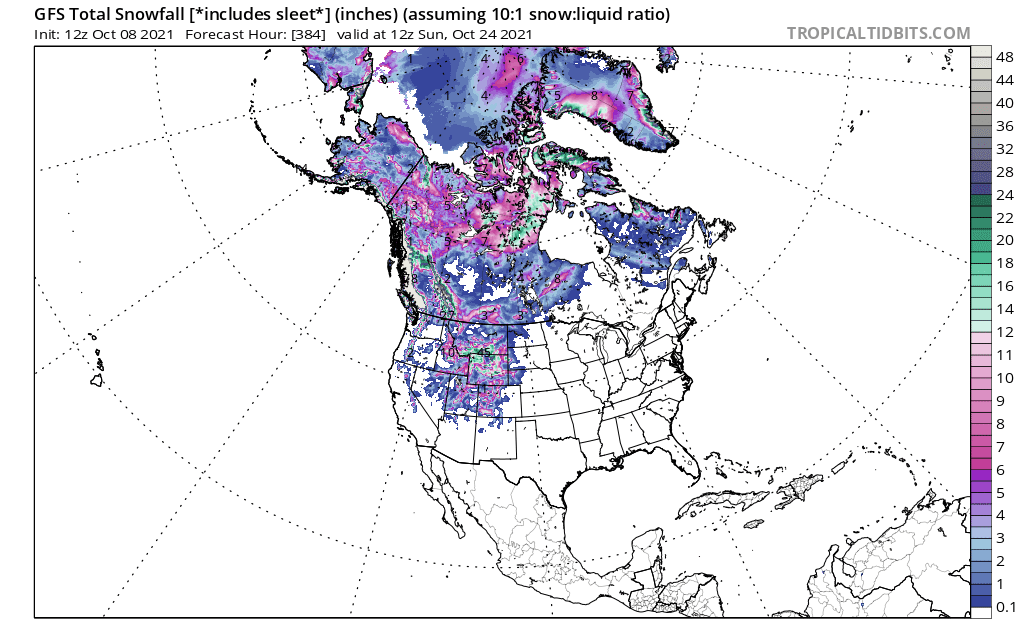 Source: tropicaltidbits.com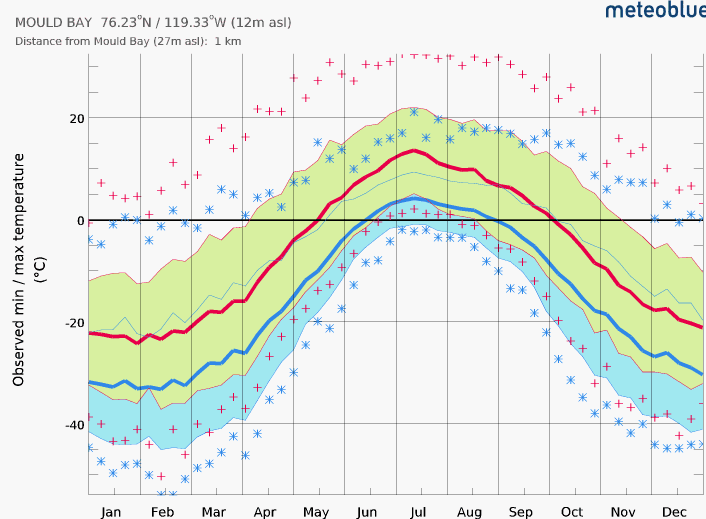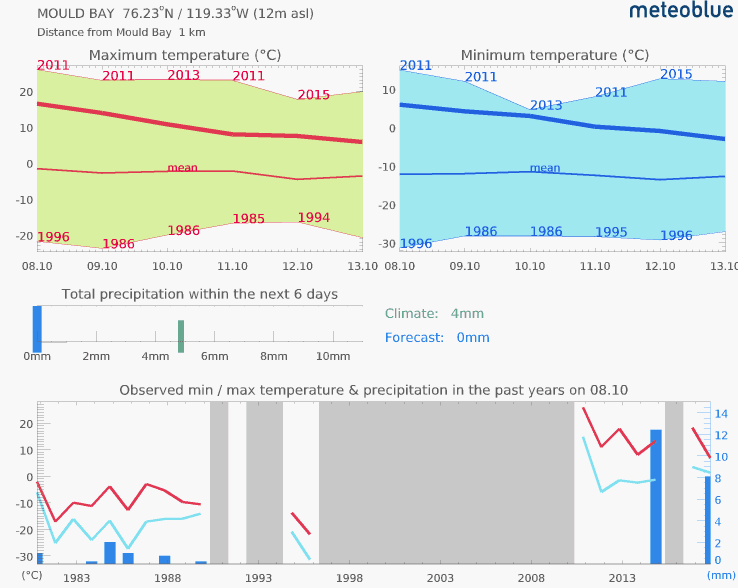 Source: https://www.meteoblue.com/en/weather/historyclimate/climatecomparison/mould-bay_canada_6079446