The coldest June times in the UK in 30 years! Scotland -3,3°C, England -1,4°C! Only 2,3°C from all-time June national record!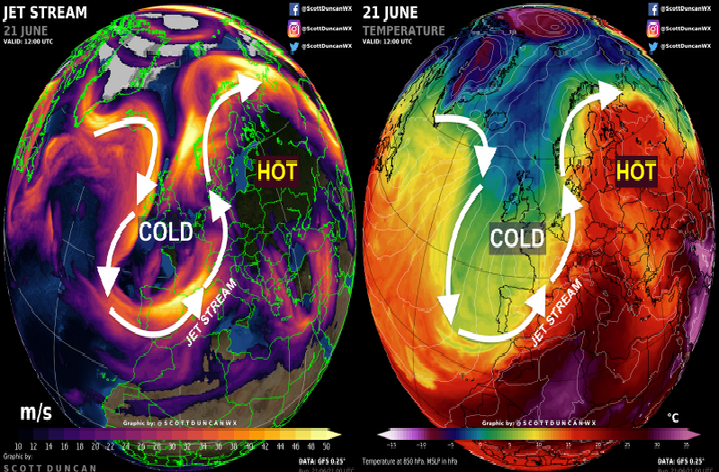 Before extremely cold weather in British Islands, on the back side of storm system above Europe, we have warned in previous article /Extreme cooldown after cold front: The UK +0,4°C, Ireland +2,8°C, Iceland -5,0°C – the lowest temperature in this season in populated areas in history! – mkweather/.
Anomalously cold air is coming from northwest – in Iceland before 8 days, -5,0°C was measured, what is the lowest temperature in populated parts of the country in history /link above + Iceland tourists rescued from snowstorm and extremely cold weather – mkweather/.
On Tuesday, 22. June 2021, minimum temperatures in Scotland and England dropped anomalously low, when -3,3°C in Carribridge, Scotland, and -1,4°C in Ravenseat, North Yorkshire, England, was measured.
Kinbrace reported -2,6°C, Banscol -2,4°C, Lairg -2,1°C, Aultguish -1,9°C, Drumochter -1,9°C and Inchbae -1,9°C (Scotland) and Keld -0,7°C, Grisdale -0,6°C, Bowes -0,3°C, Bracewell -0,3°C and Yockenthwaite -0,3°C (England).
Temperature from Scotland is only 2,3°C higher than all-time national record of minimum temperature for the UK for month June from 9. June 1955 /UK climate extremes – Met Office/.
Meteorologists have already informed, that parts of Scotland and northern England suffered the coldest night in last 30 years!
After abnormal heatwave, relatively powerful cooldown should hit parts of NW Europe, while in Italy, Greece, Balkan, SE Central Europe, Baltic region, Eastern Europe and Finland, abnormal heatwaves are forecasted /Hell is coming! Catenanuova, Italy: +45,1°C, Palermo +43,5°C – only 0,5°C below 2007 heatwave, the hottest will be on Wednesday and Thursday, close to +50°C! – mkweather; +52,4°C in Algeria! The first official European +50°C is possible! – mkweather; Finland is expecting +36°C, Estonia +37°C on Tuesday, all-time national records have values +37,2°C and +35,6°C – mkweather; All-time national record for Greece? GFS sees a historical heatwave early next week! – mkweather; Sirocco for Central Europe? Hungary should attack +40°C on Thursday! – mkweather; +36,1°C in Slubice, Poland! Germany +36,9°C and 5 days above +35°C! – mkweather; Sweden: The hottest June day since 1947, +34,6°C! – mkweather/.
After historic heatwave, extreme storms with 10 cm hails, 140 km/h winds and EF2 tornadoes are shifting across Europe eastward /10 cm hailstorms are shifting to Germany, CZ, CH, AU, DK, SE and N IT from France, PT, ES, BE, NL, LU! – mkweather; Belgium hit EF2 tornado with a twin: 17 injured, 92 buildings damaged – mkweather; 10 cm hails, 140 km/h winds, 10 tornadoes and 7 day forecast: Balance of weekend storms in Europe – mkweather/.
Summer weather with maximum temperature above +25°C isn´t for the warmest parts of the UK forecasted minimally until 3. July 2021 and cold weather pattern will be persisting around 10 days, yet.
It is a question, if some tropical days will appear in islands until 10. July 2021, because current forecasts later see possibility of +25 or +28°C, tropical value however in 2021 hasn´t been reached.