Snowing in South Korea in May after 22 years!
Only a week after extreme April tropical heatwaves in Japan an Korean Peninsula /https://mkweather.com/superyphoon-surigae-and-its-surprise-for-korea-and-japan-tropical-temperatures//, extremely cold weather hit region in full power!
In South Korea, snowing in altitudes around 600-1000 MASL appeared at the weekend, what is the first snowing in populated regions since 1999.
According to The Korea Meteorological Administration, 18,5 cm of snow fell in Guryongryeong, 1000 MASL and 2 cm fell in Daegwanryeong, 750 MASL.
The precipitation reached 61,6 millimeters for Jinbuyeong, 58,5 millimeters for Misiryeong, 49 millimeters in Sokcho, 38 millimeters in Yangyang and 29,0 millimeters for Gangneung according to newsinfo.inquirer.net.

For Gangwon Province, weather alerts before intensive snowing was valid from Saturday to Sunday, 1.-2. May 2021.
According to wxcharts.com weather tool, temperature in 850 hPa anomalies almost -20°C appeared above the Beijing region, South Korea and southwestern Japan at the night from Saturday to Sunday, with T850 hPa up to -2°C in northern South Korea during the night, what was least for snowing during the night.
Maximum temperature in Taegwallyong, 842 MASL on Saturday, 1. May reached only +7,4°C and subsequent night was very cold, with minimum temperature -0,2°C.
In Soeul, maximum temperature reached only +13,5°C on Saturday, 1. May 2021 and minimum temperature in subsequent night +7,3°C. Only 21. April, summer +28,2°C was in South-Korean capital, measured.
The next powerful coldwave for the region is forecasted already around 7. May 2021.
Similarly, such severe coldwaves in Europe, the USA, Canada or other parts of Asia, these cold conditions around the Earth are connecting with ongoing La nina, which is cooling the Earth in comparison with previous neutral ENSO conditions almost by 0,5°C.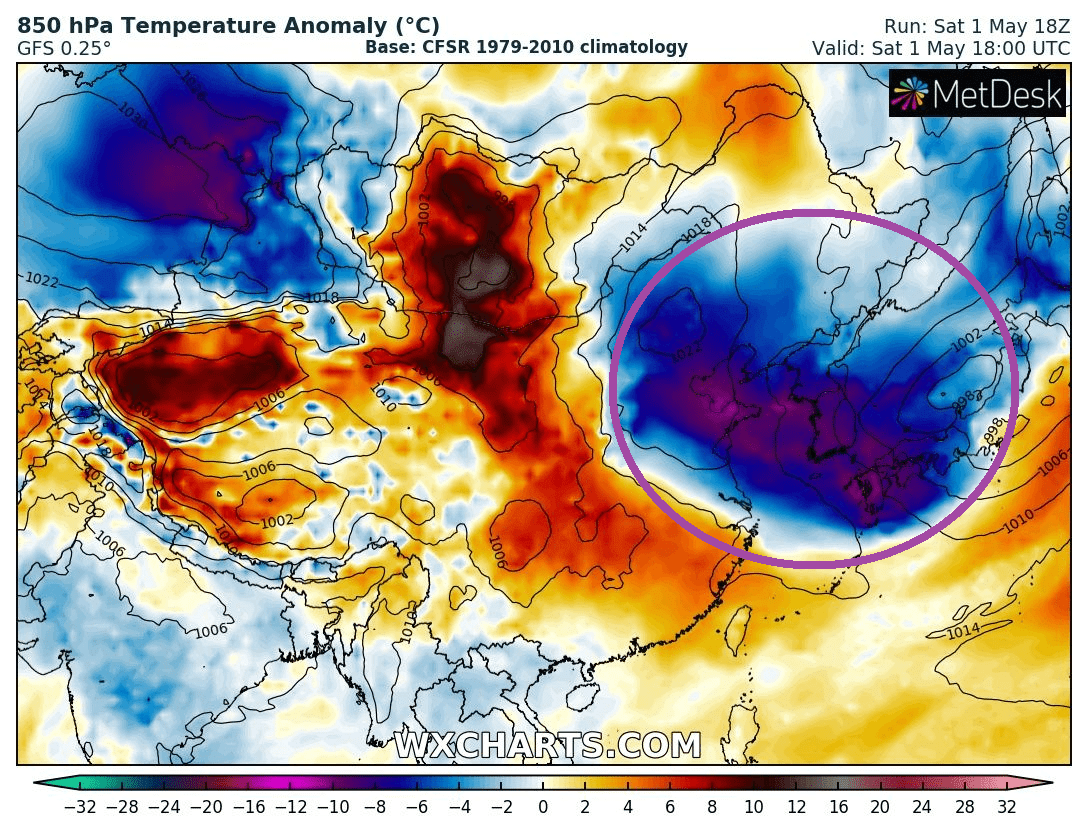 Read more: