Aggressive GFS outputs expect abnormal winter (-35°C Scandinavia, -25°C continental Europe, -18°C the UK)! The UK, France, Germany all under the snow!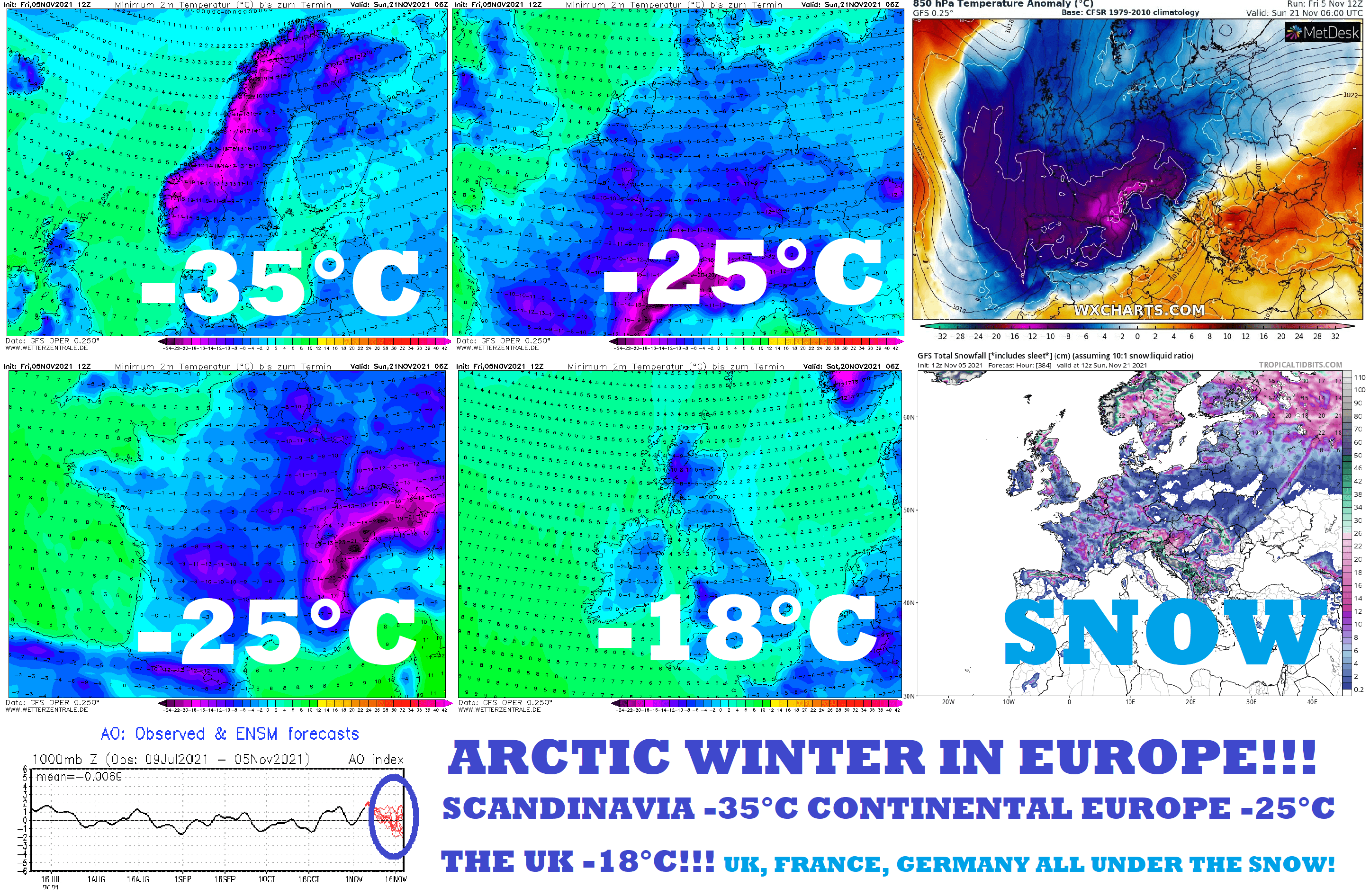 Our long-term forecasts are fulfilling and extreme winter has really appeared in the outputs of forecast models!
Long-term coldwave with several peaks in Europe we were forecasted between 5. November – 15. December 2021 /all articles about the cold in Europe in chronological order you will find here: https://mkweather.com/rare-snow-warnings-for-portugal/; https://mkweather.com/scandinavia-30c-already-in-5-days/; https://mkweather.com/the-uk-frosts-up-to-10c-or-even-12c-will-be-possible/; https://mkweather.com/arctic-winter-up-to-15c-in-france-and-germany-and-10c-in-benelux-and-spain-in-next-week-possible/; https://mkweather.com/20c-frosts-for-continental-europe-are-forecasted-extreme-winter-should-hit-already-around-15-november-2021/; https://mkweather.com/miercurea-ciuc-romania-with-8-days-with-temperatures-7-11c-before-a-heatwave/; https://mkweather.com/extreme-coldwaves-in-continental-europe-confirmed-ensembles-cold-weather-should-be-lasting-up-to-45-days-with-a-peak-around-20-november-10-december-2021-mkweather-estimates/; https://mkweather.com/be-prepared-for-an-extremely-long-and-strong-coldwave-arctic-blasts-in-europe-between-10-november-15-december-are-expected/; https://mkweather.com/the-6-week-daily-forecast-for-the-wider-european-region-from-gismeteo-until-5-december-2021/; https://mkweather.com/winter-will-come-earlier-than-was-forecasted-30c-in-scandinavia-20c-in-central-europe-and-10c-in-british-island-around-10-november-is-possible//.
Northern Hemisphere will sink into a long-lasting AO-phase, with a gradual shift of Arctic air masses from Greenland, the Arctic, and Siberia into lower latitudes.
GFS forecasts for British Islands, western, southwestern central, and northern Europe are really disturbing, with record-breaking cold – it should be the first, very early peak of Winter 2021/2022!
In Scandinavia, according to Mkweather estimates, temperatures will drop into interval -30/-35°C – mainly in Lapland and in "Oymyakon of southern Norway" – Folldal-Fredheim region.
The forecast for continental Europe is abnormally cold, with minimum temperatures up to -25°C in frost valleys and basins and minimum temperatures -5/-15°C in many lowlands or warmer low situated basins.
Even in Scotland, the UK, the temperature near deep snow cover should fall extremely low, up to -18°C, according to estimates according to these outputs!
Moreover, this Arctic blast should be extremely snowy – a tropicaltidbits weather tool expects snowing or snow cover in all UK, France, and Germany, excluding large parts of Europe.
The peak of Arctic winter should be associated with many problems – e.g. on roads and highways, health issues such as higher incidence of heart attacks, a worsening of a virological situation or bad influence to many types of cancer, there should appear hypothermia (near long-lasting outdoor activities), there should appear problems with a gas crisis in some countries.
Real-feel temperatures near possible blizzard conditions mainly in the mountains should be even lower, including the Alps, Pyrenees, or the Carpathians, temporarily around -35°C in higher altitudes. Wind chill will be very low in many lowlands and open basins, too, possibly below -20°C regionally.
Maximum temperatures in many regions should stay below 0°C and in populated frost basins and valleys below 1000 MASL, the first Arctic days (with maximum temperatures below -10°C) are possible!
Winter conditions then should return until 15. December yet, but Christmas 2021 preliminary appears warmer /https://mkweather.com/the-1st-forecast-for-christmas-2021-warm-christmas-in-europe-north-america-and-asia//.
The last update of Mkweather Winter 2021/2022 forecast you should visit here /https://mkweather.com/winter-2021-2022-forecast-for-northern-hemisphere-an-awakening-solar-activity-la-nina-neutral-nao-ao-wet-mjo-and-iod-to-drier-mjo-and-iod-qbo-ne-pacific-warm-blob-aao// – after warmer period around Christmas and New Year´s Eve, the next period with severe frosts should come to Europe in January 2022, while in North America and many parts of Asia and North Africa, a peak of the winter in February 2022, is possible.
We will furthermore watch the situation and in the case of confirmation of abnormally cold GFS outputs, we will inform you in the next days on our homepage.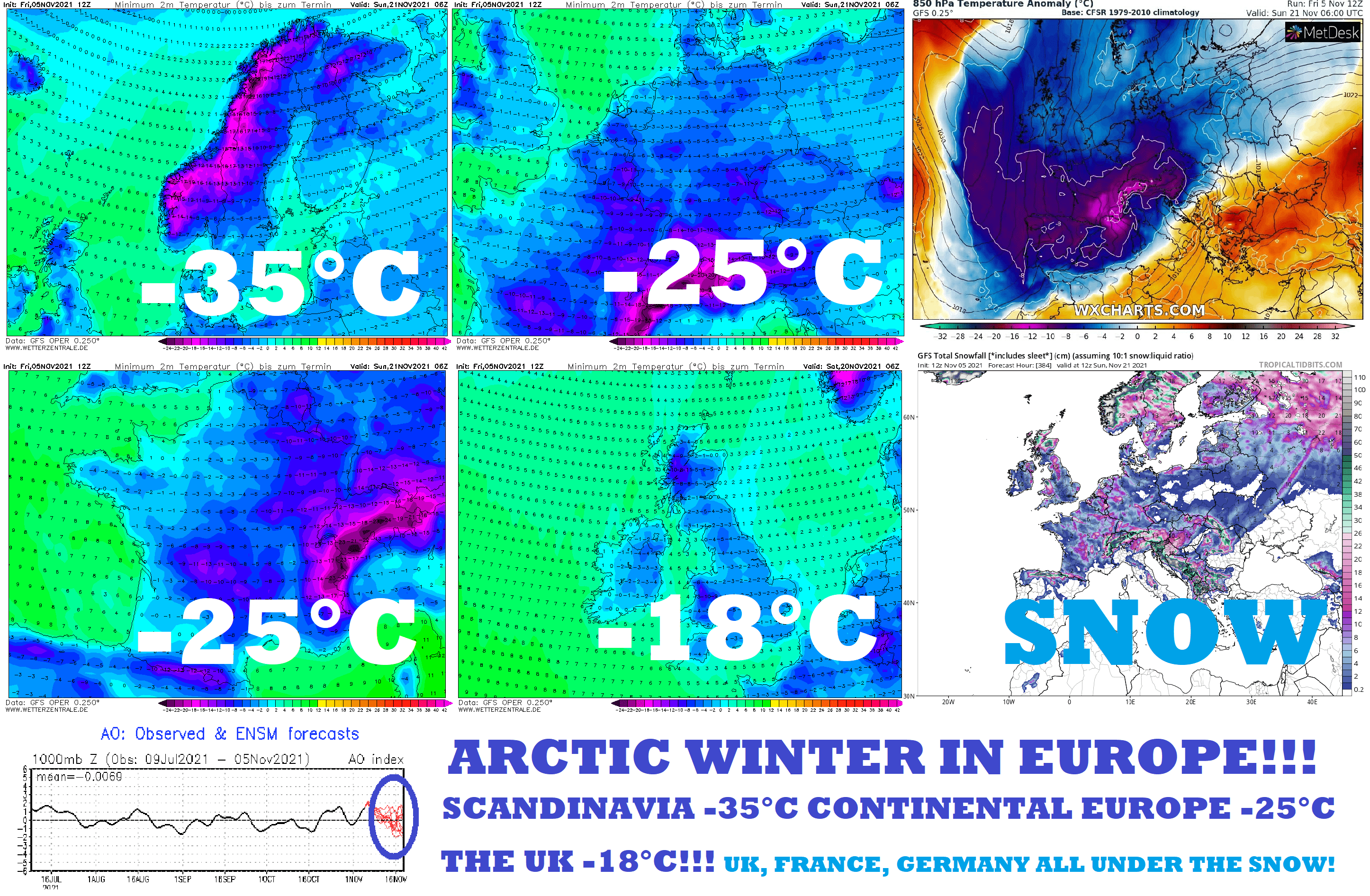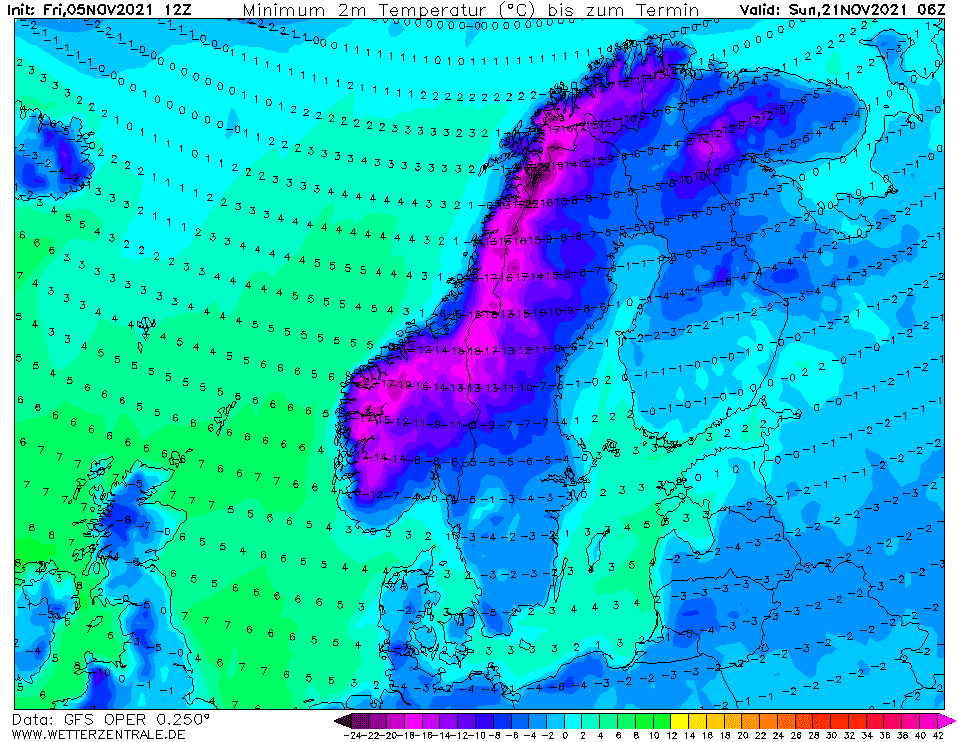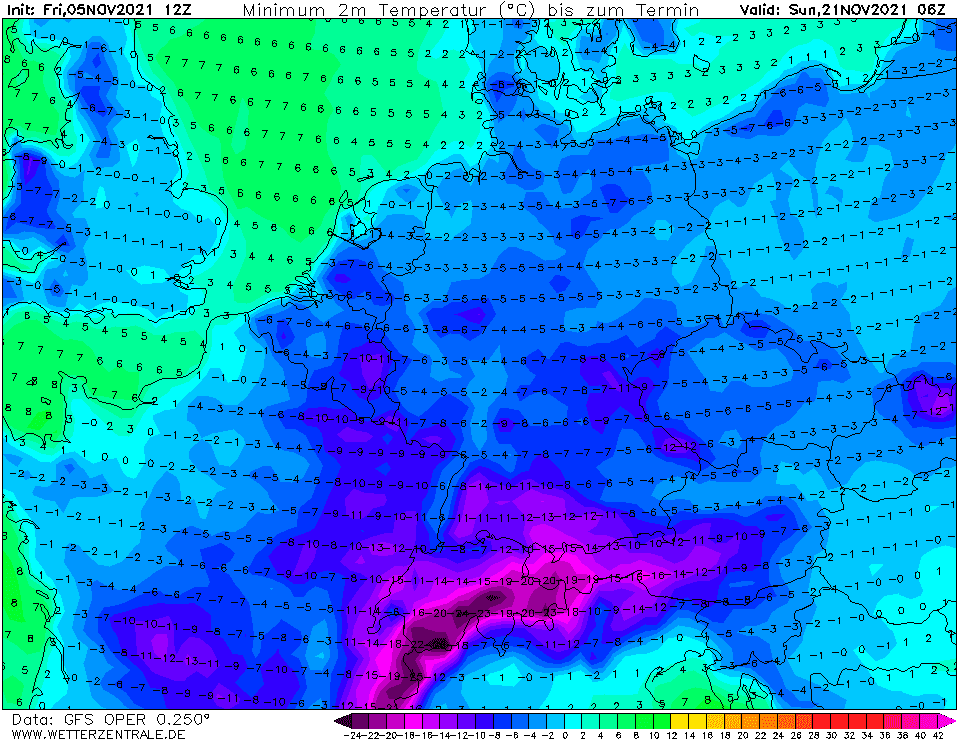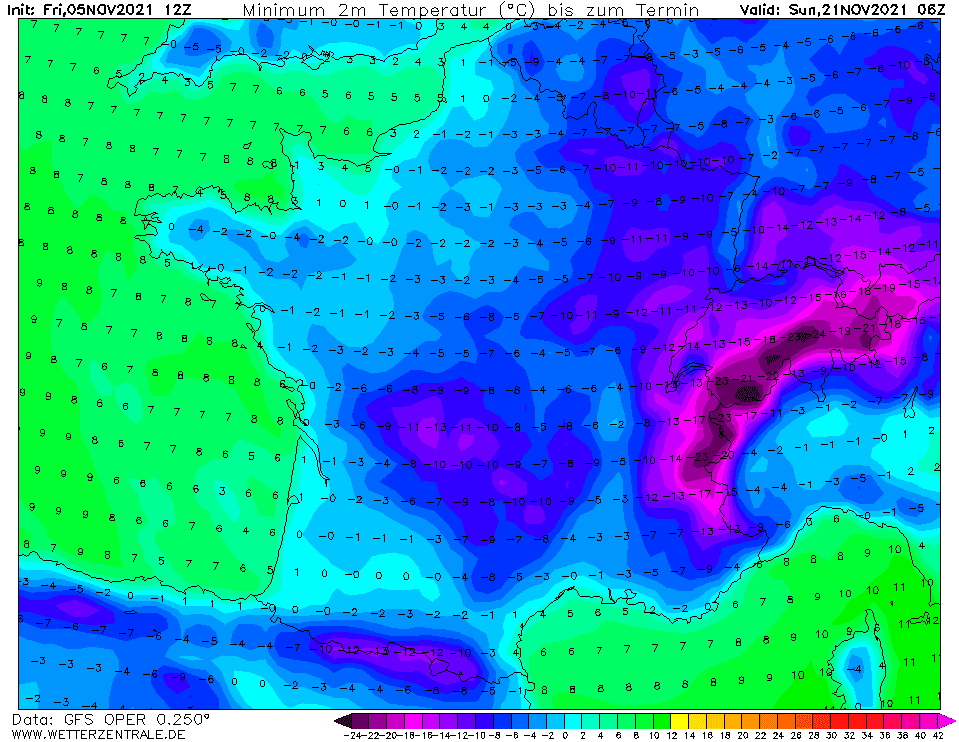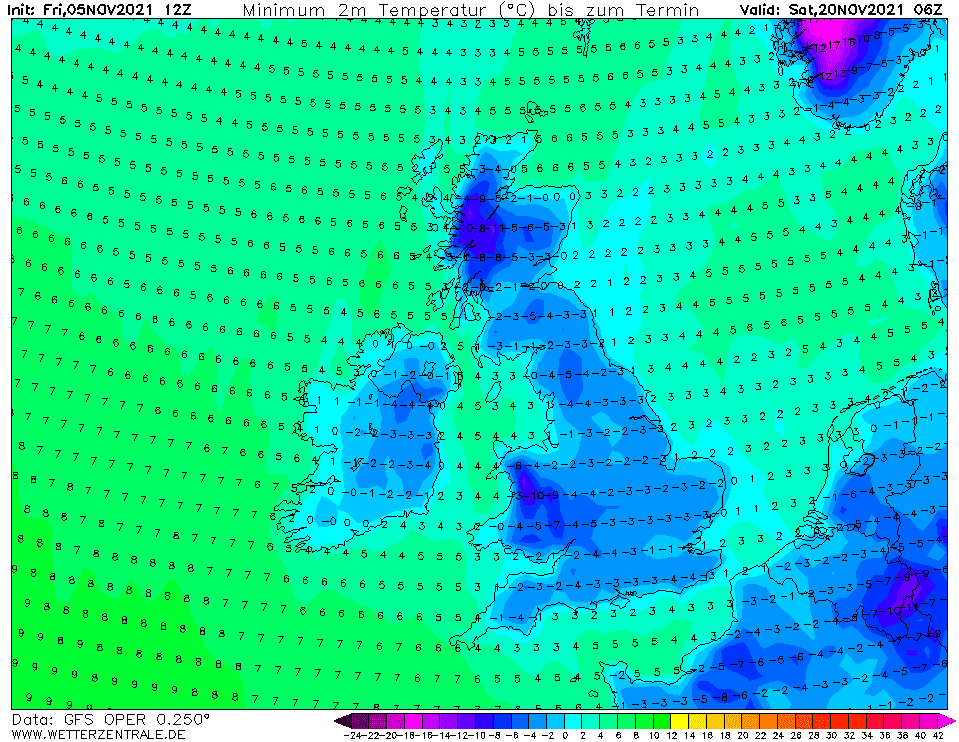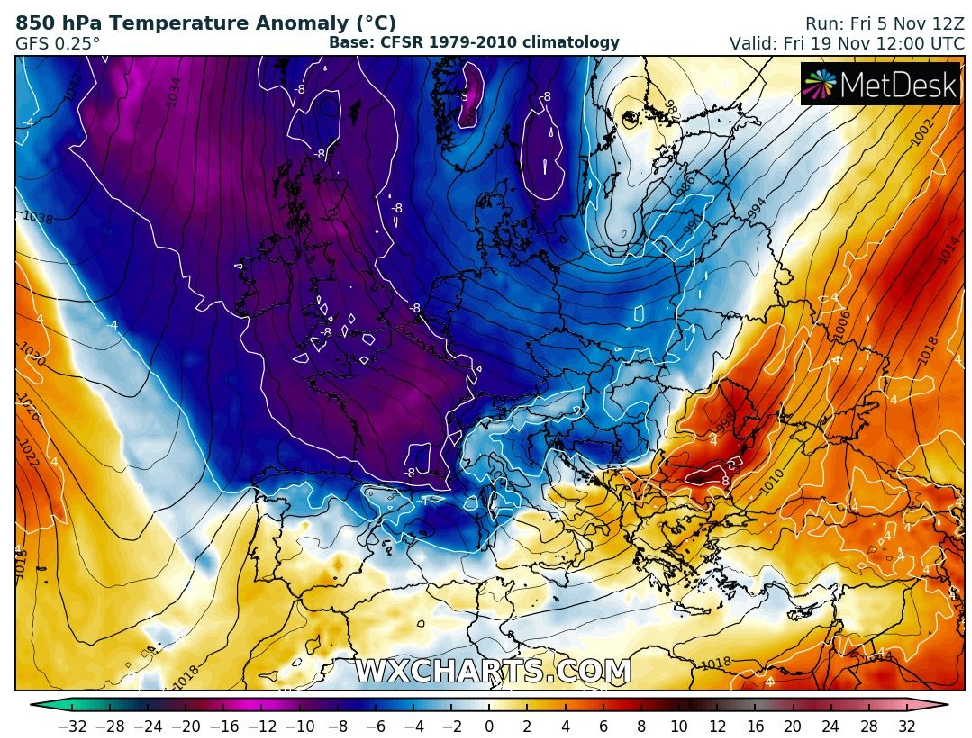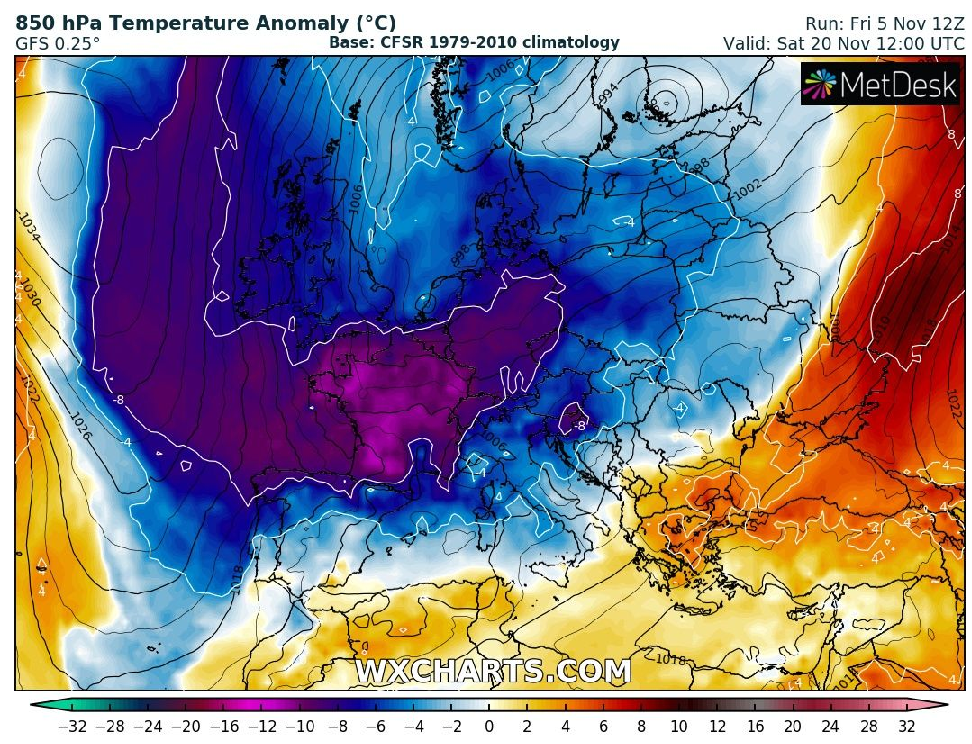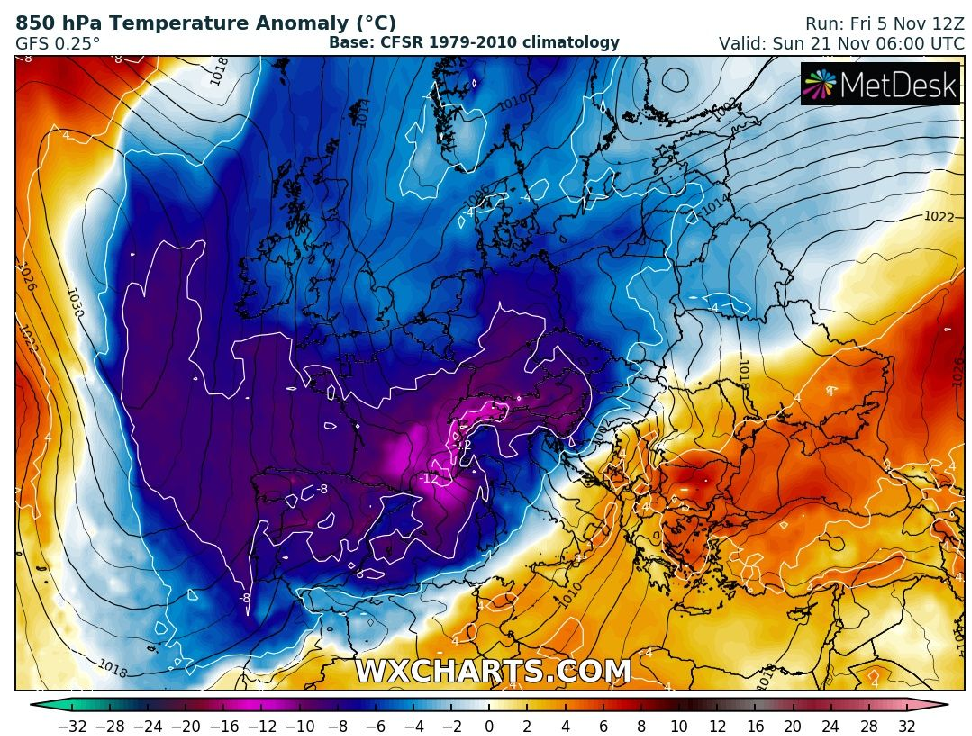 Source: wxcharts.com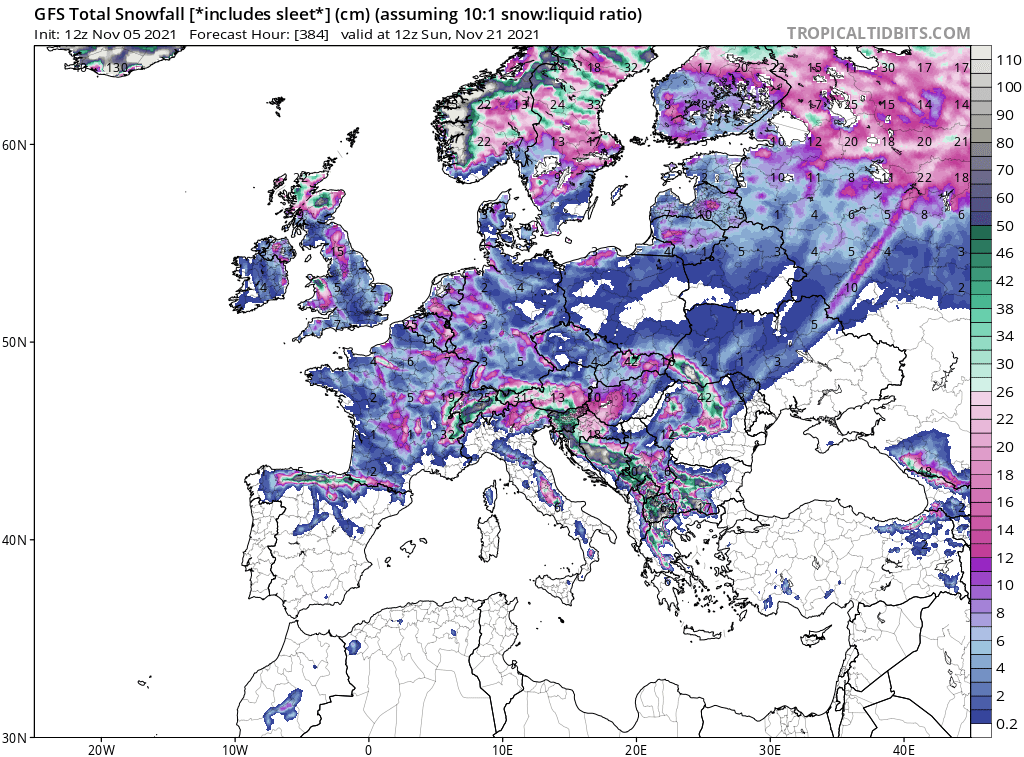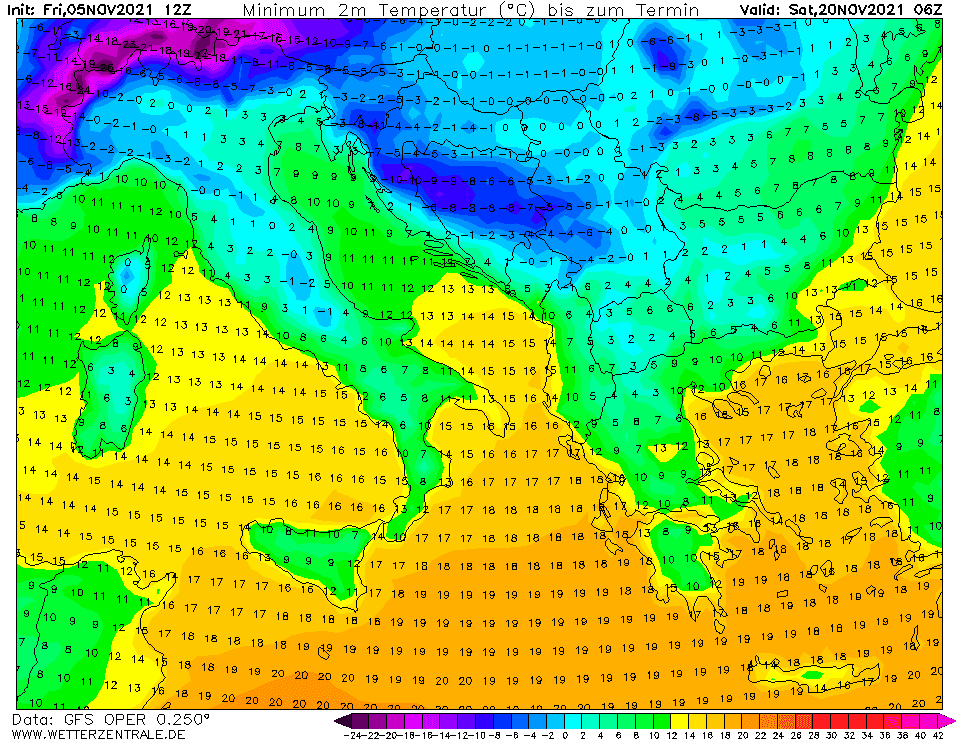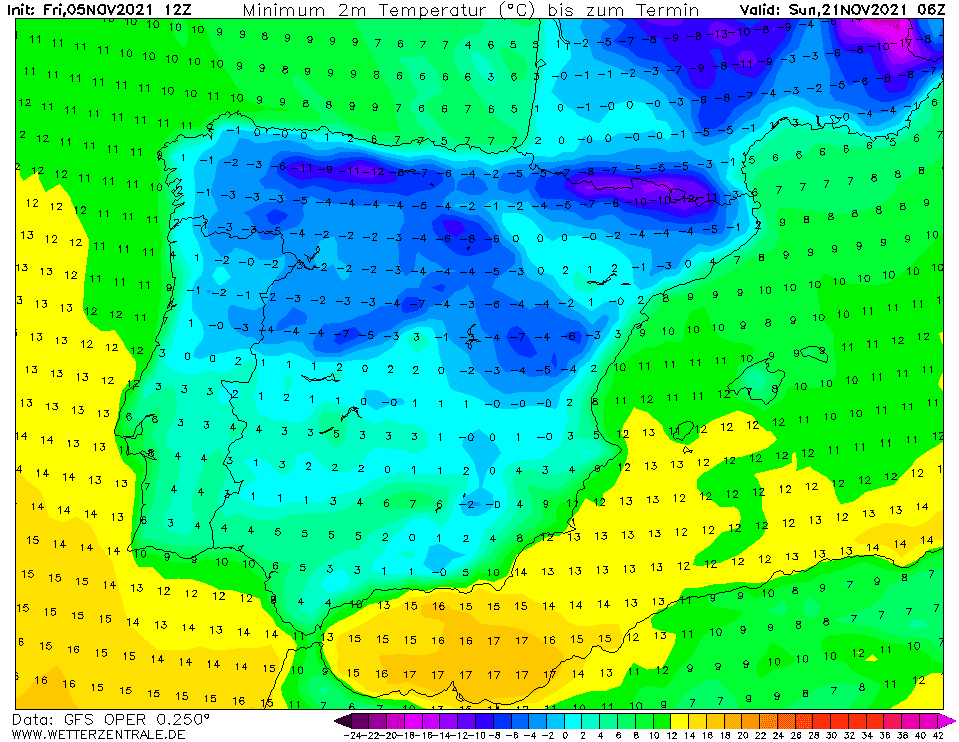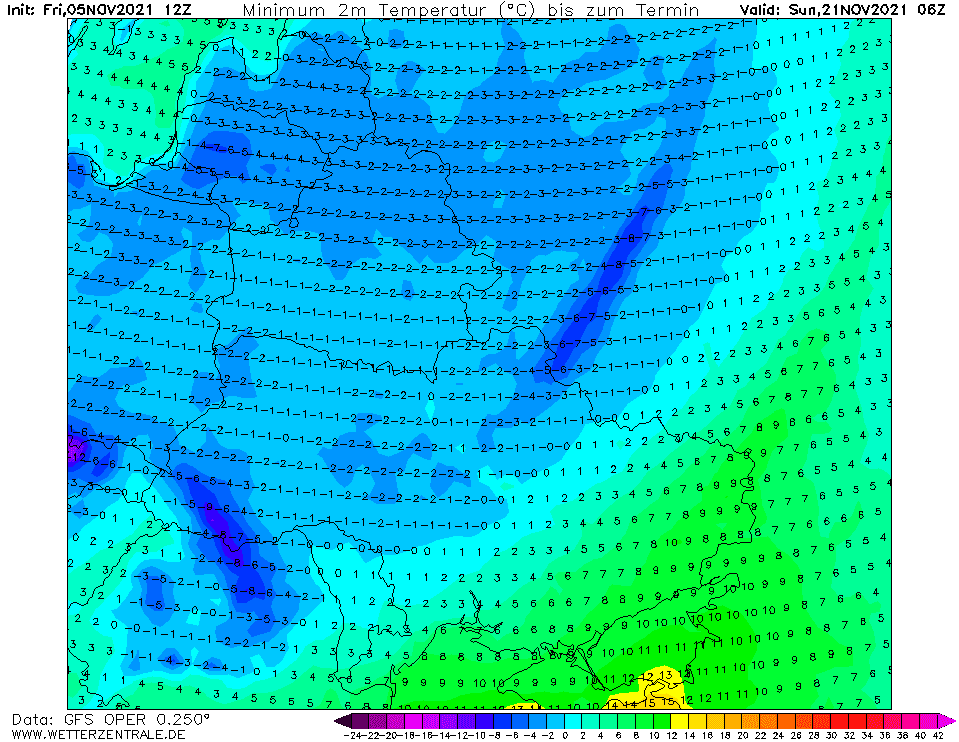 Source: wetterzentrale.de