Both factors – pandemic and climate change – mainly cold Spring 2021 in regions of Northern Hemisphere and drought or heavy rains in warm climate zones have caused, that food prices jumped currently to the highest levels since La nina years 2010-2011 / Global financial crisis.
About not very good evolution of monthly indices in food and agriculture fields have informed many global agricultural and financial leaders.
UN Food and Agriculture World Food Price index – Mid Price reached at the start of Summer 2021 almost 130 – so high values were lastly recorded after devastating year 2010, with very damaging weather patterns across the world, with strong La nina, AO- and NAO- and after Big financial crisis. Weather in 2020-2021 is quite similar such as in 2010-2011 La nina event /https://mkweather.com/nao-winters-and-nao-summers-this-year-is-different-similar-such-as-2010-summers/; https://mkweather.com/2021-22-little-ice-age-years-with-volcanic-activity-in-last-30-years-had-tendency-to-be-la-nina-during-solar-cycle-minimum/; https://mkweather.com/solar-cycle-behind-nao-coldwaves-in-europe-and-la-nina-coldwaves-around-the-world-2021//
In Europe, the coldest Spring since 1987 / 2013 has appeared https://mkweather.com/meteorologists-across-europe-report-the-coldest-spring-since-1987-2013//, from Brazil, severe drought in south and floods in Amazon (and Colombia, Venezuela, Ecuador, Peru and Guyana region) is reported /https://mkweather.com/the-worst-floods-in-amazon-since-1902-and-the-worst-drought-in-southern-brazil-since-1920-at-the-same-time-2021//, parts of the USA and Canada have seen very unusual snowing and coldwaves into late Spring 2021 /e.g. from latest news https://mkweather.com/historic-snowing-in-toronto-the-2nd-latest-ever-minnesota-61c/; https://mkweather.com/new-york-it-has-never-been-so-cold-in-summer-season//, in monsoon Asia, colder and stormy conditions were / are predicted for Spring and Summer 2021, while Middle East, Central Asia and parts of Russia are anomalously hot /https://mkweather.com/spring-2021-forecast-for-asia-2021/; https://mkweather.com/summer-forecast-for-asia-hot-but-strong-indian-monsoon/; https://mkweather.com/heatwaves-in-russia-have-become-crazy-397c-never-measured-before-in-spring/; https://mkweather.com/siberia-with-new-may-record-391c-pakistan-500c-uae-497c// and Australia reported stormy and cold Summer 2020/21 and Autumn 2021 /https://mkweather.com/la-nina-in-australia-the-coldest-summer-in-9-and-the-wettest-in-4-years/; https://mkweather.com/spider-season-in-australia-is-thanks-to-50-year-floods-extraordinarily-strong/; https://mkweather.com/autumn-2021-forecast-for-australia-2021/; https://mkweather.com/winter-2021-forecast-for-australia-still-rainy-and-stormy-thanks-to-la-nina//.
Moreover, dangerous flood inflation, after problems in financial sector has appeared since Spring 2020 – food inflation is almost 3-times higher than in 2017.
According to FAO, Overall food index have increased around 40% in the past 12 months – cereals around 37%, Vegetable oil around 124%, Dairy products around 28%, Meat "only" around 10% or Sugar around 57%.
Worsening of situation is evident almost in every agricultural sector.
This situation should trigger in 2021 and 2022, moreover, with cold La nina pattern /https://mkweather.com/the-next-cold-winter-strong-la-nina-in-winter-2021-2022-forecasted/; https://mkweather.com/summer-2021-in-europe-will-be-colder-such-was-forecasted// regional famines or lack of food supplies in poorer countries and if La nina and worse economical situation in the world will persist until 2022, situation should be worsening, in the next period, yet.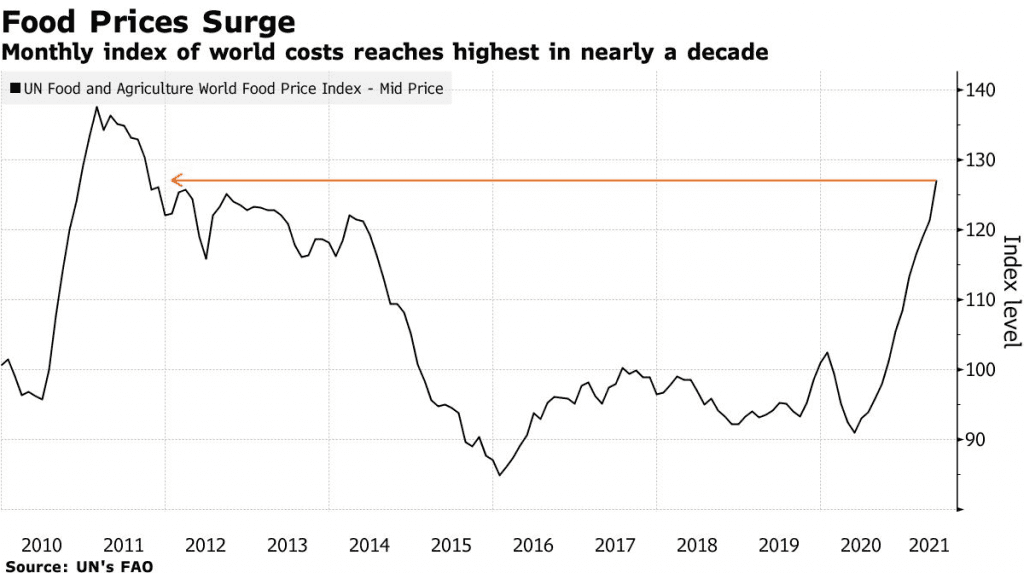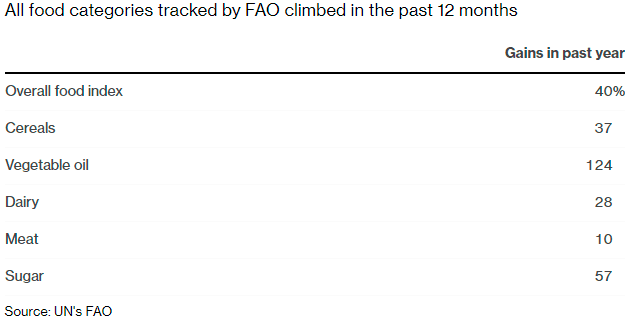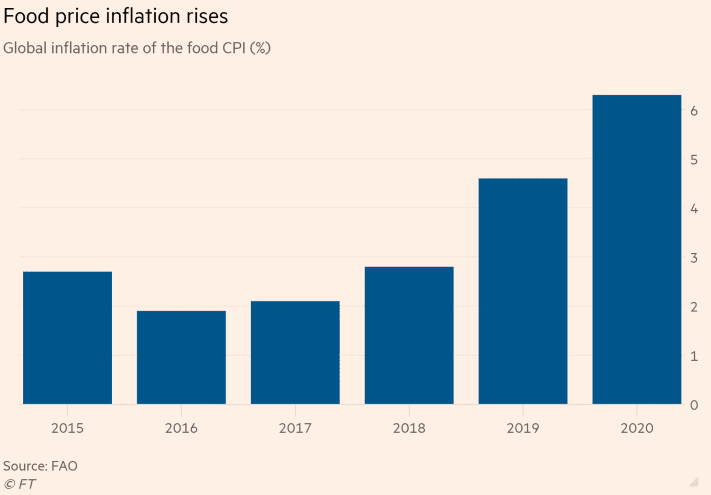 (Visited 34 times, 1 visits today)