Deadly avalanche season in the USA: The worst forecasts in history!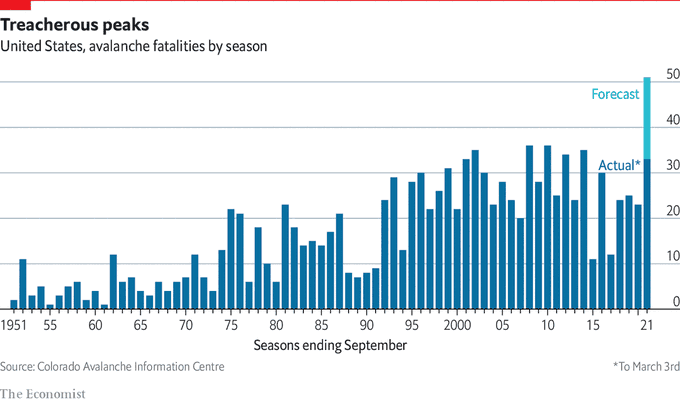 Only at the beginning of March 2021, the next coldwave with snowing hit Northeast and eastern Canada and until 20. March, heavy snowfall is expected to continue in parts of Rocky Mountains, within an expected rainy and cold period across western USA /https://mkweather.com/big-15-day-forecast-for-the-usa-hot-and-sunny-east-and-cold-and-rainy-snowy-west//.
Mainly extreme coldwaves in February /https://mkweather.com/parts-of-texas-and-new-mexico-reports-the-coldest-february-in-history// have wrote under record number of dead during Avalanche season 2020/2021.
In last period, the next deadly, but too happy-ended cases of avalanches has occurred in the mountains.
Trend with death tolls will be continue and according to The Economist, more than 50 fatalities is until the end of winter season in the mountains expected.
Aready now, number of dead reached more than 30, only shortly after half-time of long avalanche season, lasting until late Spring 2021, what is similar number such as in the worst seasons together.
Scientists see some associations of this trend with COVID-19 – people in the USA should often spend their leisure time in the mountains during the pandemics, mainly in sparsely populated areas, what with combination of strong winter should have contribution on these statistics.
Spring is moreover for avalanches very dangerous season, because snow is melting and initiate all avalanche process.
Therefore, if you are planning to stay in the mountains during the next months, be careful and watch current weather warnings and news.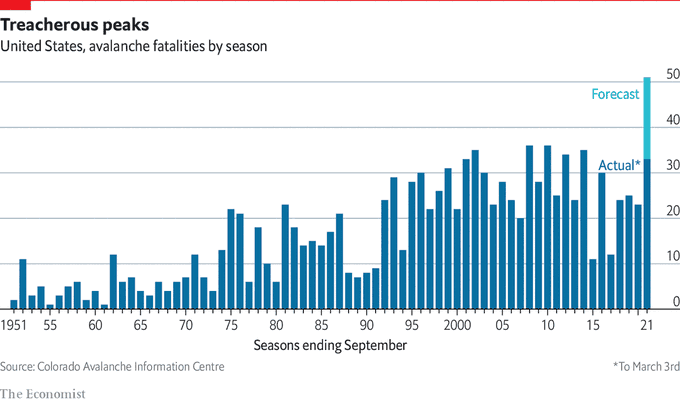 Read more: