Warning! Extreme tornado outbreak in southern states next hours! Baseball-size hails possible!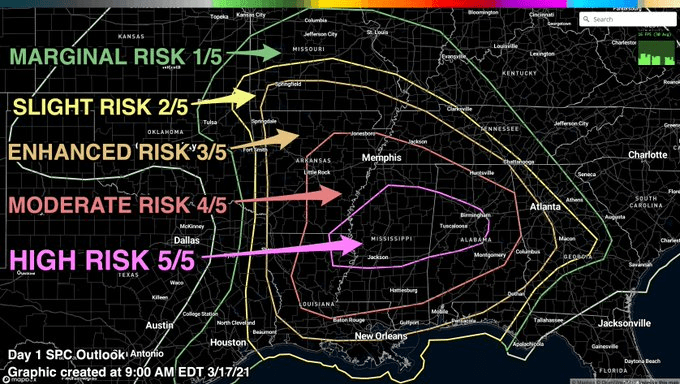 The first serious tornado outbreak in southern USA is coming!
The most severe stroms are expected from Wedensday to Thursday in southern states of the USA, with signigiant threat of tornadoes in region between Memphis, Atlanta and New Orleans!
If you live in Mississippi, Alabama, Louisiana, Georgia, Tennessee, Arkansas, southern Missouri or western Kentucky you should watch current warnings and weather news from the region during the following hours, because tornadoes F3+ are possible in the region according to experts.
Probability of F1 or F2 tornadoes is very high mainly from Louisiana to Alabama, including large parts of Mississippi.
Not only tornadoes, but baseball-size hails, severe winds, lighting and heavy rain near supercell storms are possible.
It is the first serious widespread tornadic situation of the year.
Spring 2021 forecasts for North America /https://mkweather.com/spring-2021-forecast-for-north-america-2021-mk// expect during the following weeks very explosive tornado season, with often pressure troughs above Midwest from the north. Cold air masses from the north will collide with hot tropical masses from the south more frequently such usual in Tornado season 2021 and it is possible that mid-March 2021 situation is only the beginning of the serious long-term period, with a possible deadly outbreaks.
Gradually, tornado outbreak will shifting into more and more northern regions until May 2021 and serious storms should hit large regions up to Great Lakes and southeastern Canada.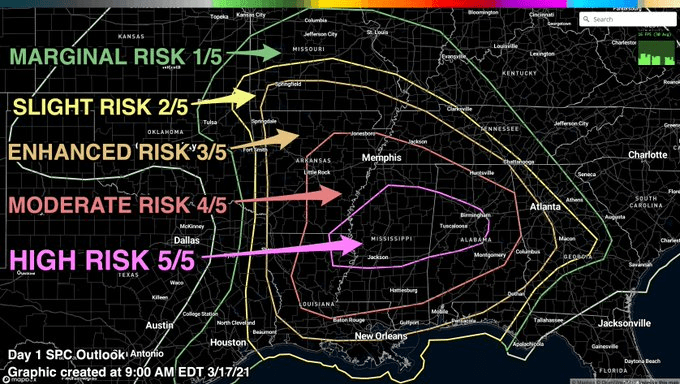 Read more: