Severe drought in Thailand: Mekong with critical levels only around 1 meter
Season of drought in Southeastern Asia is this year very strong. Strong Siberian blasts in the winter were shifting tropical and monsoonal moisture more into the south, such as usual, and large region of Myanmar, Thailand, Cambodia, Laos, Thailand and southern China has experienced during last months with unseasonally dry conditions.
Aroud 7. March 2021 according to measurements and satellite images, level of the river was reaching only around 1 meter and flow was limited only to narrow watercourse in Thailand, including giant delta of the monsoon river.
Mekong is important source fo water for more than 60 millions people in Southeast Asia and drought is bringing significant problems – not only in agriculture, industry and water supplies, but too with SARS-CoV-2 pandemic, because it is known, that virus is spreading in dry weather more.
Forecasts for the next 16 days are bad – only isolated thunderstorms over area and still shifted monsoonal systems into the south – over Malaysia, Singapore, Brunei or Indonesia.
According to Mkweather Spring 2021 forecast for Asia /https://mkweather.com/spring-2021-forecast-for-asia-2021//, however monsoon Asia is waiting wet and colder spring, with many stroms and possible tropical threats until the end of May, therefore it is possible, that in April 2021, monsoon over continental parts of the region will return.
Mekong – situation on 7.3.2021 and before 2 years (8.3.2019) /thewatchers.news:
16- day precipitation forecast for region /wxcharts.com: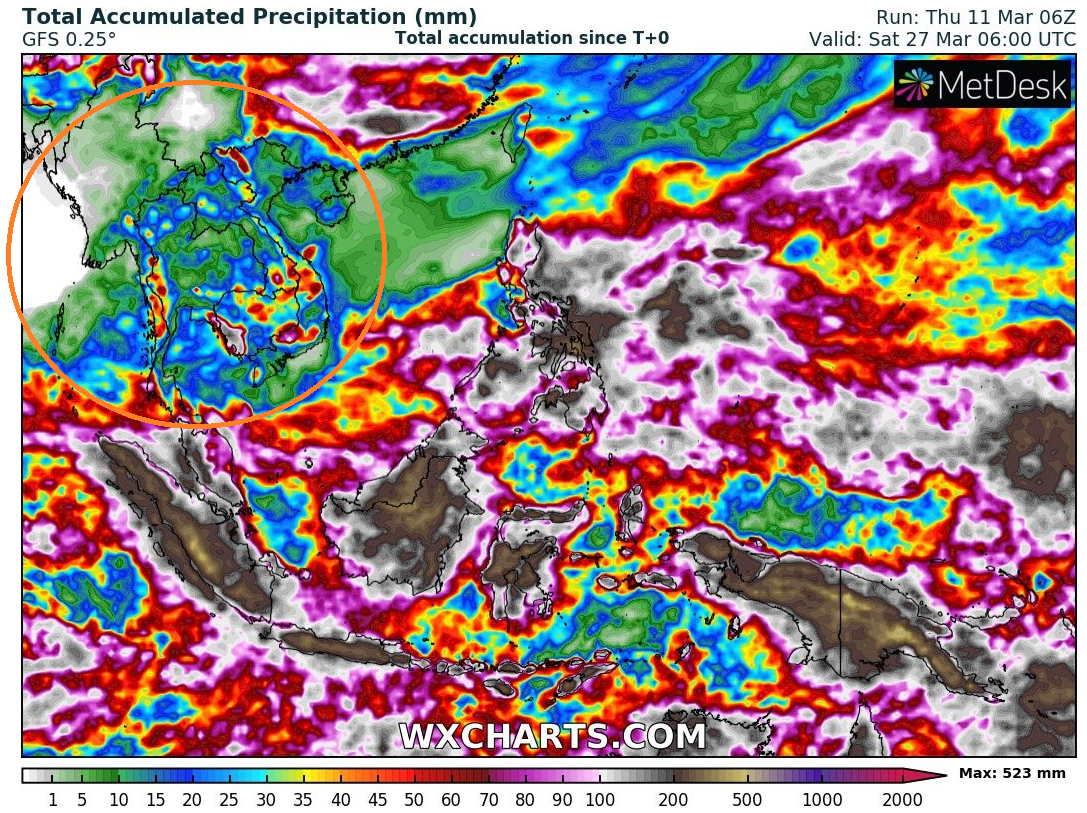 Read more: