Snow and frosts soon back! Europe on 16.-22. March with the next strong coldwave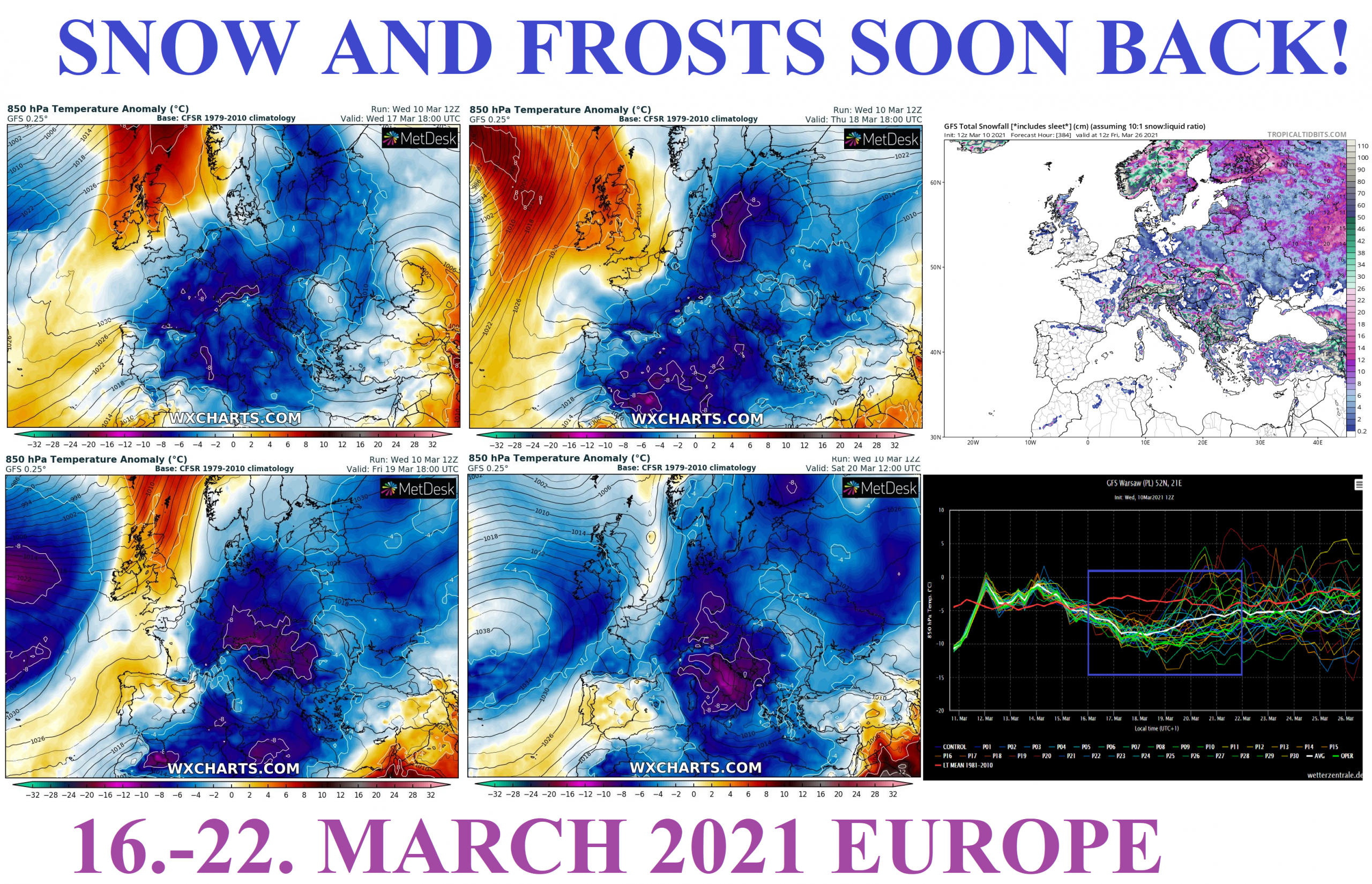 The first March 2021 coldwave is ending in Europe with extremely low temperatures (Finland, -38,9°C, the coldest March temperature since 1998: https://mkweather.com/southern-finland-389c-the-coldest-national-minimum-temperature-in-march-since-1998/) and devastating windstorm, which ends the coldwave, is coming /https://mkweather.com/damaging-windstorm-100-160-km-h-hits-london-dublin-manchester-amsterdam-hamburg-copenhagen-oslo-already-next-hours//.
Windstorm will bring temporarily warmer conditions, but already all next week, from 15.-16. March, until 22.-23. March is on the plan the next severe coldwave on the back side of remnants of this robust deep-pressure system, again with snowing and frosts in many, including the warmest parts of continental Europe or even British Islands.
The coldest times are forecasted mainly for 16.-22. March and in narrower filter for 17.-20. March 2021, with cold temperature anomalies almost above all Europe, with snow cover almost in all Central Europe, Balkan or even parts of eastern France, Benelux, of the UK or Italy or Turkey, again.
For warmer weather therefore we will be waiting little longer time, such as appeared on Tuesday /https://mkweather.com/hot-sunny-spring-already-after-20-march-2021-forecasts-are-very-delightful//, but warm spring weather in the third March decade is still on the plan.
Minimum temperatures in T850 hPa air masses around -10°C over parts of Central Europe should again bring frosts up to -15°C in basins and valleys (very rarely maybe -20°C in places with deep snow cover, such as during the last coldwave in Czechia: https://mkweather.com/finland-30c-czechia-22c-belgium-10c-siberian-air-is-back/), in lowlands temperature should drop up to -10°C rarely, in SE Poland maybe lower, around -12°C.
Frosts will appear on many parts of western Europe, too and it will be quite untraditionally March blast – relative long and with snowing in large region.
Forecasts for subsequent spring times will be updated soon on Mkweather.
Infographics: wxcharts.com, wetterzentrale.de, tropicaltidbits.com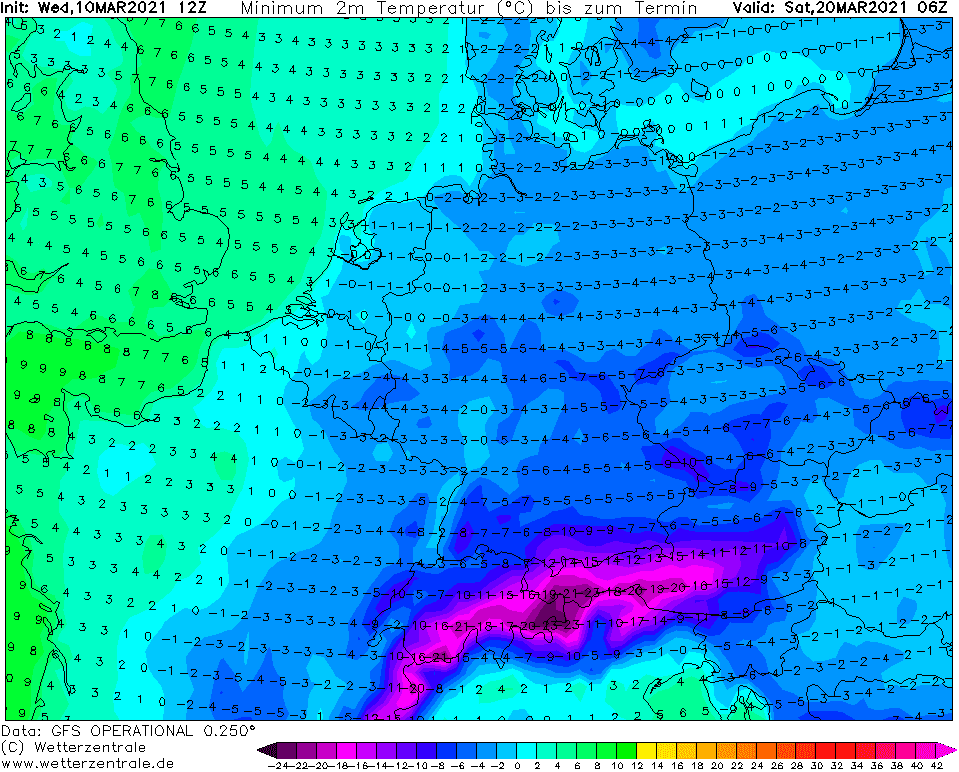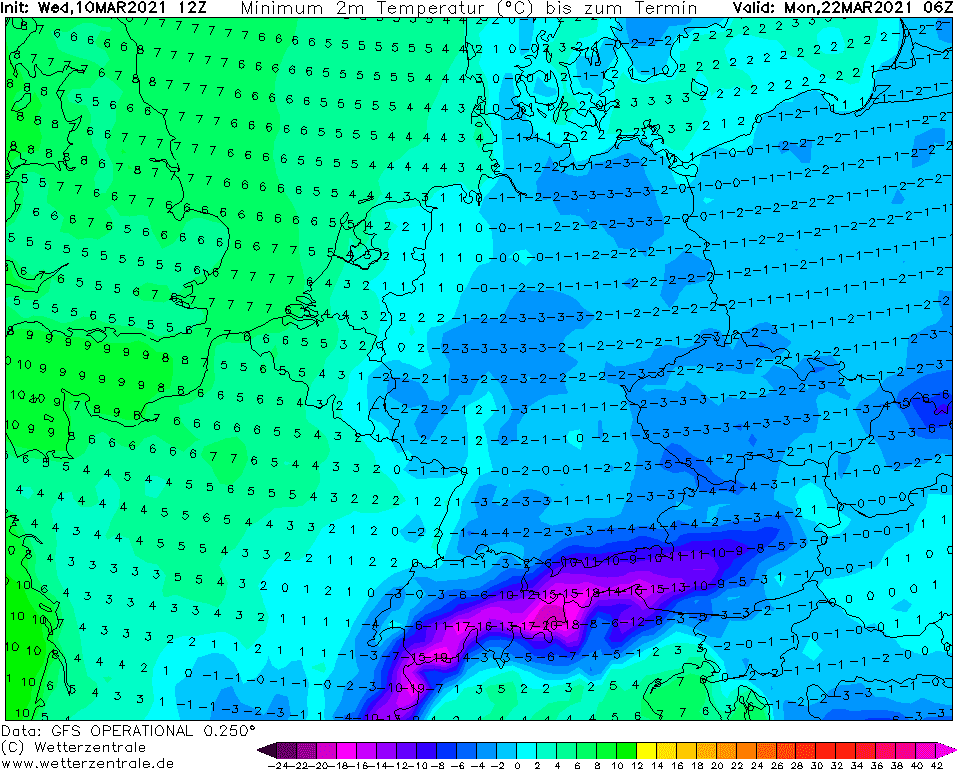 Read more: