Warm spell in Europe will have peak from 29. March to 2. April 2021 /updated GFS maps/
In 2 previous articles, we have offered maps with a possible national / regional maximum temepratures in Europe during upcoming warm spell at the end of March and at the start of April 2021 /https://mkweather.com/the-first-european-heatwave-in-2021-estimates-of-national-top-temperatures/; https://mkweather.com/summer-25c-for-poland-too-the-spain-and-portugal-with-tropical-33c-soon//.
Now, when warm spell / in some parts regular heatwave is every day confirming, we should to watch mainly shifts of the warmest air masses across Europe in forecast models outputs.
It appears, that despite of strong NAO+, warm spell won´t hit northern parts of Europe (northern British islands, Scandinavia, Baltic region, nrothern European Russia) so strongly, such as was expected a few days ago, but mid-latitudes and Mediterranean should enjoy really warm / hot spring weather.
In Iceland and Scotland were measured temperatures around +20°C in last week, but at the end of March, extremely warm air won´t shift so northward. However, in England, temperatures up to +22°C should surprise around 30. March 2021.
In the Spain and Portugal, the hottest day should be 29. March, with maximum temepratures above +30°C in the hottest regions, very close to +30°C should temperature increase in SW France.
Benelux won´t be so extremely warm, such has appeared before a few days and maximum temperatures should reach maximally +22°C.
Summer +25°C is still possible closely to Paris, France and in southern and central parts of Germany, Switzerland, Austria and Czechia. Poland should be little colder, with +23/+24°C in southern half.
Warm spell should surprise in Slovakia, Hungary, Slovenia, Croatia, Bosnia and Herzegovina and Serbia, with temepratures up to +27°C and warmer than was expected should be in eastern Balkan, too, up to +24°C.
+24°C should surprise at the start of April in Ukraine, +20°C in southern Belarus, but Belarus and Baltic states appear finally colder than in outputs of previous days.
Warm weather finally surprise southern half of European Russia too, with temperatures up to +18°C, maybe +20°C.
Only Turkey stays extremely cold, in northeastern regions even with all-day frosts and severe morning frosts up to -25°C.
Infographics: wetterzantrale.de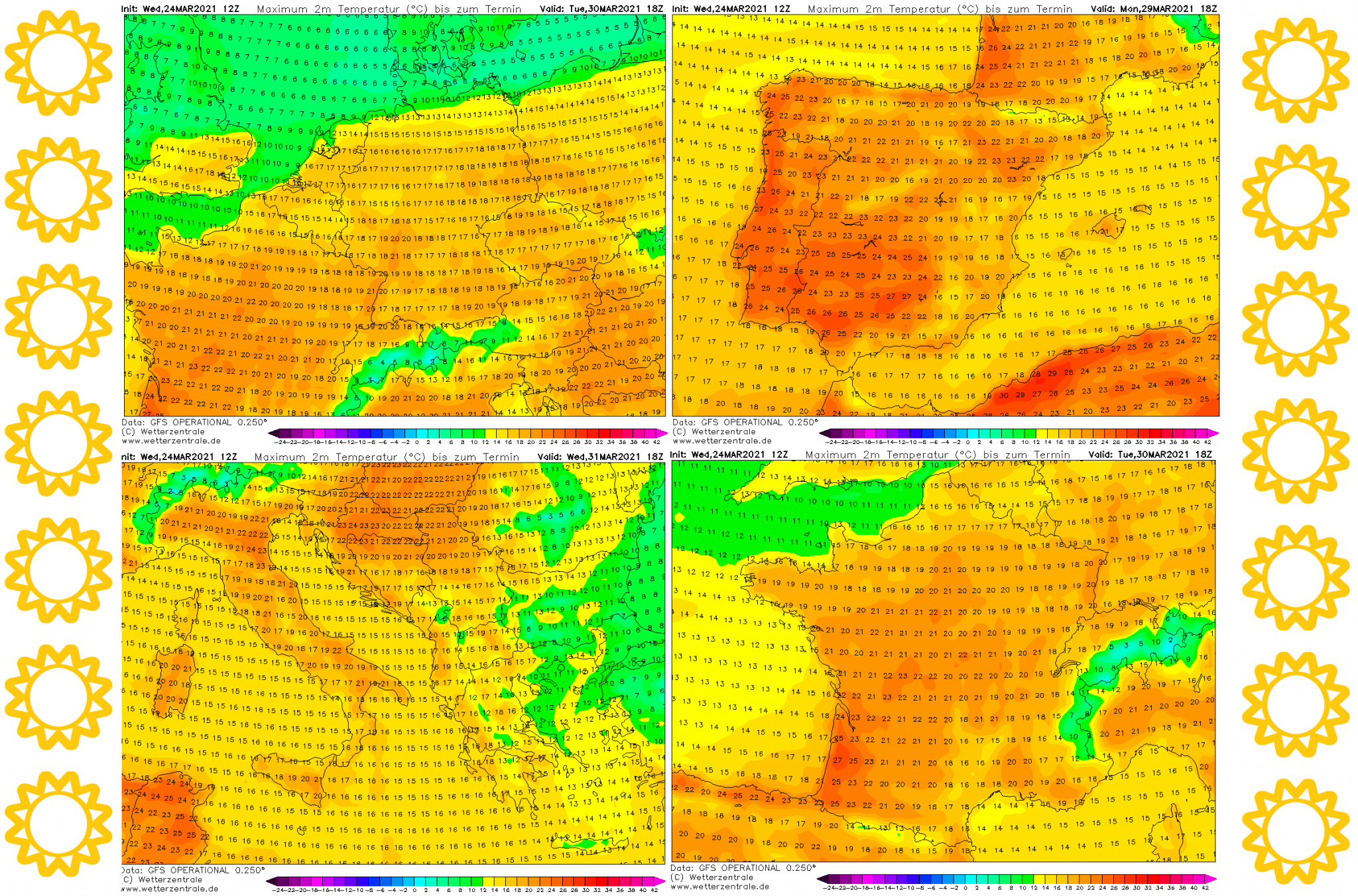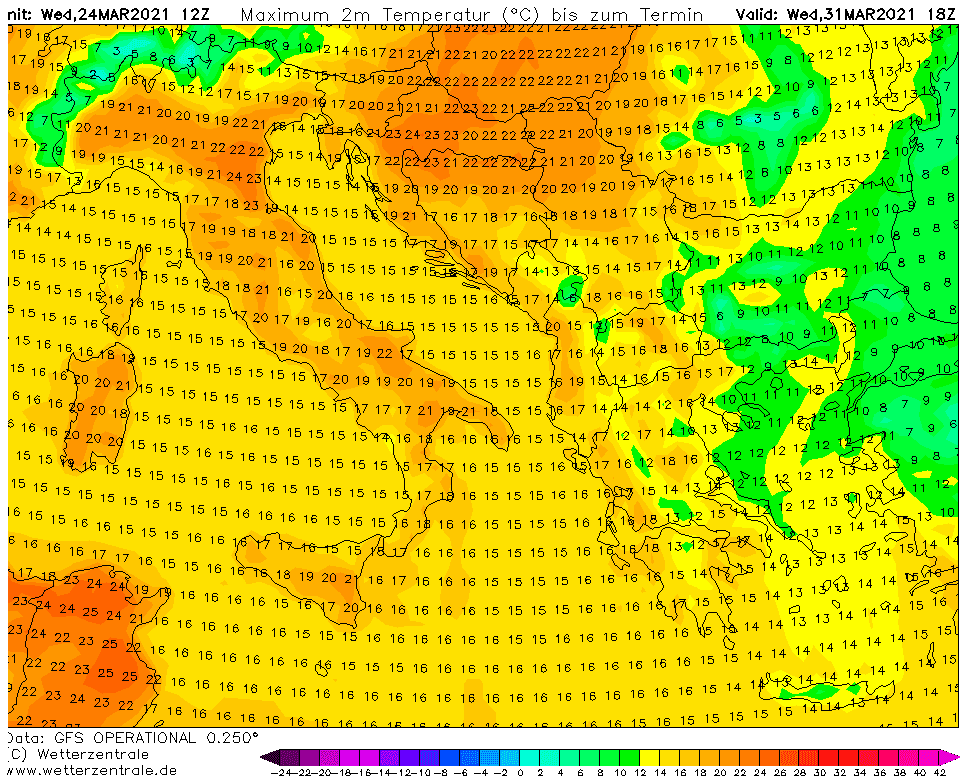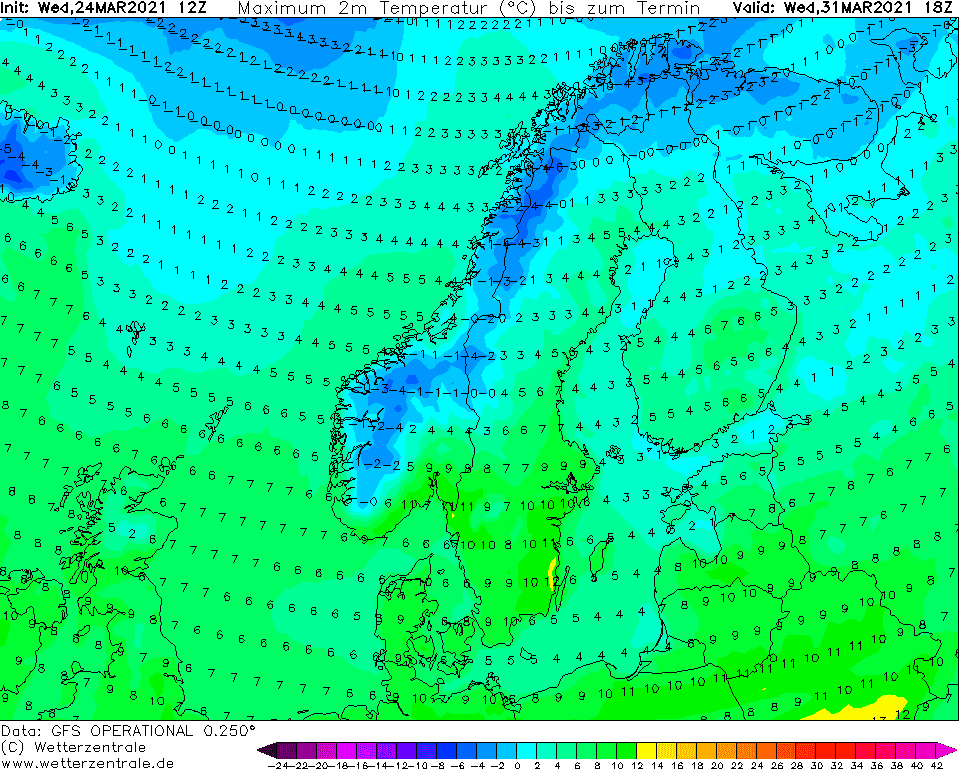 Read more: