Mysterious lighting in Portugal killed 68 goats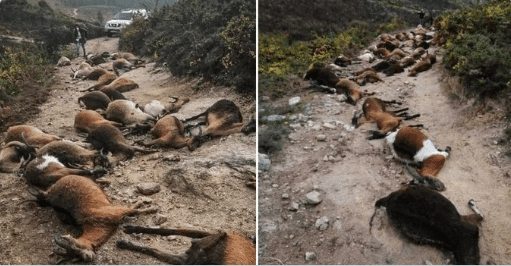 While Europe experiences with extreme coldwave with late season frosts and snowfall, in southern edges of the continent, cold air is colliding with hot tropical air masses with a result of severe T-storms.
However, in this case, Portugalese meteorologists confirmed any thunderstorms in the area.
Shepard nearby on the other hand heard two extremely loud thunders, although there were no clouds or rain.
Result of mysterious lighting in Valdevez, Portugal was devastating – 68 of 300 goats were killed after an accident.
Shepherds told, that have never seen anything like it in his 40 years of experience.
Mysterious phenomenon is now a subject of the next investigation and controversy.
Similar cases around the world, when severe thunderstorms killed dozens of sheeps or goats are good known.
E.g. in 2019, around 220 goats and sheeps were killed in Jammu and Kashmir's Ganderbal district, India /https://www.greaterkashmir.com/news/kashmir/lightning-kills-220-sheep-goats-in-central-kashmirs-ganderbal//.
Several similar accidents with various intensity were reported around the world in last years.
A big problem in Iberia, France and Italy are April late frosts, which in many regions destroyed almost all harvest of grape //https://mkweather.com/late-frosts-destroyed-most-of-grape-harvest-in-france-spain-italy/; https://mkweather.com/french-vineyards-are-fighting-with-extreme-frosts-temperatures-dropped-up-to-12c/; https://mkweather.com/italy-subtropical-crops-suffer-10c-frosts-harvest-in-a-danger/; https://mkweather.com/abnormal-temperature-in-sardinia-mediterranean-80c-in-500-masl//. Portugal was however hit by severe frosts or only ground frosts much lesser than other countries in southern Europe and harvest should be around Porto region very good.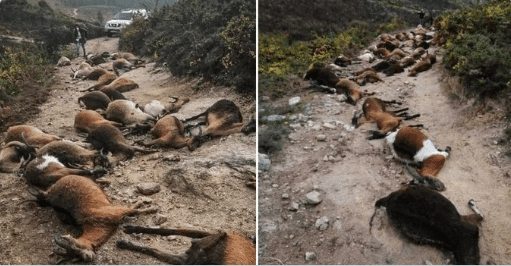 Read more:
https://mkweather.com/switzerland-with-deadly-avalanches-50-worse-than-other-seasons-27-died/