Snow and severe frosts already in next days, the second Arctic blast starts at the weekend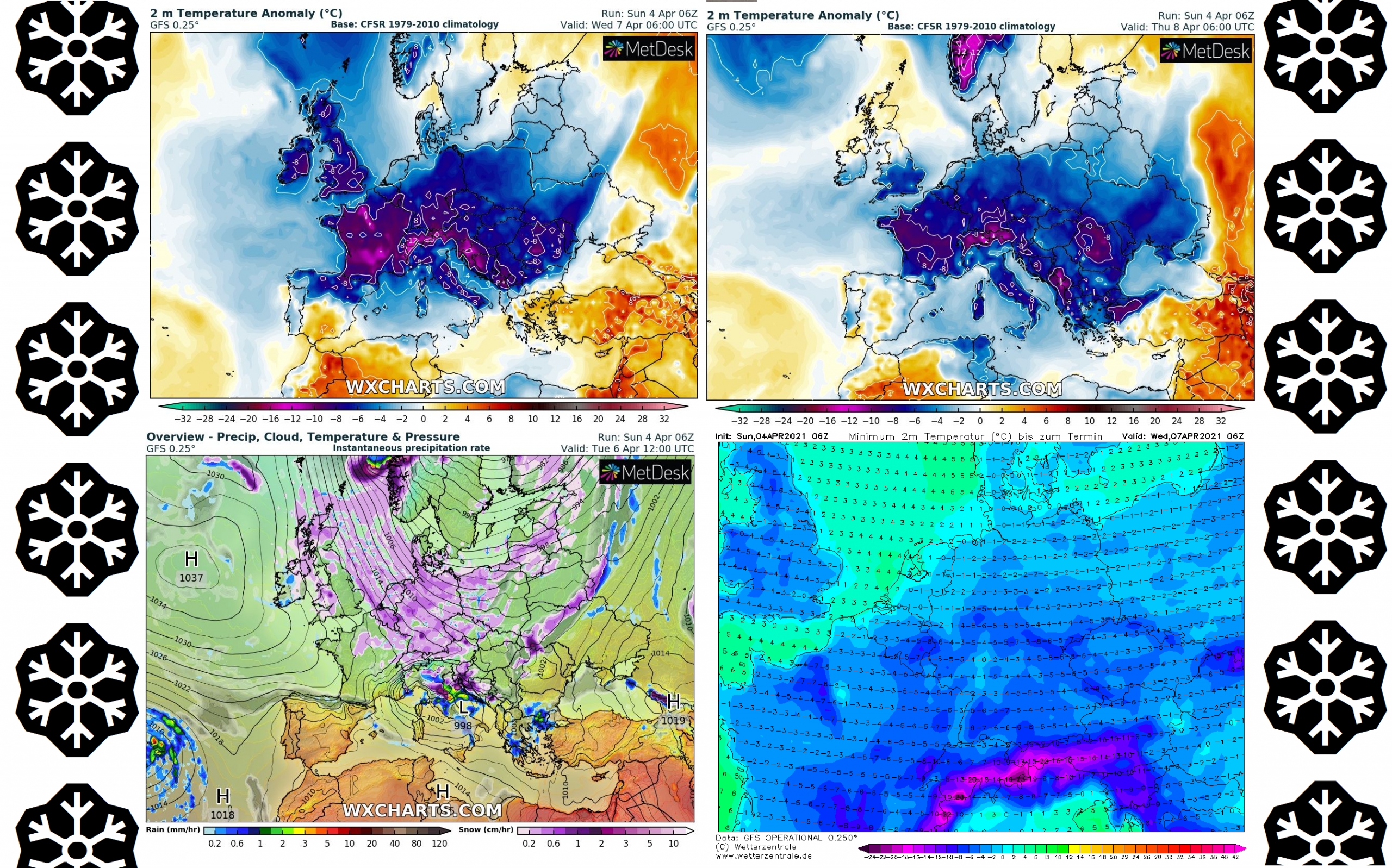 In this article we have updated forecast maps of air pressure with precipitation type in Europe, T2m anomaly in Europe and T2m in central parts of Europe until 16. April 2021.
We have warned before late spring coldwave in Europe in series of articles before /e.g. https://mkweather.com/the-next-coldwave-in-europe-will-be-drastic-temperature-records-snow-and-extreme-frosts/; https://mkweather.com/where-will-the-april-coldwave-be-strongest-heavy-frosts-estimates-of-potential-national-tops-of-minimum-temperatures-below-1000-masl-in-europe/; https://mkweather.com/polar-vortex-brings-snowing-3-14-april-parts-of-europe-with-blizzard-50-cm-of-snow/; https://mkweather.com/the-uk-hits-the-coldest-april-weather-in-history-all-time-record-154c-should-be-overcame-record/; https://mkweather.com/april-snow-hits-europe-coldwave-will-be-long-and-strong-snow/; https://mkweather.com/polar-vortex-brings-to-western-europe-10-day-coldwave-some-runs-expect-blizzard-for-central-parts-of-continent//.
It appears, that the most of snow and subsequent severe frosts are waiting us from Tuesday to Thursday, 6.-8. April.
Firstly, cold front on the front side of part of polar vortex will bring widespread snowfall and snow showers across continental Europe and British Islands, both, then, extremely cold mornings, with temperatures 0/-5°C, near snow cover -5/-10°C, in basins and valleys below 1000 MASL with snow cover only -10/-15°C surprise many European countries.
On maps below we should see, how pressure systems, cold air and frosts will be shifting across Europe during the next 12 days.
The first coldwave (until Thursday, 8. April) will be alternated by relatively warmer weather around Friday, 9. April, but already at the weekend and early next week, between 10.-14. April, the next Arctic blast hit mainly western and northern Europe, including the Spain and Portugal, with additional late frosts and in colder regions snow showers.
Very warm weather is still forecasted only after 15. April, we will look at it in the next Mkweather article.
Then, Mkweather will be focused on Summer 2021 forecasts for continents, therefore stay watch weather and climate with us.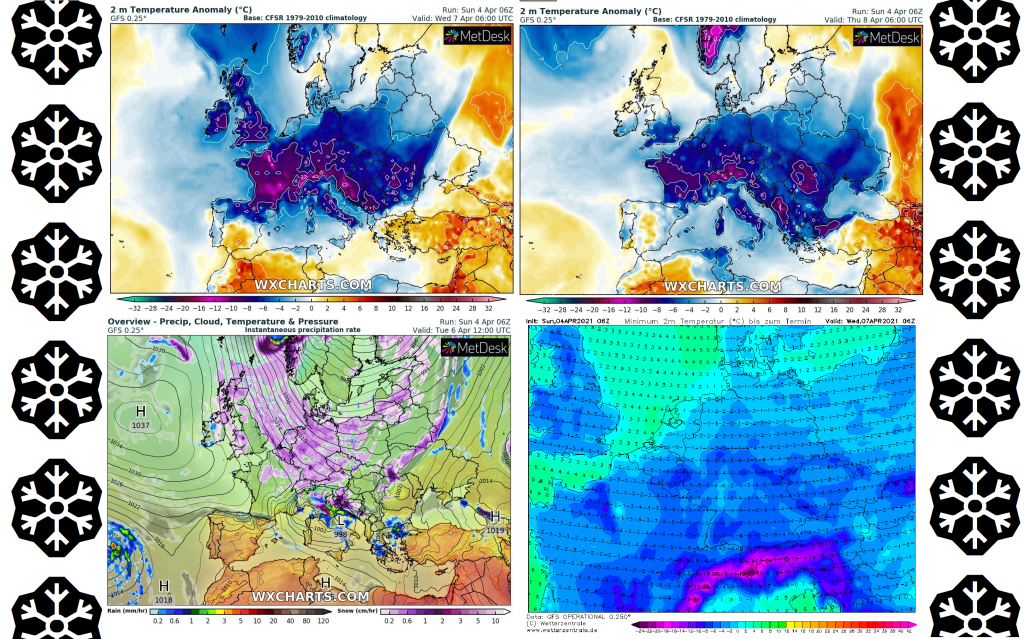 Forecast for 5.-16. April 2021 /wxcharts.com, wetterzentrale.de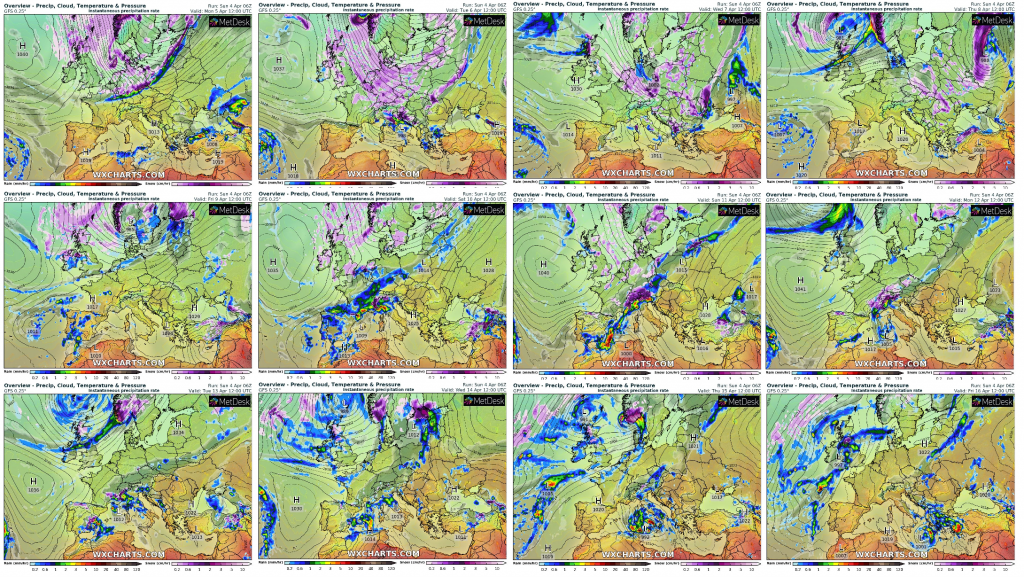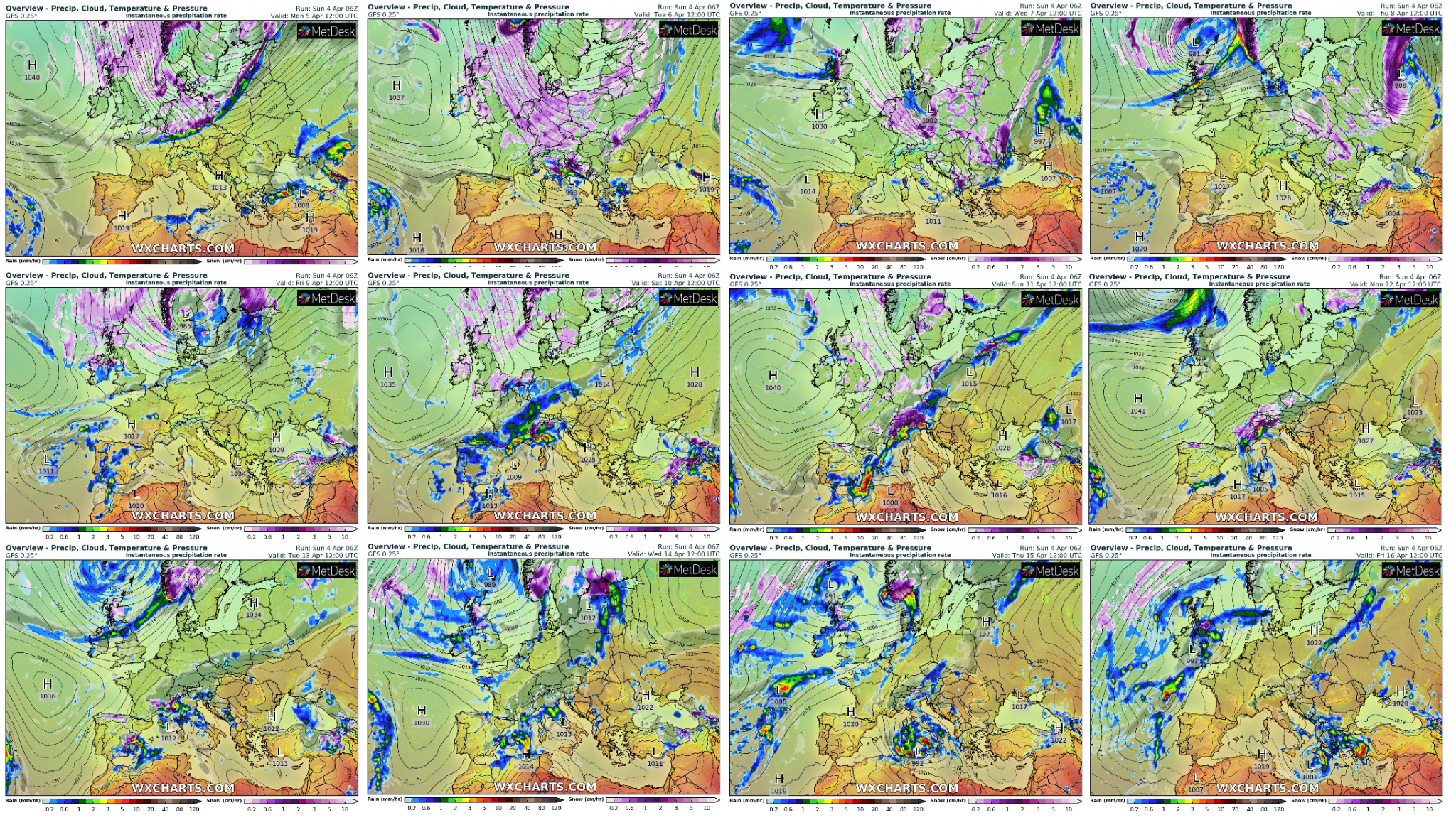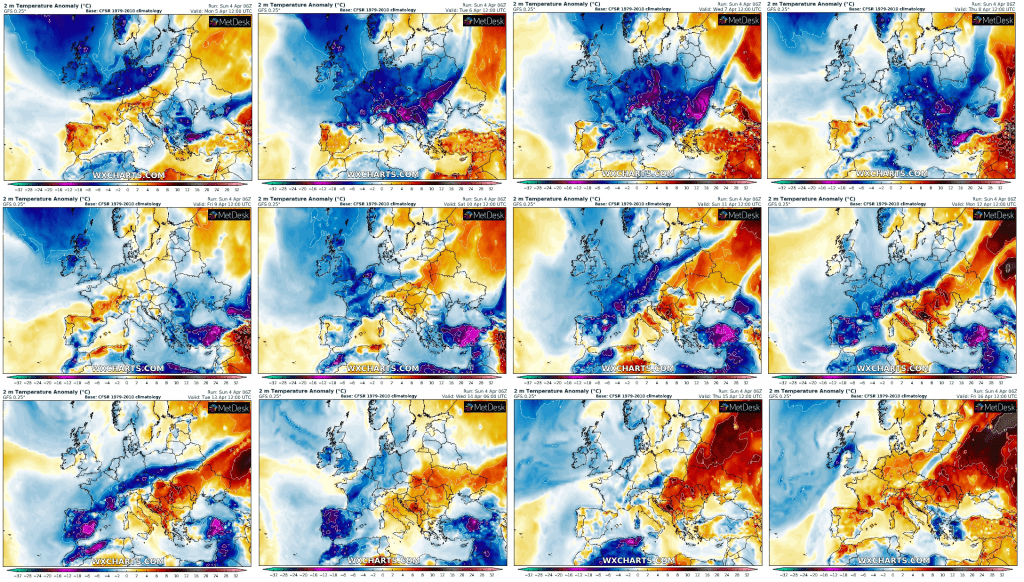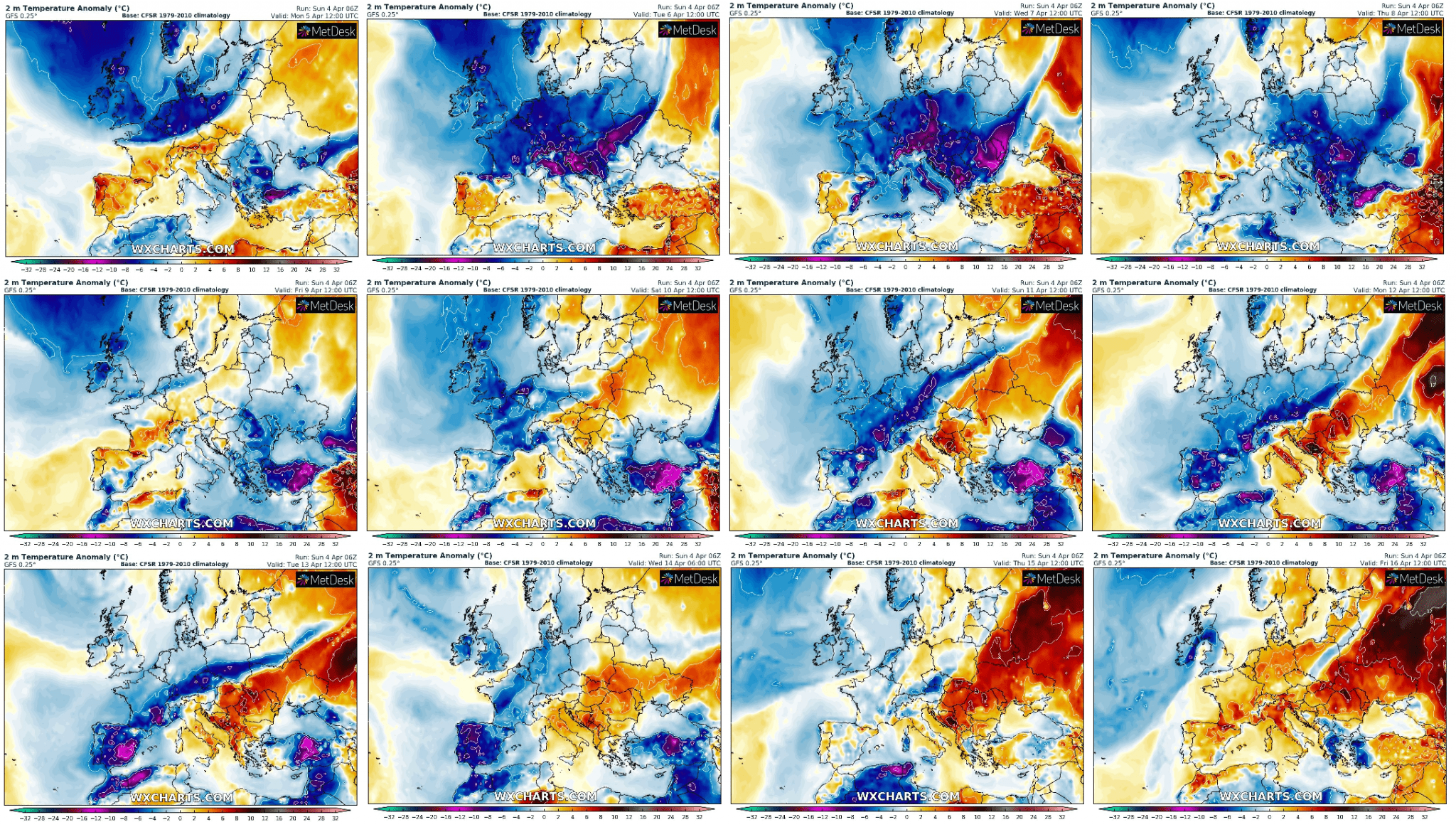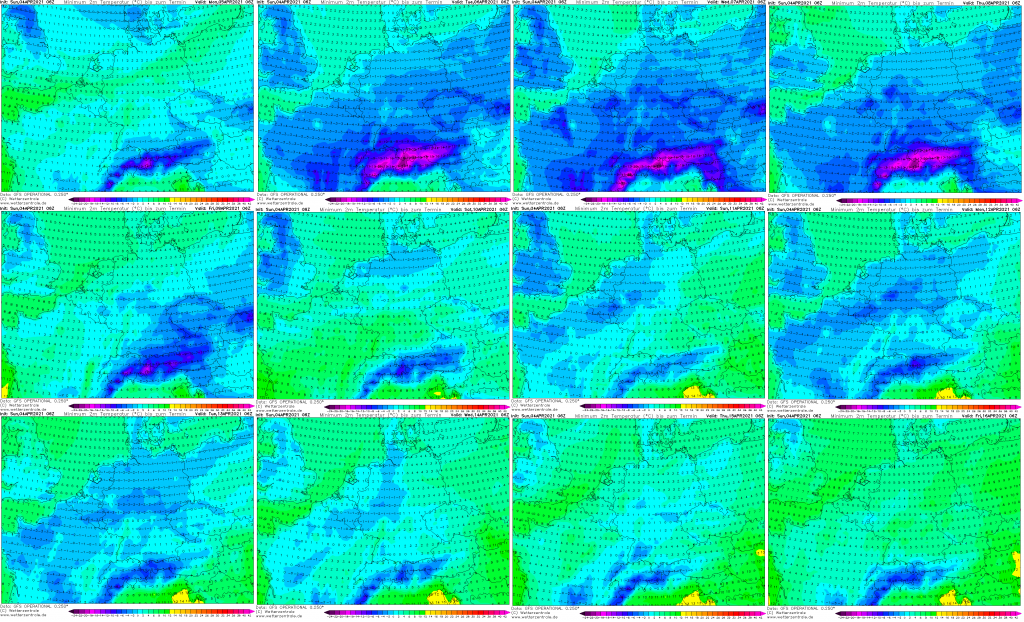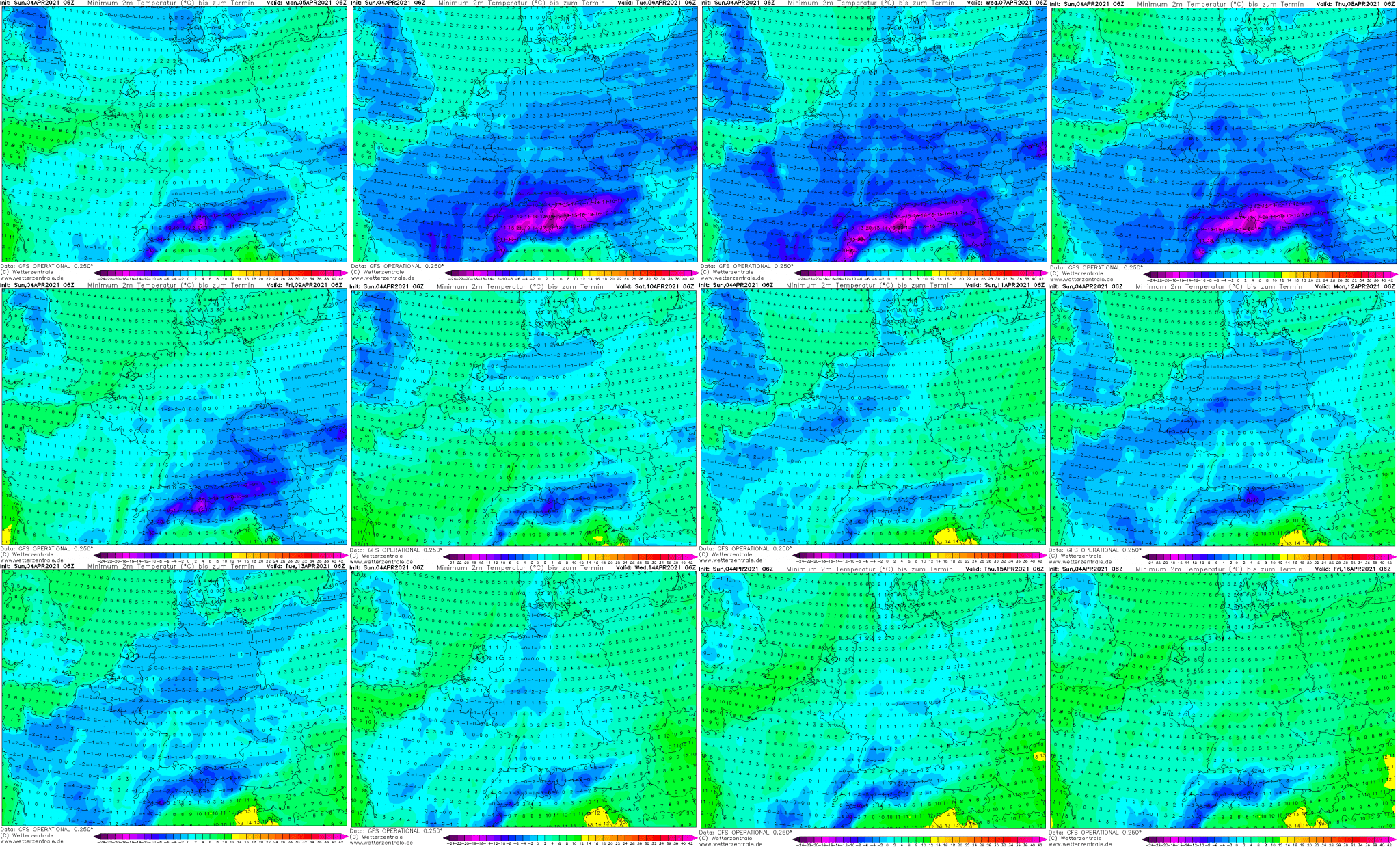 Read more:
Man in High Tatras was hit by lighting! Heavy storms in the Alps and Carpathians after another hot day! | mkweather
Wednesday brings summer: Paris +27°C, Frankfurt aM +26°C, London +25°C, Wroclaw +24°C | mkweather
Canada under the snow, spring is coming very slowly | mkweather
India and Pakistan with heatwave, after floods and snow in the mountains | mkweather
Middle East almost +45°C, its very early, Central Asia +38°C already | mkweather
The UK -10°C, Greece +35°C? Extreme temperature differences across Europe after an Easter? | mkweather