Belgrade 10 cm of snow: New record of the latest snowfall since 1888, Croatia -12,0°C in 564 MASL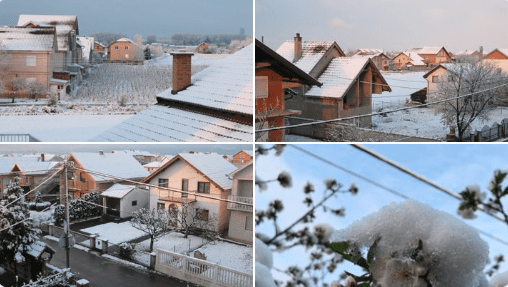 Previous records 7 cm from month April were recorded in 1996 and 1997.
Extremely cold weather hasn´t hit only northern, western and central Europe, but too Balkan.
Not only unbelievable -20,6°C in 716 MASL in Slovenia /https://mkweather.com/european-april-arctic-blast-206c-in-718-masl// and the next expected snowfall before 15. April /https://mkweather.com/the-next-snowstorm-for-europe-cold-front-will-be-shifting-across-europe-7-days//, but too regional snow records surprised parts of Balkan.
In Belgrade, Serbia, from Tuesday to Wednesday, 6.-7. April 2021 fell the highest snow cover in modern history (since 1888) of meteorological measurements. Depth of a snow reached in the morning winter 10 cm and minimum temperature dropped below 0°C.
Even colder was in Kopaonik, 1711 MASL – record -10,1°C.
Brutally cold morning was reported from Gospic, Croatia, only 564 MASL, only -12,0°C thanks to 24 cm snow cover. It´s record temperature for Croatia for month April, if we neglect mountainous stations.
Temperature in Sarajevo dropped during last night into -3,0°C and 15 cm of snowfall covered the ground. In Bjelasnica, 2067 MASL, Arctic day with maximum temperature only -10,0°C was measured.
Ljubljana reported -4,4°C and 8 cm of snow. Only before 6 days, on 1. April 2021, Slovenian capital reported summer +26,2°C.
Extremely cold was in Hungary, too, in Szeczeny, 152 MASL, only -8,0°C.
The next snowfall or only least snow showers is possible in Slovenia, Croatia, Bosnia and Herzegovina, Serbia and Romania around Wednesday and Thursday, 13.-14. April 2021.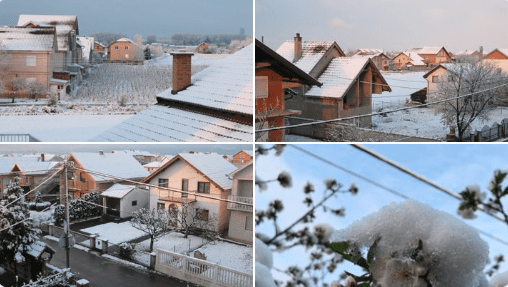 Read more:
Man in High Tatras was hit by lighting! Heavy storms in the Alps and Carpathians after another hot day! | mkweather
Wednesday brings summer: Paris +27°C, Frankfurt aM +26°C, London +25°C, Wroclaw +24°C | mkweather
Canada under the snow, spring is coming very slowly | mkweather
India and Pakistan with heatwave, after floods and snow in the mountains | mkweather
Middle East almost +45°C, its very early, Central Asia +38°C already | mkweather
The UK -10°C, Greece +35°C? Extreme temperature differences across Europe after an Easter? | mkweather