Frosts are back: The UK -7,6°C, France -6,4°C, Belgium -4,5°C, Germany -4,2°C, the Netherlands -3,2°C, the Spain -2,6°C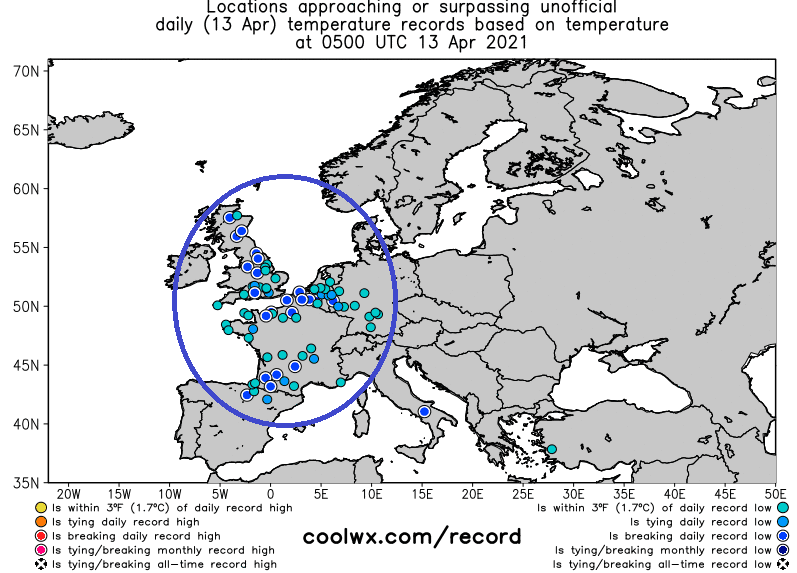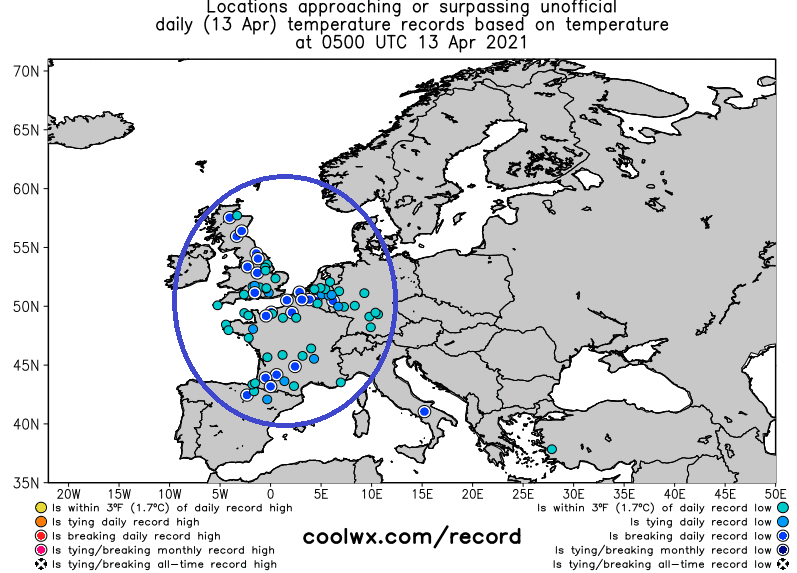 After extremely cold morning in the UK on Monday, 12. April, when temperatures dropped almost to -10°C /https://mkweather.com/tulloch-bridge-the-uk-94c-widespread-snowing-hit-london-too-the-coldest-mid-spring-since-2013//, another freezing morning is coming into western parts of Europe, while in the Alps and Carpathians, is intensively snowing /https://mkweather.com/some-parts-of-central-europe-expect-5-day-april-blizzard-05-meter-of-snow-is-rarely-expected-snowfall//.
On Tuesday, 13. April 2021, morning, the coldest temperatures in lower situated regions were -7,6°C in Tulloch Bridge, UK, -6,4°C in Leupaud, France, -4,5°C in Mont Rigi, Belgium, -4,2°C in Wasserkuppe, Germany, -3,2°C in Deelen, the Netherlands and -2,6°C in Vitoria, the Spain.
According to coolwx.com weather tool, on Tuesday were temperatures across parts of the UK, France, Benelux, northern Spain and western Germany extreme low, with many all-time daily temperature records for 13. April.
Some mountainous stations in central parts of Europe already report 0,5 meter of fresh snow and snow border is gradually shifting into lower situated regions.
Severe frosts are forecasted almost for all Europe until the end of current week. Main field of severe frosts will be shifting from western above central Europe and regions with snow cover should expect untraditionally cold mornings.
-2,9°C was already measured in Mirowslawiec, Poland and -2,8°C in Karlovy Vary, Czechia, but the next mornings will be even colder, with posible peak of frosts only in the second half of the week.
According to current estimates, temperatures should on Friday, 16. April 2021 fall in low situated Carpathian basins with snow cover below -10°C, maybe even lower, up to -12°C or -14°C.
We will see how the situation will develop during the following days.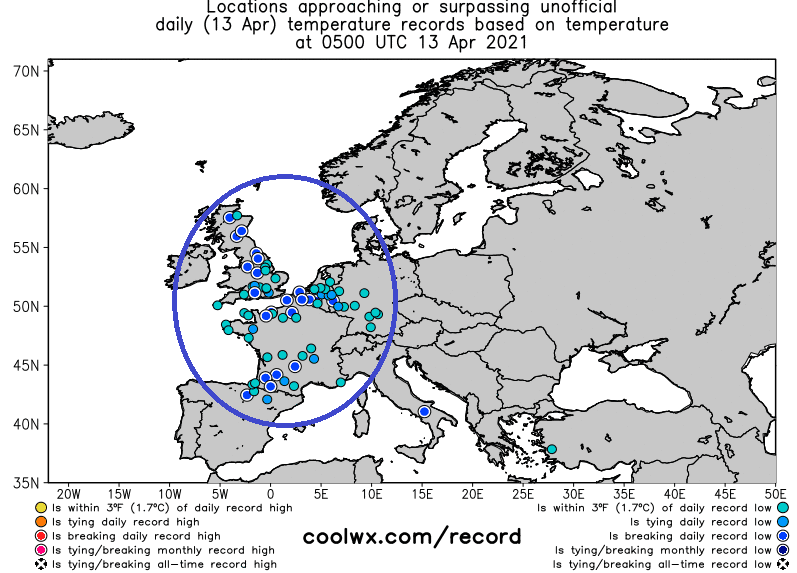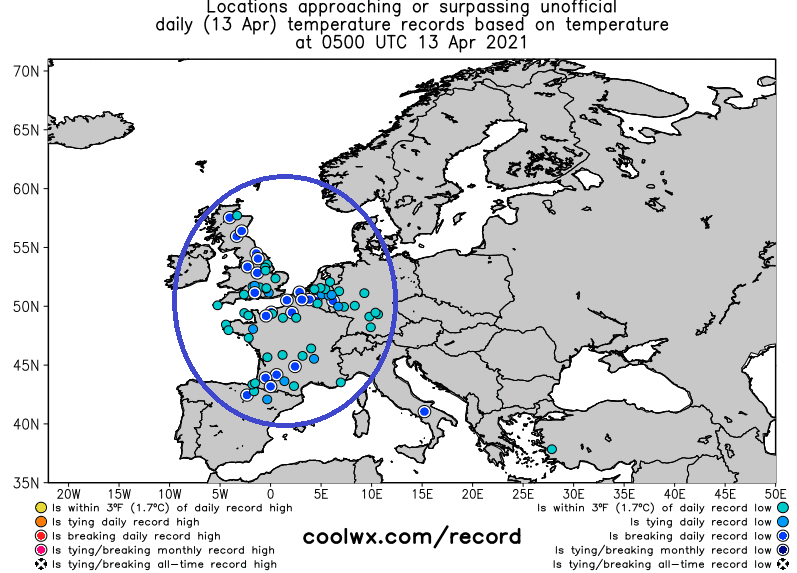 Read more:
https://mkweather.com/switzerland-with-deadly-avalanches-50-worse-than-other-seasons-27-died/