Alaska expects record April coldwave (-50°F / below -45°C) after all-time snow records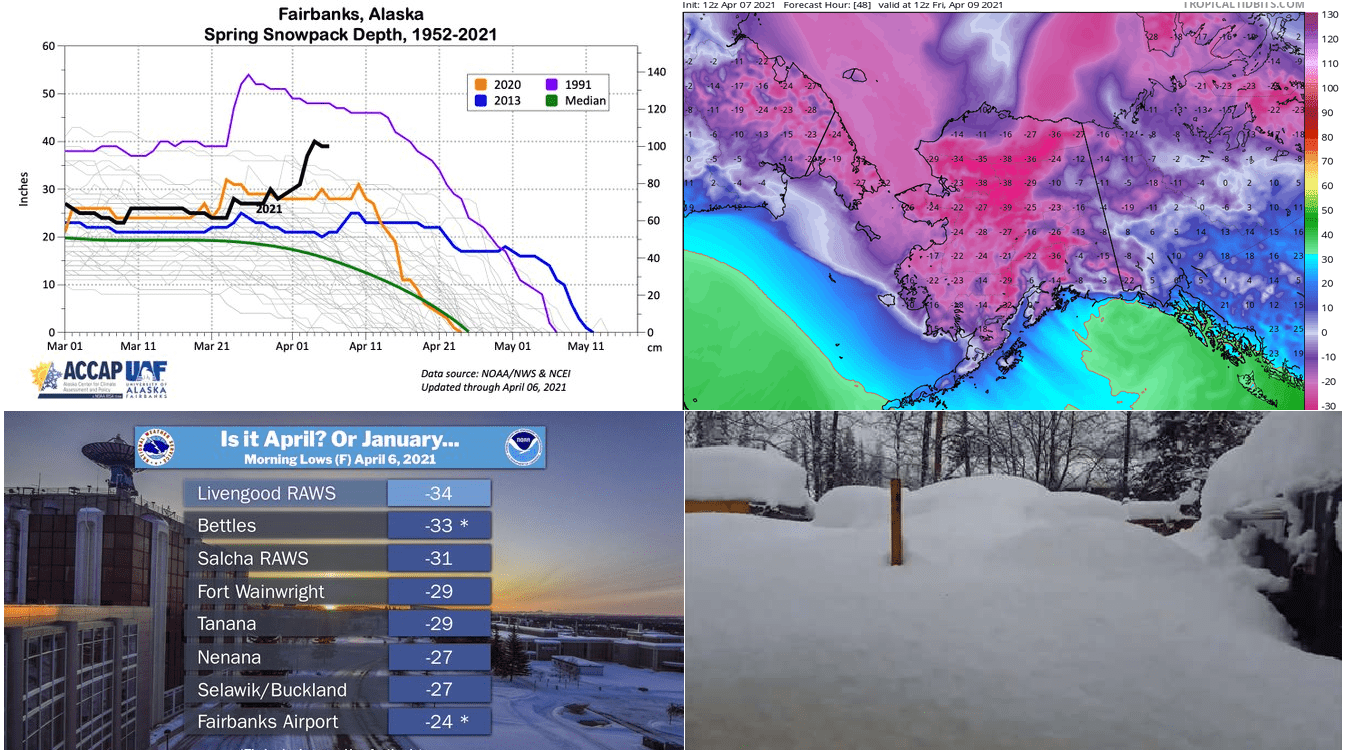 Persisting La nina pattern is bringing long-term winter conditions in many regions of Northern Hemisphere – probably the coldest effect of the pattern we should watch all winter season from Alaska and northwestern Canada, where are winters during La nina extremely cold.
According to the newest published materials, snow depth in Fairbanks (and many other stations across the state) is reaching these days the highest value in April in history. Snow cover is significantly above all years of measurements between 1952 – 2020 in last period.
In Fairbanks, it has been 177 days since they hit 40°F on 6. April 2021, which breaks the previous record of 176 days back in the winter of 1965-1966.
Moreover, extreme coldwave should bring thanks to high snow cover and extremely cold Arctic blast the coldest temperature in region in April in all-time history, only around -50°C (-46°C)!
Ski centers in Alaska are despite of COVID pandemic happy from this weather, but deadly avalanches are still possible.
Meanwhile, above the USA and central and eastern Canada, mega-heatwave has started on Easter 2021 and is bringing really hot times, with the first summer (above 77°C / +25°C) or tropical (above 86°C / +30°C) days across continent.
Europe, similarly such as Alaska, is experiencing with record coldwave – temperatures in lower situated regions dropped up to -20,6°C and many region report the coldest April times in history and heaviest late season snowfall /https://mkweather.com/european-april-arctic-blast-206c-in-718-masl/; https://mkweather.com/the-next-snowstorm-for-europe-cold-front-will-be-shifting-across-europe-7-days/; https://mkweather.com/belgrade-10-cm-of-snow-new-record-of-the-latest-snowfall-since-1888-croatia-120c-in-564-masl//.
Its possible, that cold La nina pattern will be persisting over Alaska and northwestern Canada minimally until the beginning of Summer 2021, therefore, the next snowfall and temperature records will be until May-June 2021 possible.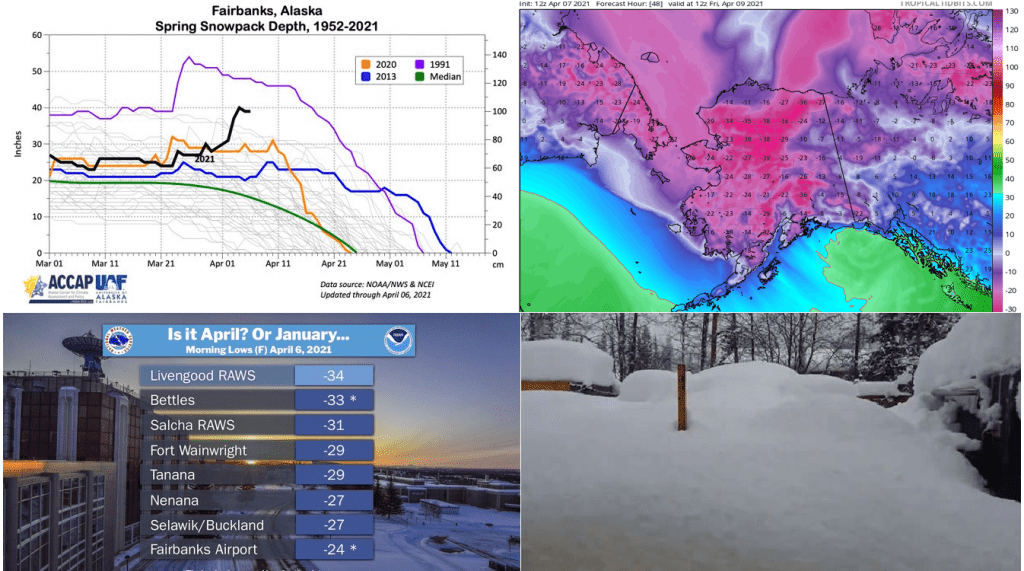 Read more:
Man in High Tatras was hit by lighting! Heavy storms in the Alps and Carpathians after another hot day! | mkweather
Wednesday brings summer: Paris +27°C, Frankfurt aM +26°C, London +25°C, Wroclaw +24°C | mkweather
Canada under the snow, spring is coming very slowly | mkweather
India and Pakistan with heatwave, after floods and snow in the mountains | mkweather
Middle East almost +45°C, its very early, Central Asia +38°C already | mkweather
The UK -10°C, Greece +35°C? Extreme temperature differences across Europe after an Easter? | mkweather