Addo/East London, South Africa, +44,2/+44,0°C, close to autumn temeprature records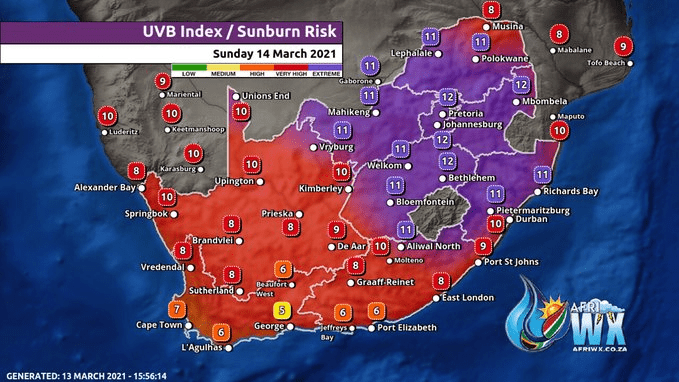 Despite of extpcted cold and wet Autumn 2021 in southern African countries /https://mkweather.com/spring-autumn-2021-forecast-for-africa//, there has come an excessive heatwave at the weekend, 13.-14. March 2021, with maximum temperatures in eastern parts of South Africa very close to all-time autumn (or March) temperature records.
The hottest was in region of East London – in the city has been measured +44,0°C, but in Addo +44,2°C. Maximum temperatures such these are in this season very rare and in the middle of La nina cold and wet weather patterns it appears such as island of heat in long term perspective.
Moreover, in southeastern coast of South Africa, hit extremely warm marine waters, associated with temperature-related deaths of many organisms.
Extremely hot weather was / will be measured in parts of Namibia, Botswana, Zimbabwe or Mozambique, too.
UV index in some parts of South Africa will reach on Sunday, 14. March 2021 value 12, what is the highest possible value on 12-degree scale.
In western and central parts of continental southern Africa countries, gradually severe stroms are during next hours expected.
Not a long time ago, eastern South Africa was hit by cyclones Guambe and Eloise /https://mkweather.com/south-africa-experiences-with-stormy-summer-and-autumn-the-next-hailstorms-and-floods-in-last-period/; https://mkweather.com/tropical-storm-guambe-with-155-km-h-winds-hit-south-africa-eswatini-mozambique-and-madagascar/; https://mkweather.com/cyclone-eloise-hit-south-africa-mozambique-and-zimbabwe//.
It is possible, that colder and stormy weather will return in the region soon, therefore if you live here, you should enjoy last remnants of extreme summer season heatwaves, these days.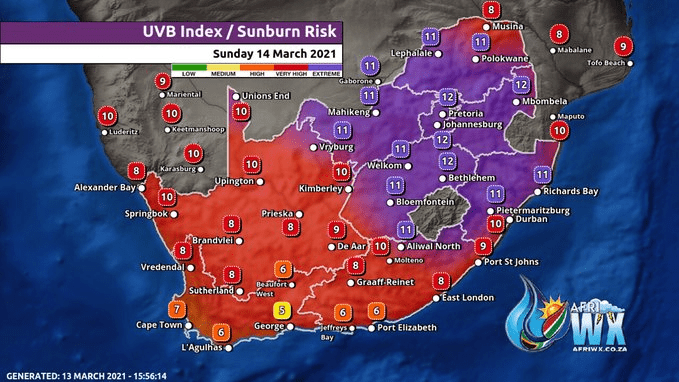 Read more: