Germany +31,2°C only 2 days after snowing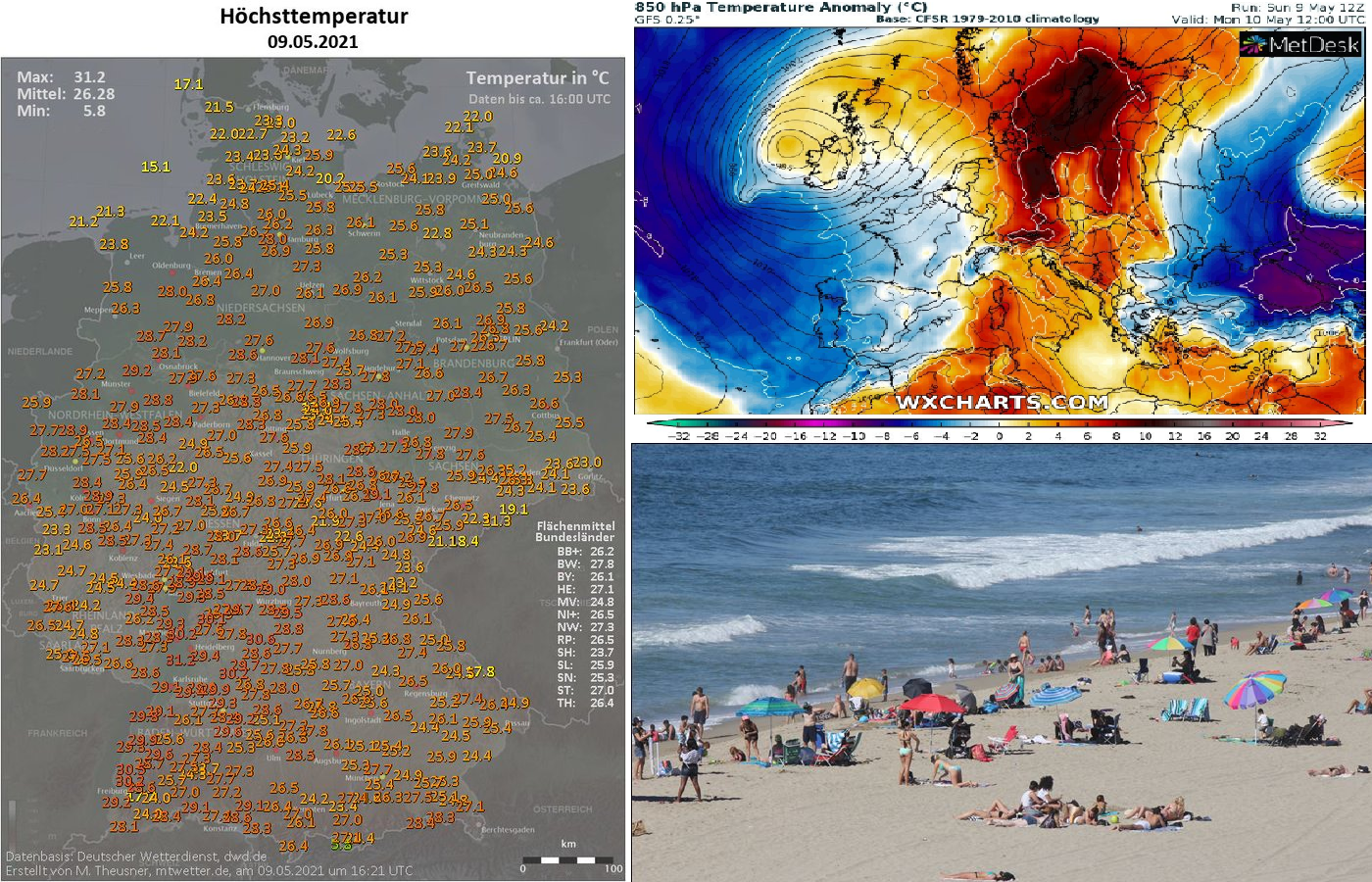 Only on Friday, 7. May 2021, parts of Germany reported frosts and ground frosts and snowing, in Berlin was snowing the first time in 30 years, in Potsdam the first time in 50 years /https://mkweather.com/snowing-in-potsdam-berlin-germany-in-may-after-50-years//.
Late snowfall was around Friday reported too from the UK, northern France, Belgium or the Netherlands /https://mkweather.com/snowing-in-the-netherlands-on-7-may-extremely-rare-snowstorm/; https://mkweather.com/scotland-and-northern-england-under-the-snow-in-may-exceptionally-cold-spring-2021-continues//.
Moreoever, in early May 2021, the Spain, France and Germany hit record frosts /https://mkweather.com/frosts-ground-frosts-and-monthly-records-in-the-spain-northwestern-spain-30c-andalusia-46c/; https://mkweather.com/france-extreme-frosts-are-back-monthly-may-temperature-records-overcame/; https://mkweather.com/germany-monthly-records-for-may//.
Now, almost 10 days after the coldest April in Germany since 1977 (one of the next articles with this topic) and only 2 days after unseasonable snowing hit Germany according to expectations a powerful heatwave, with the first tropical temperatures of the year.
In Waghäusel-Kirrlach, +31,2°C was on Sunday, 9. May measured, but hot was. too e.g. in Manheim, +30,2°C.
In some localities, record maximum temperature for the first decade of May was broken.
In France was even hotter, in Pointe de Socoa on Saturday, 8. May, was measured +33,0°C.
According to AEMET, in the Spain was on 8. May 2021 measured +33,6°C in San Sebastian /http://www.aemet.es/es/eltiempo/observacion/ultimosdatos?k=&w=2&datos=img&x=d07&f=/. In Portugal, threshold +30°C hasn´t been overcame.
Feldkirch in Austria reported already +29,4°C, Zenica in Bosnia and Herzegovina +29,0°C, Podgorica in Montenegro +28,9°C, ALghero in Italy +28,7°C, Quiteti Stalin in Albania +28,6°C, Basel in Switzerland +28,6°C, Arcen in the Netherlands +27,7°C (too 2 days after snowfall), Plzen, Czechia +27,6°C, Vaduz in Lichtenstein +27,1°C, Kleine Brogel in Belgium +26,9°C, Knin in Croatia +26,8°C, Kocevje in Slovenia +25,8°C, Slubice, Poland +25,4°C, Leskovac, Serbia +25,2°C and Luxembourg, Luxembourg, +25,0°C.
In Weybourne, the UK, +22,0°C and in Hatsveda, Sweden, +20,8°C was measured.
Heatwave will persist above East-Central Europe and Balkan maximally until Wednesday, 12. May 2021 and then, the next long-term coldwave for Europe is forecasted, for Germany maybe until 25. May 2021 (long 2 weeks). During this coldwave, strong storm activity is forecasted /https://mkweather.com/may-2021-in-europe-long-rounds-with-severe-storms-and-2-heatwaves-in-outlook//.
It´s possible, that cold conditions in NW Europe will persist until early Summer 2021, occasionally should appear extremely rare summer snowing /https://mkweather.com/245c-in-iceland-signalizes-extremely-cold-conditions-until-early-summer-2021-in-n-w-europe-year-without-spring//.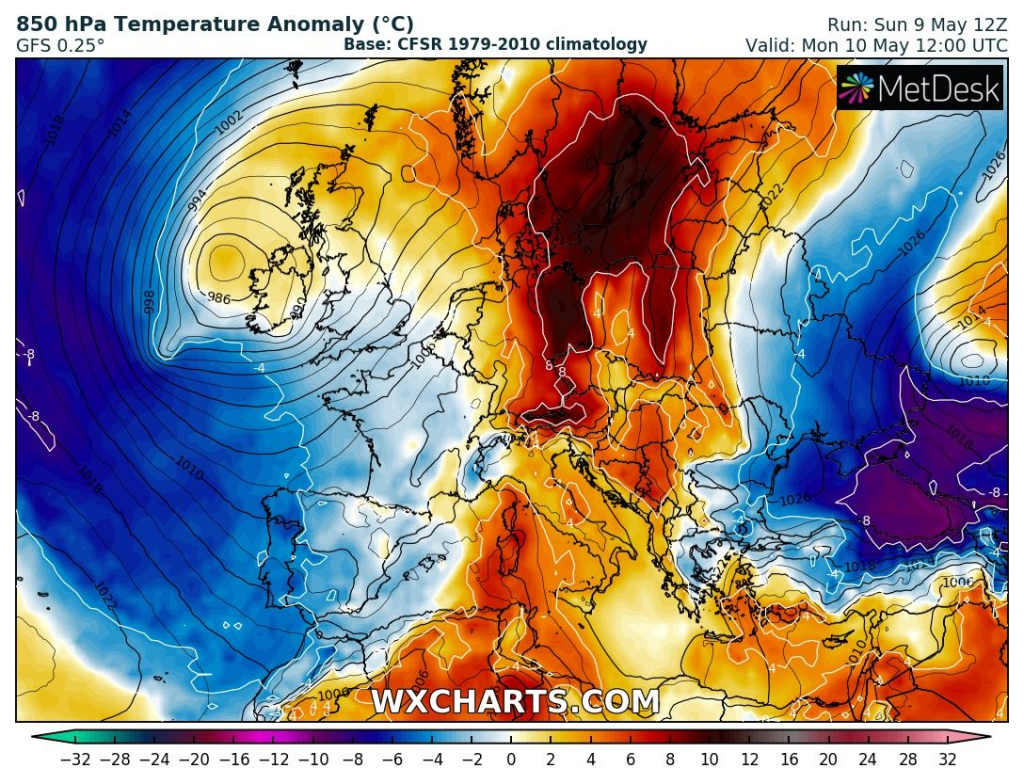 Read more: