-24,5°C in Iceland signalizes extremely cold conditions until early Summer 2021 in N/W Europe
Persisting cold airflow from Greenland to northwestern Europe and farther above European continent in last weeks and months is according to /https://www.facebook.com/groups/515882752222439/ driven by extremely long and strong amplitude of tropical convection in Pacific in Zone 7 of MJO, which was sending trains of Rossby Waves into the same places, what caused long-term blocking situation in Greenland´s sector and flow of Arctic air above Europe.
Currently, extremely cold temperature, only -24,5°C was measured in Iceland, Dyngjujökull, 1689 MASL, what should be the coldest temperature in May measured in island in history (not oficially recognized, yet).
This temperature was in Iceland measured on 4. May 2021 and this air is currently flowing above northwestern Europe, which reports unseasonably May snowfall (the UK, northern France, the Netherlands, Belgium and Germany: https://mkweather.com/snowing-in-the-netherlands-on-7-may-extremely-rare-snowstorm/; https://mkweather.com/snowing-in-potsdam-berlin-germany-in-may-after-50-years/; https://mkweather.com/scotland-and-northern-england-under-the-snow-in-may-exceptionally-cold-spring-2021-continues//.
Dry air with Greenland´s origin brought extremely cold start of May 2021 in the Spain, France and Germany, too, with the coldest monthly temperatures ever, regionally /https://mkweather.com/frosts-ground-frosts-and-monthly-records-in-the-spain-northwestern-spain-30c-andalusia-46c/; https://mkweather.com/france-extreme-frosts-are-back-monthly-may-temperature-records-overcame/; https://mkweather.com/germany-monthly-records-for-may//.
Extremely cold weather in early May 2021 is only continuing of extreme April 2021 in Europe /https://mkweather.com/cet-record-1880-2021-april-2021-coldest-in-142-years/; https://mkweather.com/confirmed-coldest-april-in-the-uk-since-1922-late-frosts/; https://mkweather.com/england-april-is-colder-as-march-the-coldest-since-1922/; https://mkweather.com/the-uk-with-frostiest-april-in-history-some-stations-report-24-frost-days/; https://mkweather.com/germany-suffers-the-coldest-april-since-1917-extreme/; https://mkweather.com/france-the-coldest-mid-spring-in-all-time-history/; https://mkweather.com/coldest-april-in-the-netherlands-in-30-50-years-in-belgium-in-35-years// and only a part of longer period with cold conditions on the Earth /https://mkweather.com/global-temperatures-dramatically-went-down-the-sharpest-jump-since-1990s-la-nina//.
According to the newest materials from ECMWF, this airflow will continue minimally until 15. June 2021, with cold blasts shifting from Greenland, above Iceland to the UK, Ireland, Benelux, Norway, northern Germany, Denmark, northern and western France and northern Spain and Portugal, what means, that in 2021 we should have regionally places without spring season.
Winter-like conditions should rarely persist into early Summer 2021, mainly in Scotland, Norway or northern Sweden, where snowfall will be still during this circulation possible, including altitudes below 1000 MASL.
According to ECMWF, pool of extremely cold air in May 2021 will be firstly shifted from Greenland above western Europe and northwestern coast of Africa, gradually cold air stays above British Islands and in June 2021 there will be a signal for its shift above Scandinavian countries.
Initially eastern, later southern Europe should be however very hot, with tropical and supertropical temperatures.
Not very favorable seasonal forecasts are a subject of Mkweather Summer 2021 forecast for Europe – manly British Islands, Scandinavia and northwestern coast of the continent, too /https://mkweather.com/summer-2021-forecast-for-europe-hot-and-dry-pattern-as-leading-heatwaves-drought//. It appears, that region will be reporting colder Summer 2021, in contrary with the rest of Europe.
Main reasons of cold conditions in region it is necessary to find in particular in combinations of La nina- strong volcano activity- minimum of solar cycle- melting Arctic- Global Warming Hole anomaly- weakening of Gulf Stream drivers.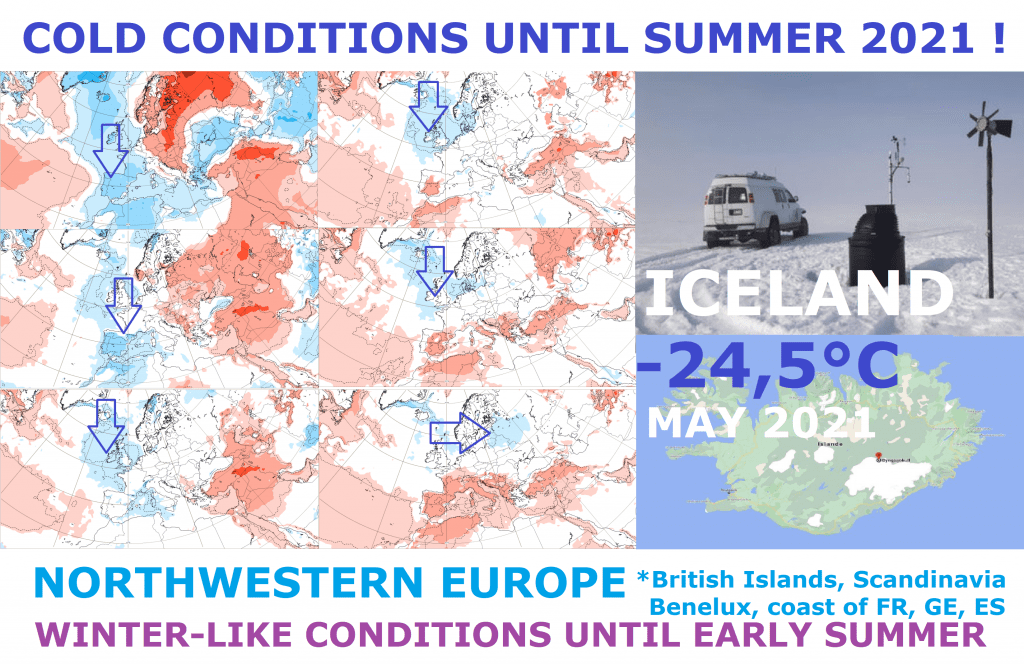 Evolution of temperature anomalies above Europe between 10. May and 21. June 2021 in Europe /ECMWF *Emphasis into NW Europe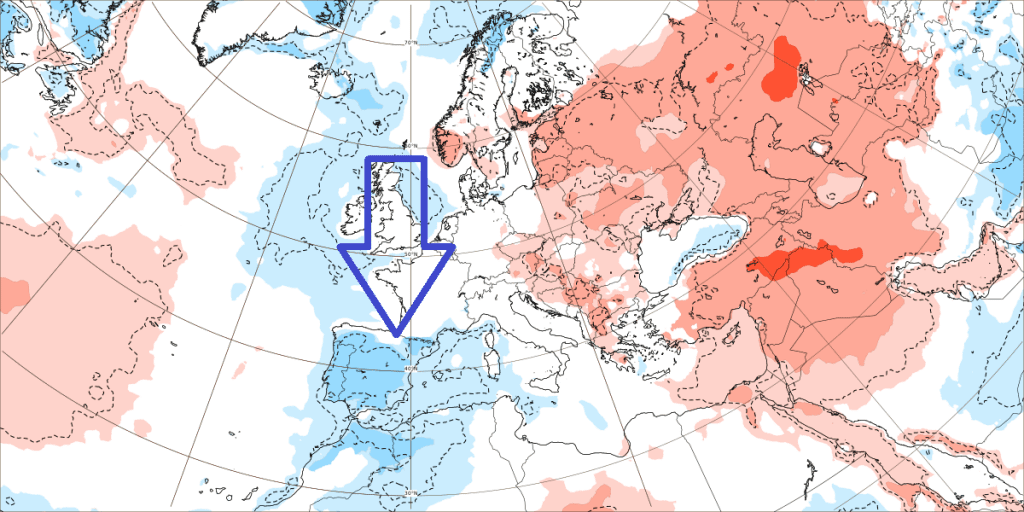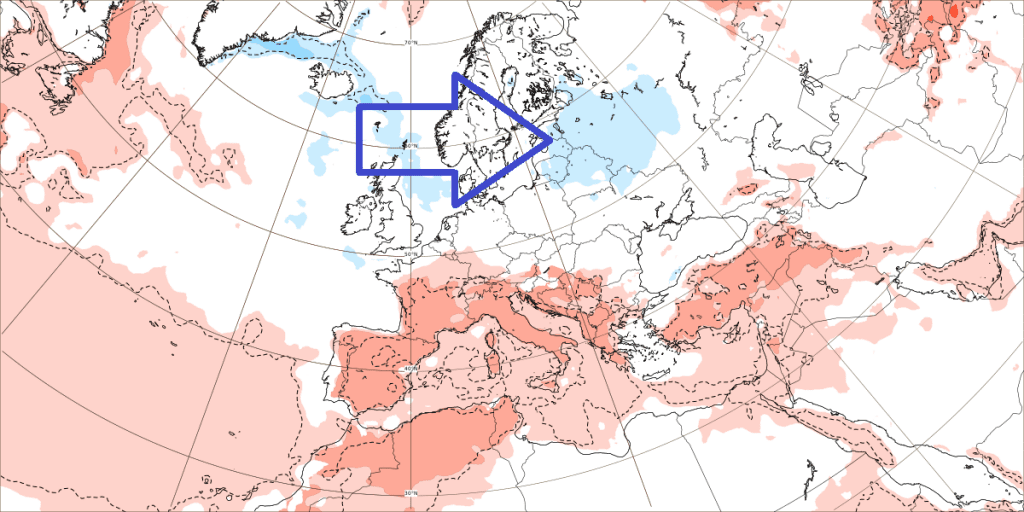 Source: ECMWF
Read more: