Confirmed! Coldest April in the UK since 1922!
In the first May 2021 days, Met Office updated statistics about reached temperatures in April 2021 across the country, with result of the coldest average of minimum temperatures since 1922!
It was also 4th driest and 2nd sunniest April in record.
About extremely cold conditions in the UK (or England) we have informed in 3rd April decade /https://mkweather.com/england-april-is-colder-as-march-the-coldest-since-1922/; https://mkweather.com/the-uk-with-frostiest-april-in-history-some-stations-report-24-frost-days//.
Extremely cold April was reported too from Germany, France or Benelux /https://mkweather.com/germany-suffers-the-coldest-april-since-1917-extreme/; https://mkweather.com/france-the-coldest-mid-spring-in-all-time-history/; https://mkweather.com/coldest-april-in-the-netherlands-in-30-50-years-in-belgium-in-35-years//.
Met Office informed, that April had the third lowest average minimum temperature since records began back in 1884.
Average number of frost days in April 2021, 13, is more typical for December, January of February. In Aboyne, Scotland, 140 MASL, 25 frost days were reported in the month.
Average number of days with ground frosts, 22 days, is almost twice than April average of 12 days.
With 218,8 hours recorded, April 2021 was the UK's second sunniest on record. The country has seen 48 percent more sunshine than average.
As we informed in last articles, frosts up to -5,8°C appeared in the UK during the first May 2021 weekend (Shap), what is only 3,6°C above all-time May record -9,4°C from 1941 /https://mkweather.com/uk-58c-36c-from-all-time-may-record-poland-49c-or-spain-24c-at-the-weekend-next-days-severe-frosts-in-central-europe-too//.
Severe frosts are expected to continue minimally until 7. May 2021 and then, before 15. May, they should return, mainly to Scotland and northern England, while many regions should again see widespread ground frosts.
Persisting cold conditions around the world since Winter 2020/21 are ascribed to strong La nina, series of volcanic eruptions VEI4-VEI5 and minimum of current solar cycle activity.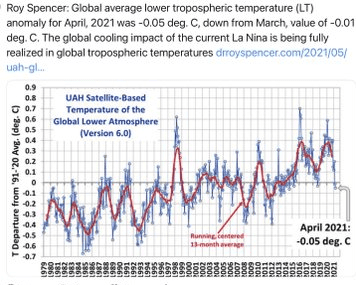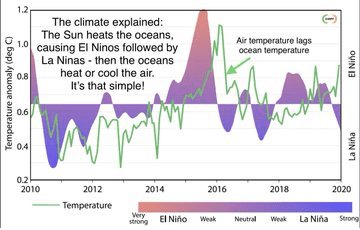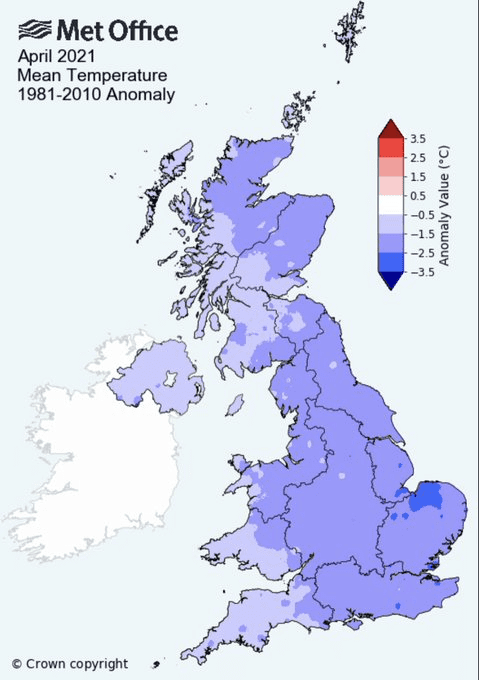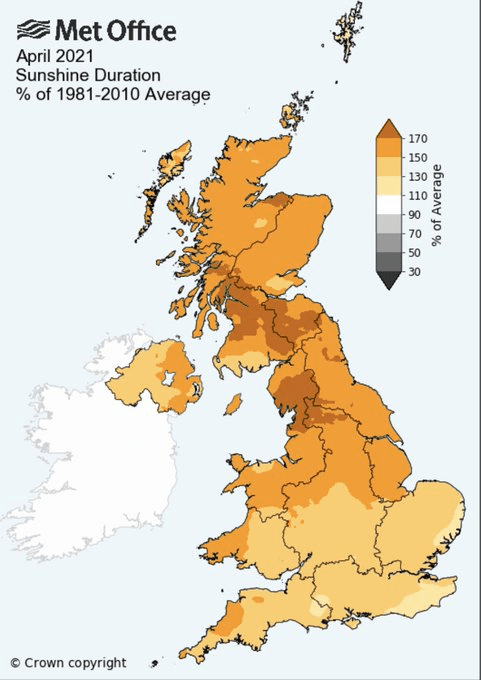 Read more: