African air in Europe: Cordoba +28,3°C, Paris +25,5°C, Vienna +24,8°C, Diepenbeek +24,4°C, London +24,3°C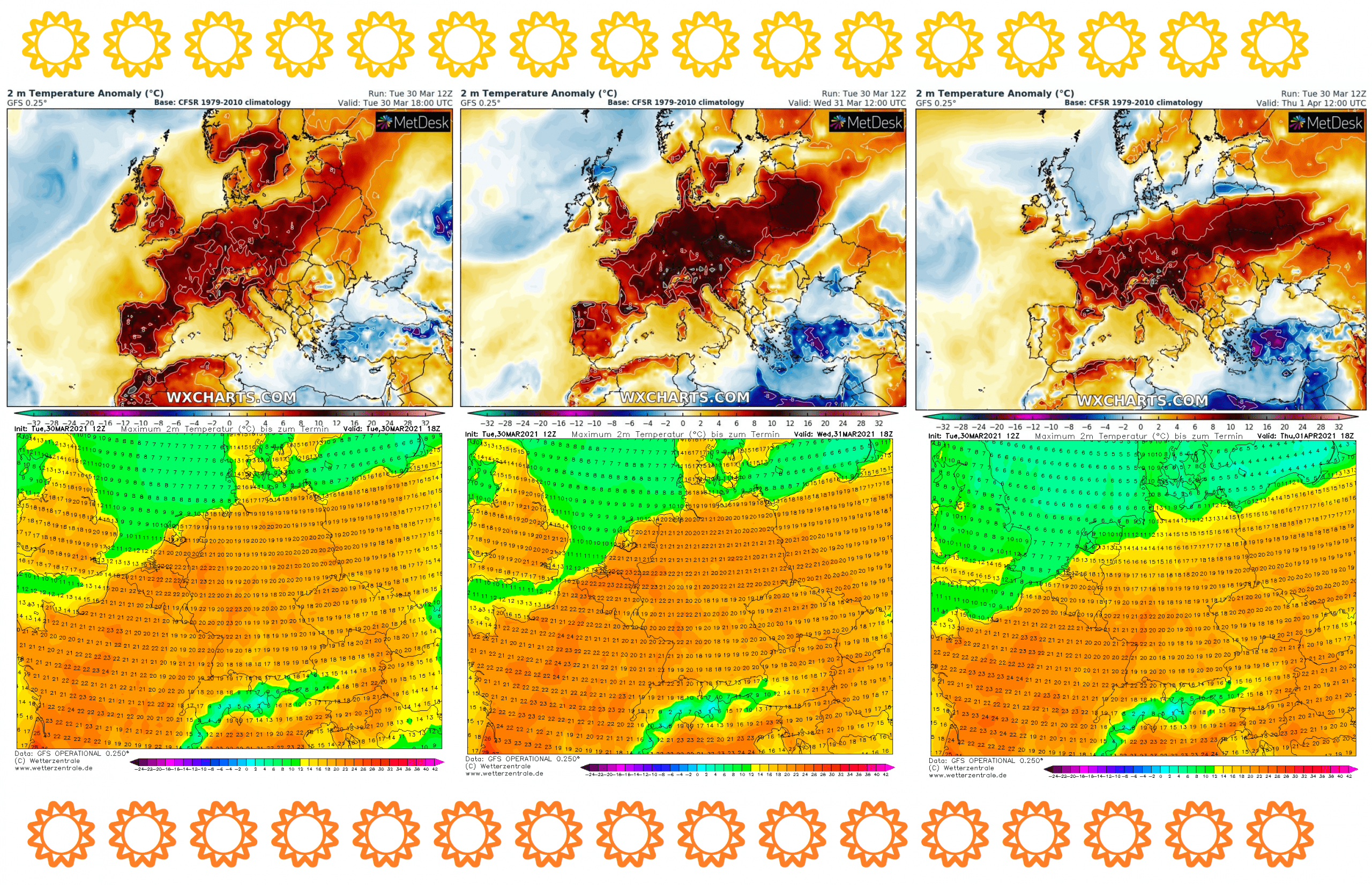 Although the peak of the first European heatwave in Spring 2021 is expected to Wednesday, 31. March, in some parts to Thursday, 1. April 2021, already on Monday and Tuesday were measured across Europe interesting values of maximum temperature.
Already on Monday, southwestern France reported +28,0°C and on Tuesday, temperature in Paris the first time in 2021 overcame summer threshold, +25,0°C (+25,5°C was measured) and in Socoa, +28,1°C was measured.
Extremely warm temperatures were measured from many parts of southwestern, western, southern and central Europe.
E.g. in Deepenbeek, Belgium, temperature increased to +24,4°C and in London, +24,3°C was measured. On Wednesday, summer day in England should surprise.
Extremely hot air has flown already to southern Central Europe, too, not only northern Italy or Slovenia, but too Vienna, which surprised with almost summer +24,8°C.
From other European cities, interesting were Firenze, Italy, with +27,7°C, Santander, northern Spain, with +26,8°C, Bordeaux with +25,5°C, Treviso, Italy, +25,0°C, Ljubljana, Slovenia, with +24,5°C, Duesseldorf and Mannheim, Germany, with +24,4°C, Koeln, Germany with +24,1°C, Sopron, Hungary, with +24,0°C, Senj, Croatia, with +24,0°C, Torino, Italy, with +24,0°C, Woensdrecht, the Netherlands, with +23,9°C, Doksany, Czechia, with +23,3°C, Brno, Czechia, with +23,1°C, Maastricht, the Netherlands, with +23,1°C, Locarno-Monti, Switzerland, with +23,0°C or Bratislava, Slovakia, with +22,7°C.
In the Spain, last 5 days, temperatures up to +28°C were in southern parts measured and for the first tropical +30°C on the season, the Spain and Portugal (and too France and Italy) are still waiting.
Similarly, Poland, Baltic region, southern Sweden, Belarus, Ukraine and parts of Balkan for the warmest air mass are only waiting.
On Wednesday and Thursday, we will bring again an overview of measured temperatures across Europe and during an Easter, our interest will be focused on extreme coldwave in western Europe and parts of central Europe after an Easter holidays /https://mkweather.com/blizzard-and-heavy-frosts-after-an-easter-europe-with-a-record-arctic-blast//. Updates of the newest outputs in relation to this coldwave will be published already in the next Mkweather article.
Current synoptic situation /wxcharts.com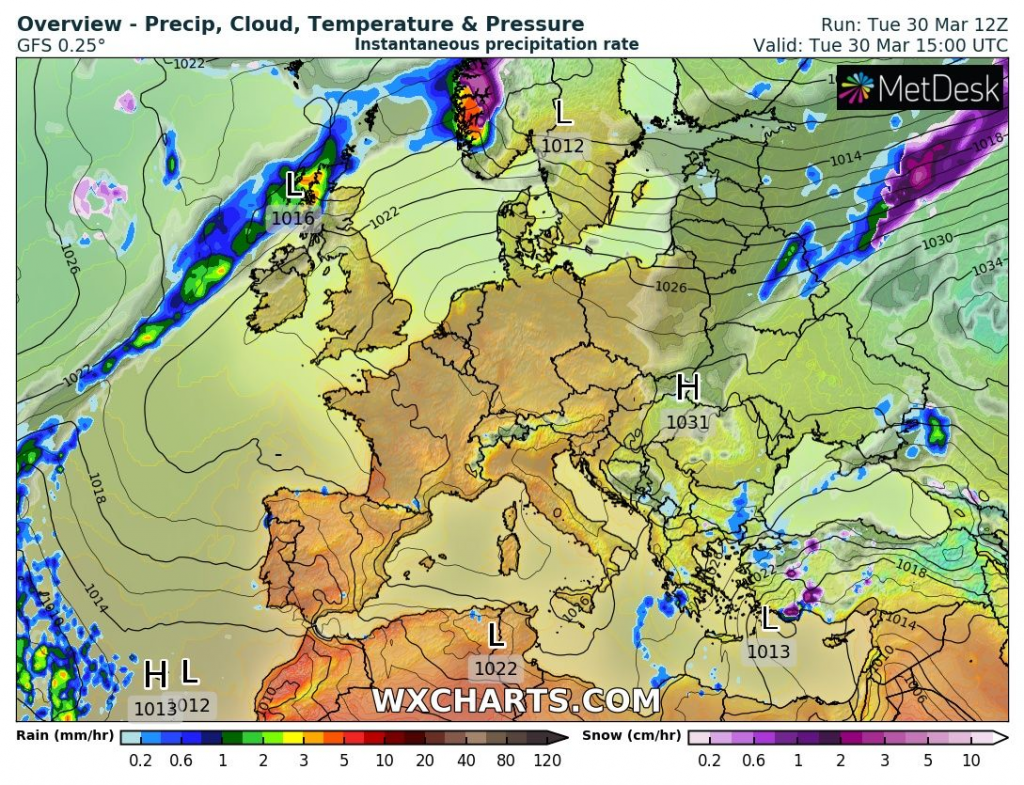 T2m anomalies for Europe during chosen days /wxcharts.com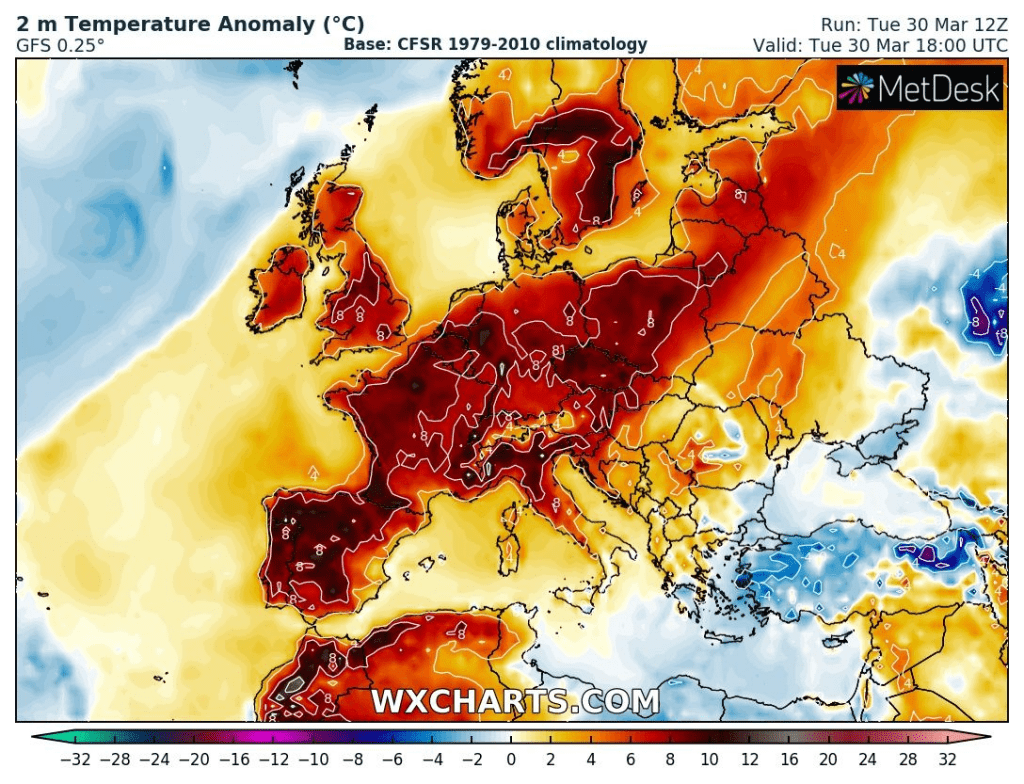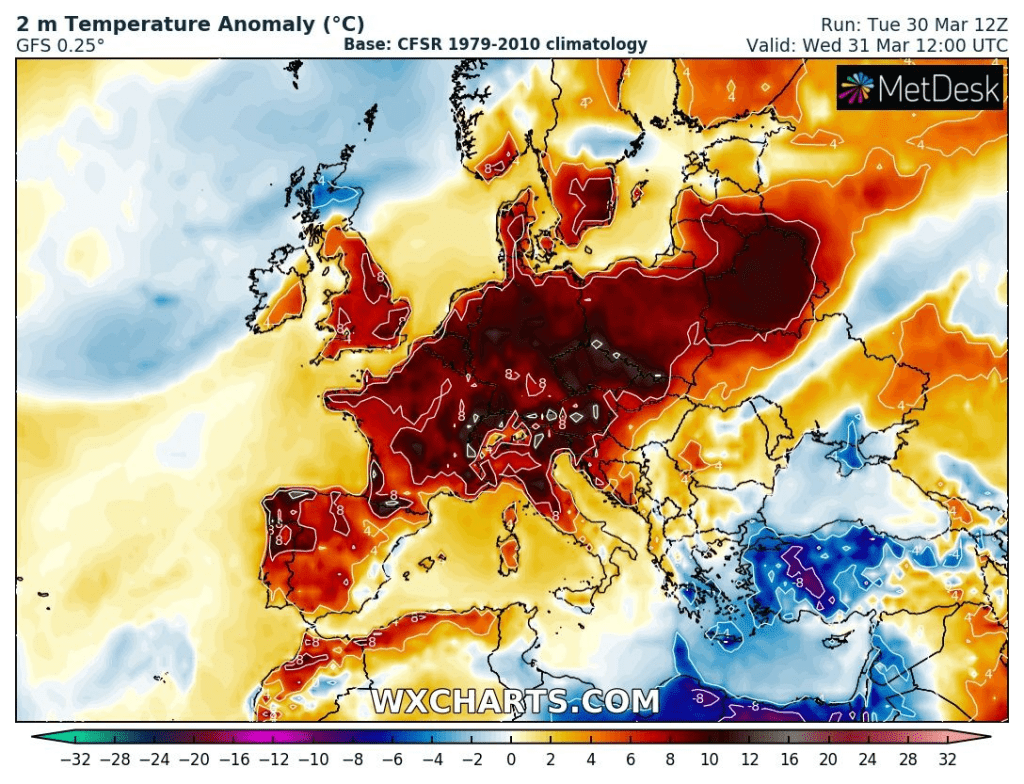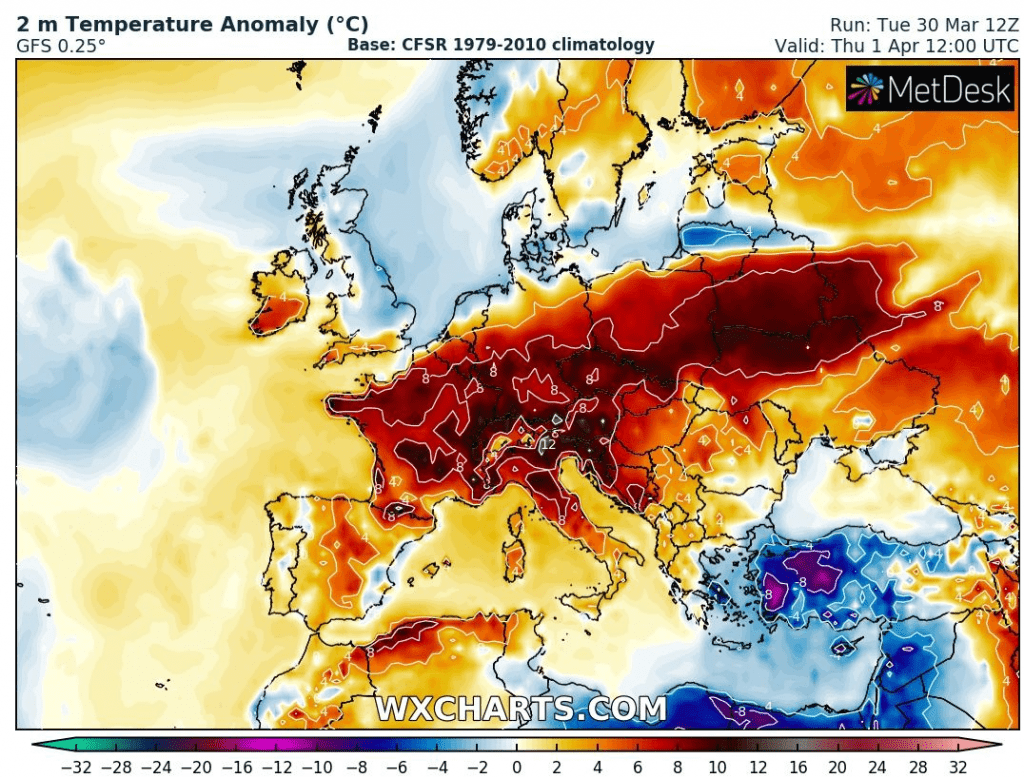 GFS forecast for continental Europe /wetterzentrale.de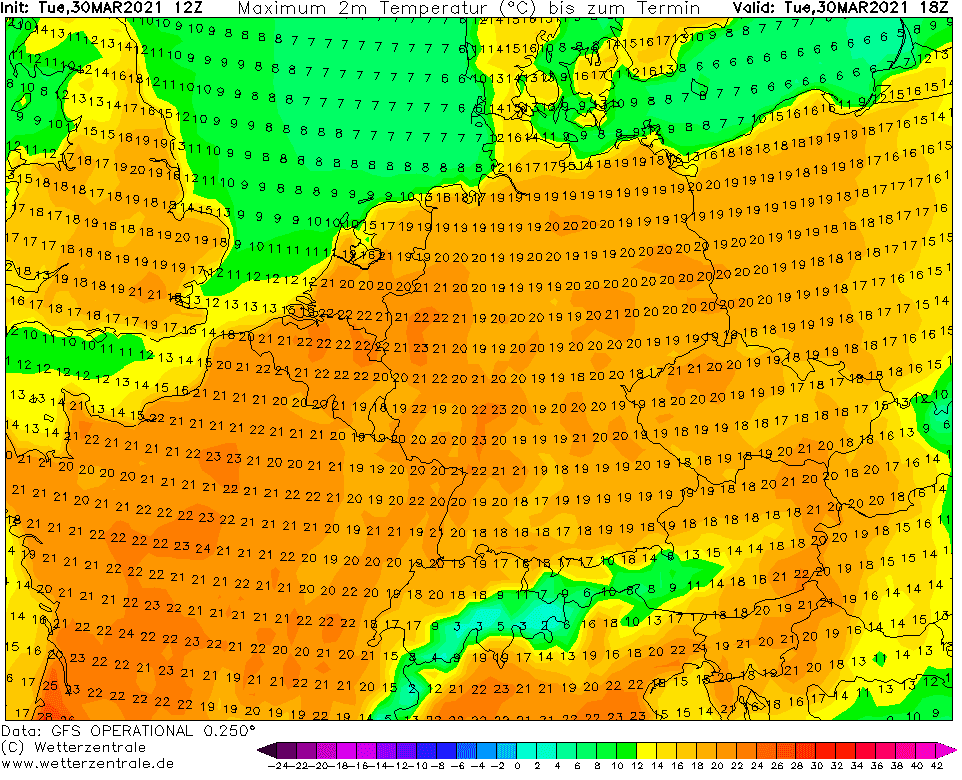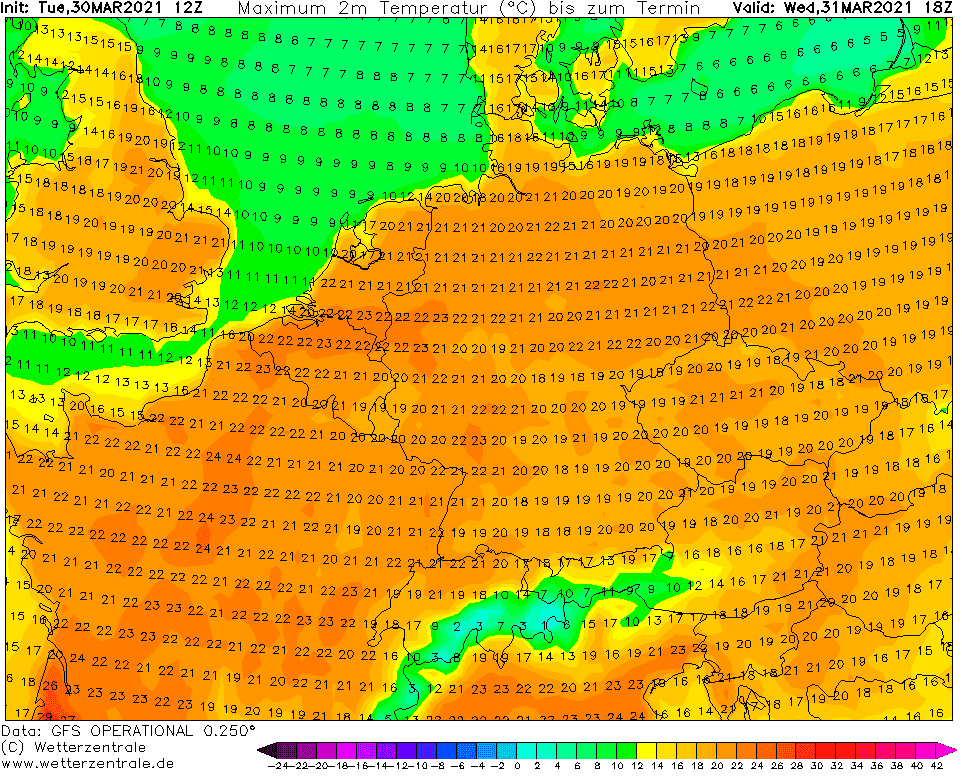 Read more:
Wednesday brings summer: Paris +27°C, Frankfurt aM +26°C, London +25°C, Wroclaw +24°C | mkweather
Canada under the snow, spring is coming very slowly | mkweather
India and Pakistan with heatwave, after floods and snow in the mountains | mkweather
Middle East almost +45°C, its very early, Central Asia +38°C already | mkweather
The UK -10°C, Greece +35°C? Extreme temperature differences across Europe after an Easter? | mkweather