Extreme heatwave will shift from Mexico to Greenland: The first hot times in the USA and Canada between 3.-12. April!

The first hot times of the year in parts of the USA and Canada!
After coldwaves announced in previous articles /https://mkweather.com/canada-under-the-snow-spring-is-coming-very-slowly-snow/; https://mkweather.com/new-york-with-the-last-snowing-and-severe-frosts-before-an-easter-cold/; https://mkweather.com/hot-air-from-mexico-467c-has-shifted-above-florida-35c-virginia-30c-and-new-york-28c//, extremely hot air from Mexico already at the weekend, 3.-4. April, aims to southwestern USA and Rocky Mountains and then, extremely hot air mass will shift above northern USA, Midwest, Northern Plains, Texas and later Northeast and large parts of central and Eastern Canada!
Very hot should be in Mid-Atlantic and Southeast, too, but temperature anomalies from long term average will be the highest in northern parts of the USA and above central and eastern Canada.
Extremely warm air will shift at the end of 10-day period between 3.-12. April 2021 even to western Greenland.
These conditions mean, that first days above +40°C (104°F) should be measured in southern, desert states of the USA, first tropical days above +30°C (86°F) in Rocky Mountains, Midwest or Northern Plains and summer temperatures above +25°C (77°F) again in Northeast and too across large parts of Canada, too.
After cold March 2021, with blizzards, frosts, rain, storms and tornadoes it should be relatively good circulation conditions for many outdoor activities and for the start of growing season in northern parts of the continent.
In some parts of the USA and Canada, e.g. Northern Plains, extremely warm weather should persist all 10 days, or longer.
Only Alaska and western Canada are forecasted to stay very to extremely cold.
It´s a question, if warm air above Arctic won´t start later (late April – May 2021) the next "mini" stratospheric warming with AO- phase, but for European sector, NAO+ is during the second half of April 2021 forecasted /https://mkweather.com/long-term-forecasts-the-first-30c-in-continental-europe-at-the-end-of-april//.

Evolution of T850 hPa anomaly above North America between 3.-12. April 2021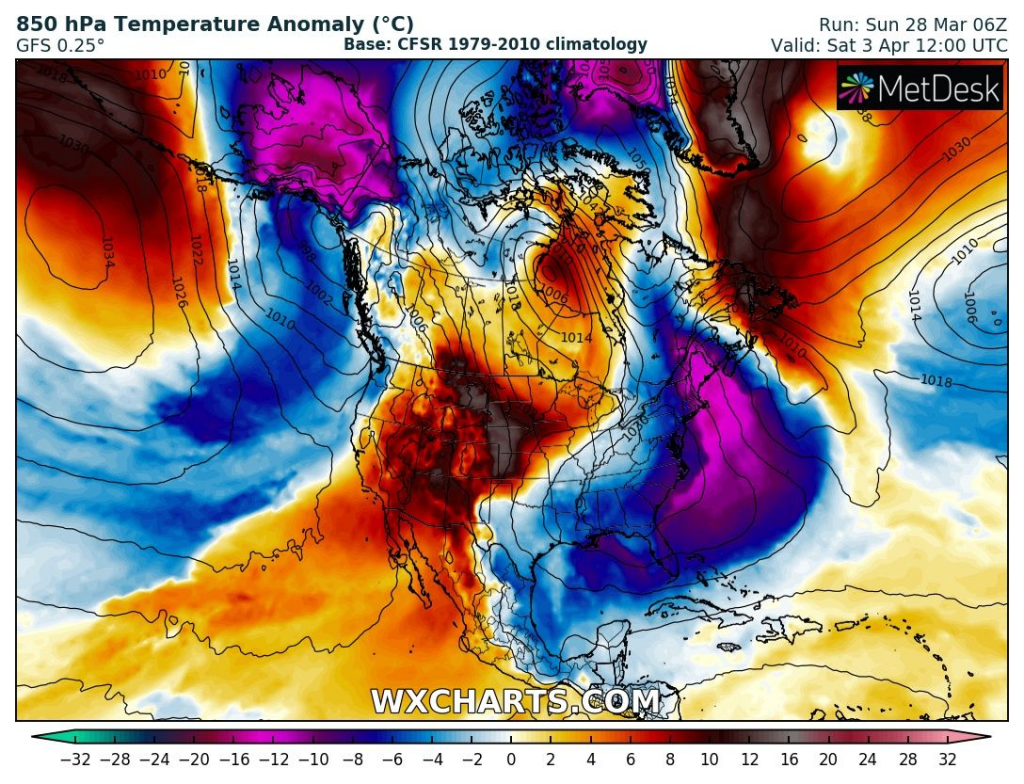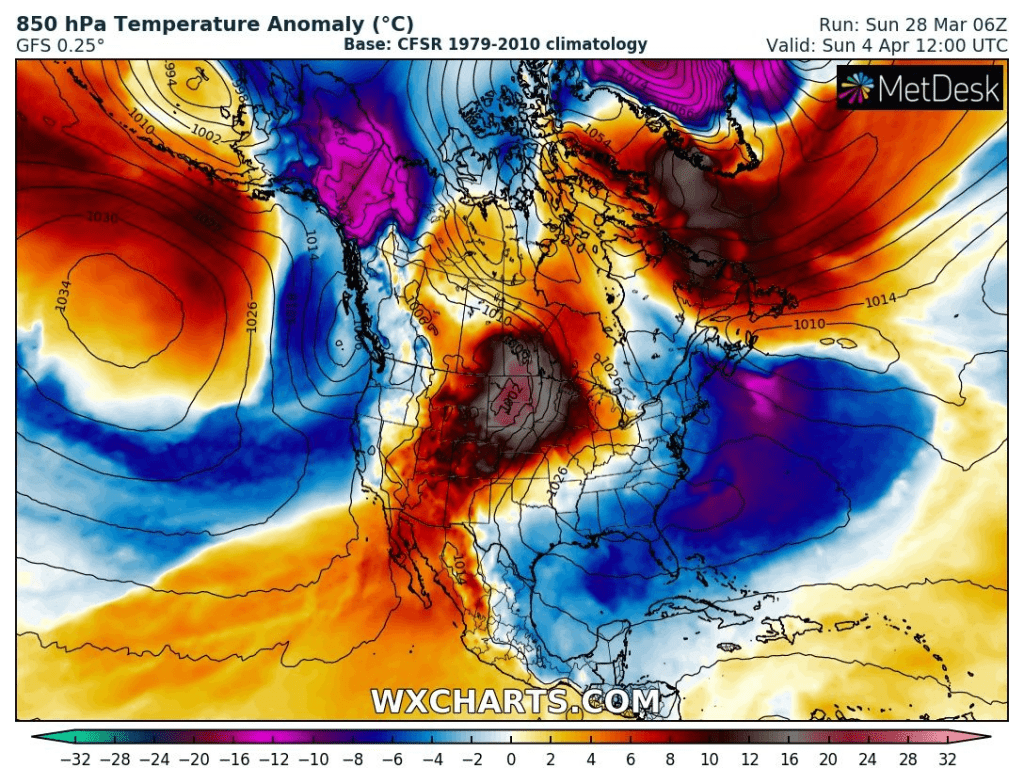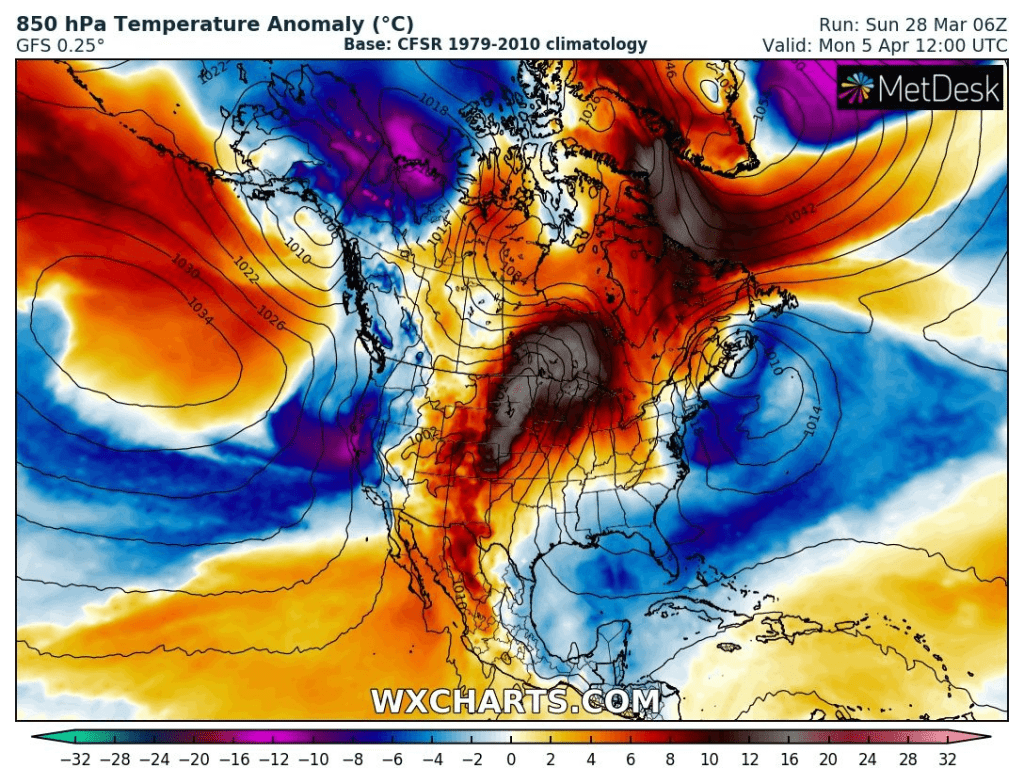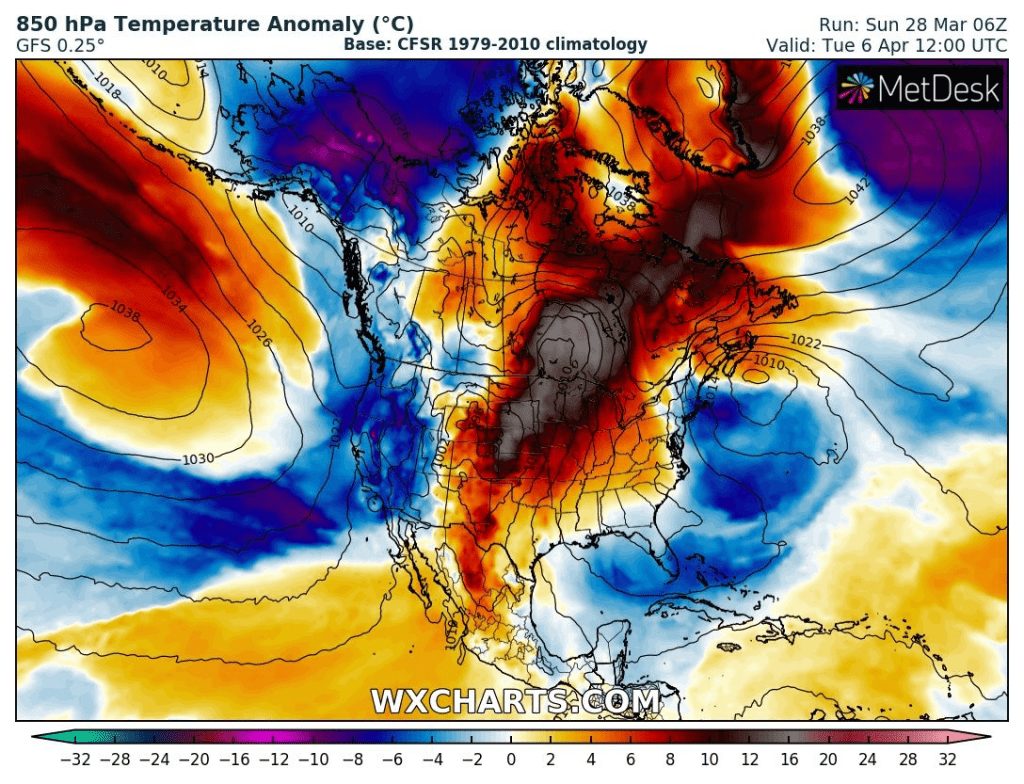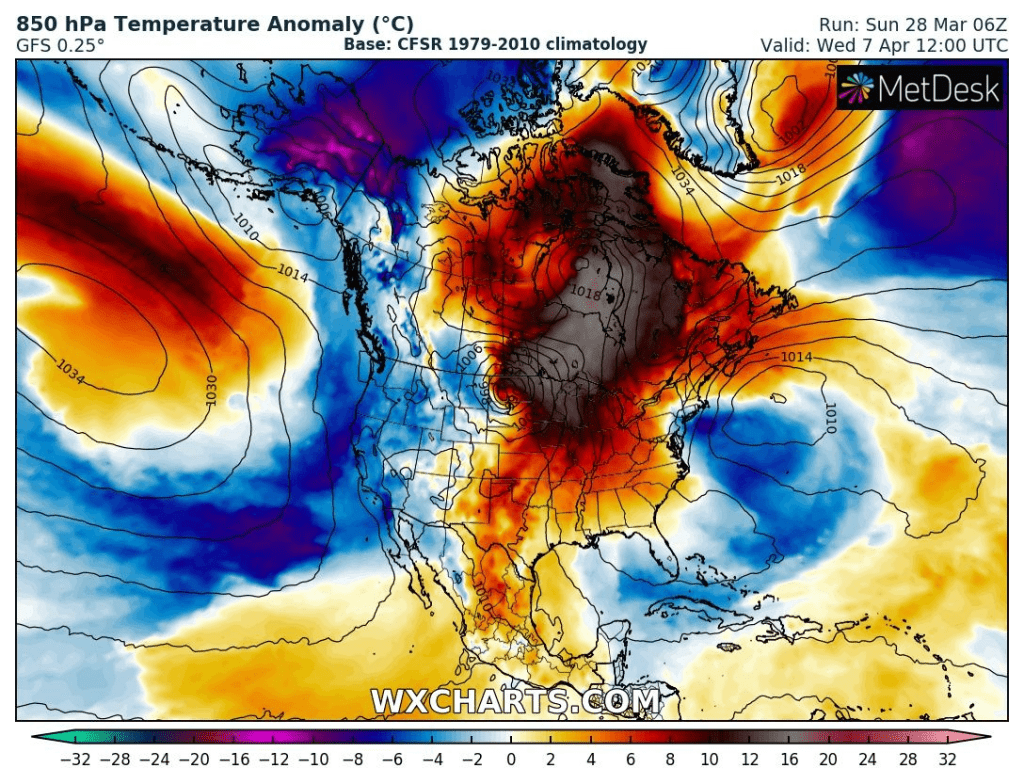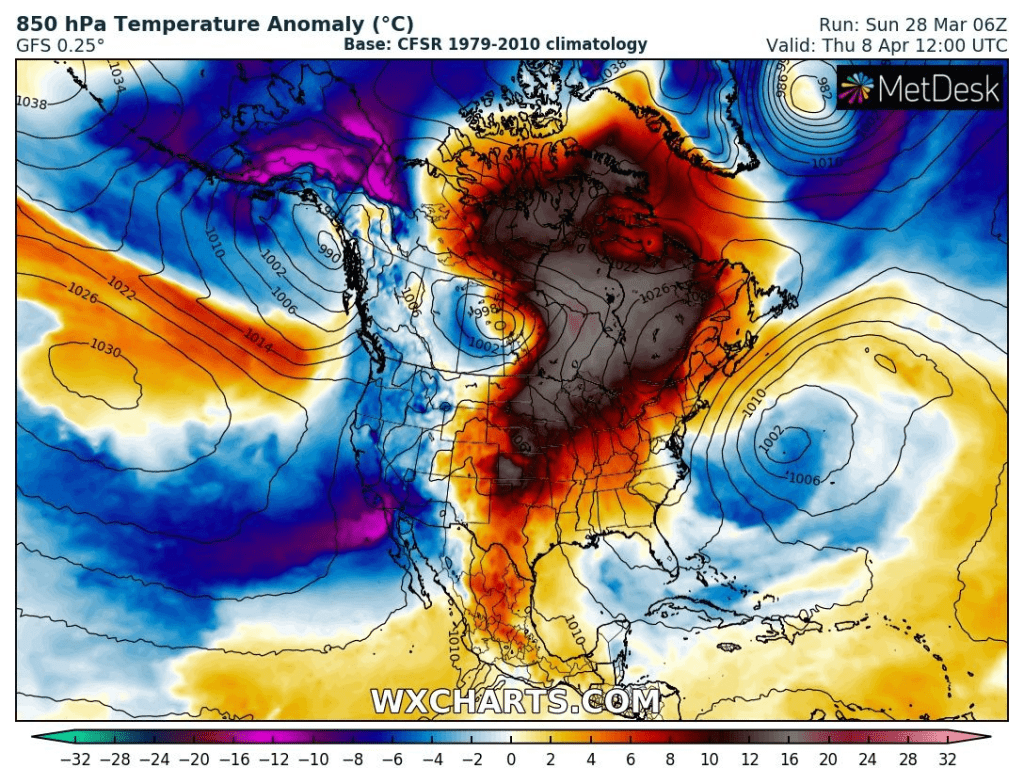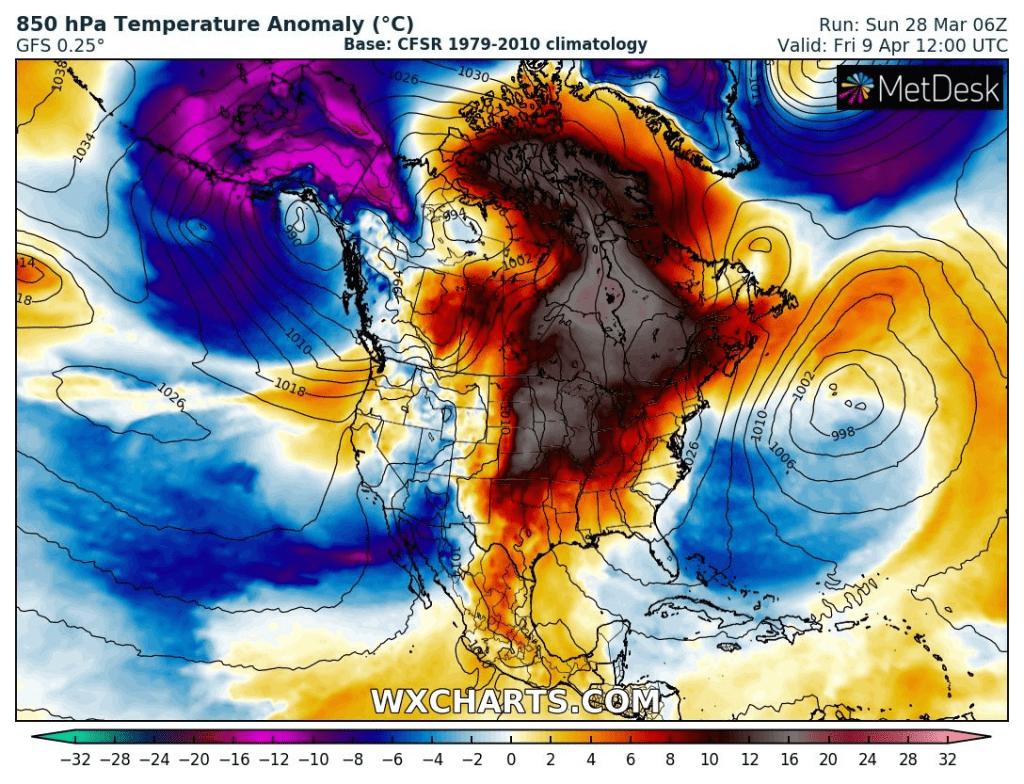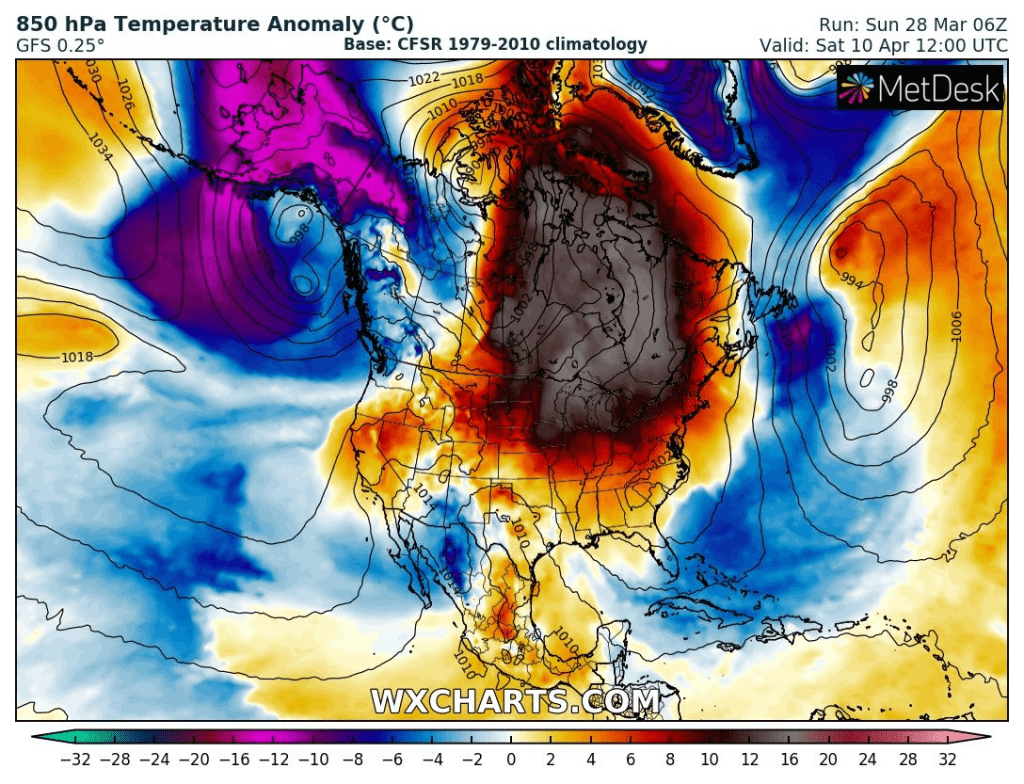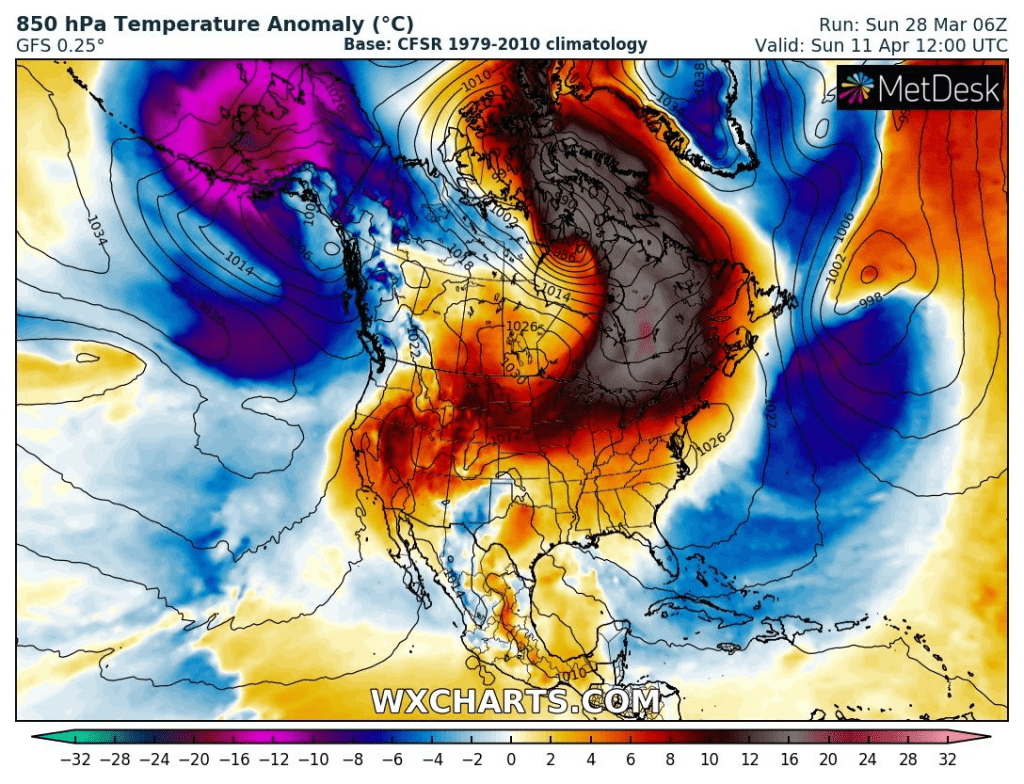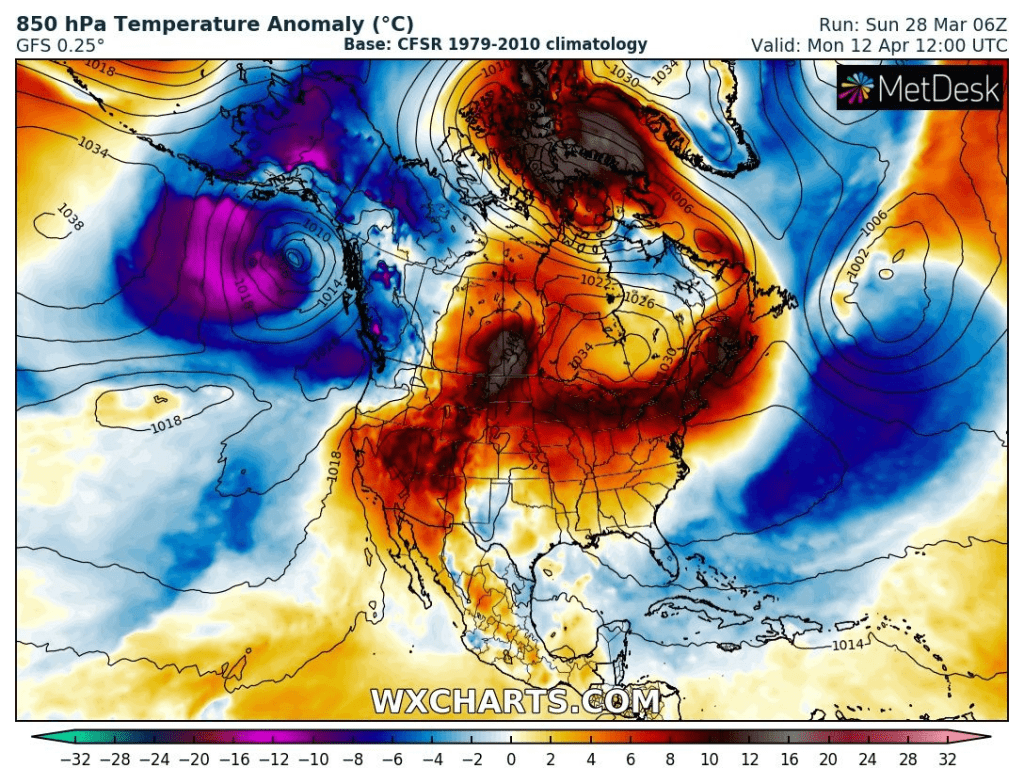 Read more:
Canada under the snow, spring is coming very slowly | mkweather
India and Pakistan with heatwave, after floods and snow in the mountains | mkweather
Middle East almost +45°C, its very early, Central Asia +38°C already | mkweather
The UK -10°C, Greece +35°C? Extreme temperature differences across Europe after an Easter? | mkweather