The UK hits the coldest April weather in history, all-time record -15,4°C should be overcame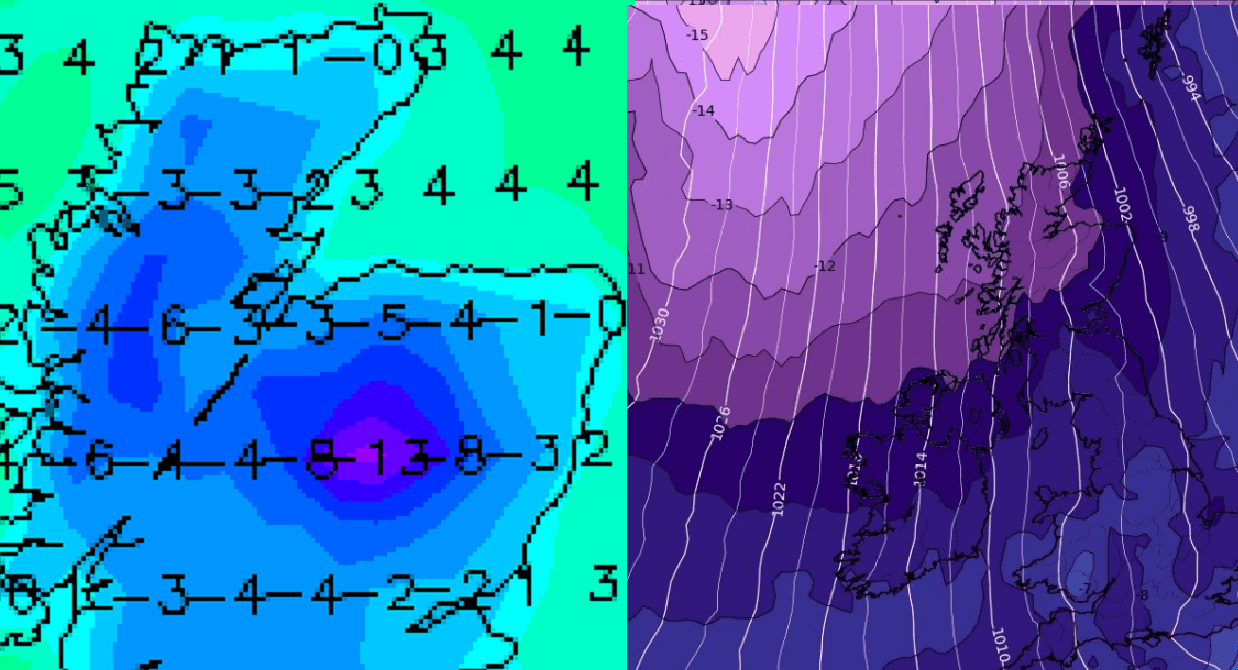 In last articles we have informed about extreme cold blast, which is forecasted for Europe after and Easter 2021 /https://mkweather.com/april-snow-hits-europe-coldwave-will-be-long-and-strong-snow/; https://mkweather.com/polar-vortex-brings-to-western-europe-10-day-coldwave-some-runs-expect-blizzard-for-central-parts-of-continent/; https://mkweather.com/blizzard-and-heavy-frosts-after-an-easter-europe-with-a-record-arctic-blast//.
Now, we should look more detailed at forecasted conditions for British Islands – probably the most hit region by anomalously cold Greenland´s air.
Forecast are uncompromising and during the peak of cold blast, expect cold air around -12°C in 850 hPa above parts of the UK.
-13°C for Scotland on wetterzentrale outputs should mean in case of snow cover surprising frosts up to -17°C, -5°C for England should mean reaching of threshold -10°C in basins and valleys in England with a snow.
Of course, good conditions such as snow cover and very dry air above the land are necessary to extreme April temperatures like this.
It is possible, if these crazy forecasts will be fulfilled, it should be overcame many temperature records, including the UK all-time April minimum temperature record from Eskdalemuir (Dumfriesshire) from 2 April 1917, when only -15,4°C was measured. /https://www.metoffice.gov.uk/research/climate/maps-and-data/uk-climate-extremes/
The coldest night is for now forecasted for 9. April 2021, therefore it appears, that late frosts should be very serious and in a very advanced spring season.
Severe cooldown is forecasted already on Easter Monday and all next week should appear across the British Islands snow showers, locally more intensive snowfall.
Coldwave should be moreover very long, around 10 days lasting, what should create additional – cold spell related – weather records in relation to long-term low temperatures of various periods or a new records of other meteorological elements such as snow cover, ground frosts, windchill temperatures, T850 hPa observations, etc..
Spring 2021 is bringing many extreme surprises not only in Europe, but too in other regions of the world, therefore watch weather furthermore with us and if you live in British Islands, prepare your harvest and flowers before expected severe frosts during the coldest nights.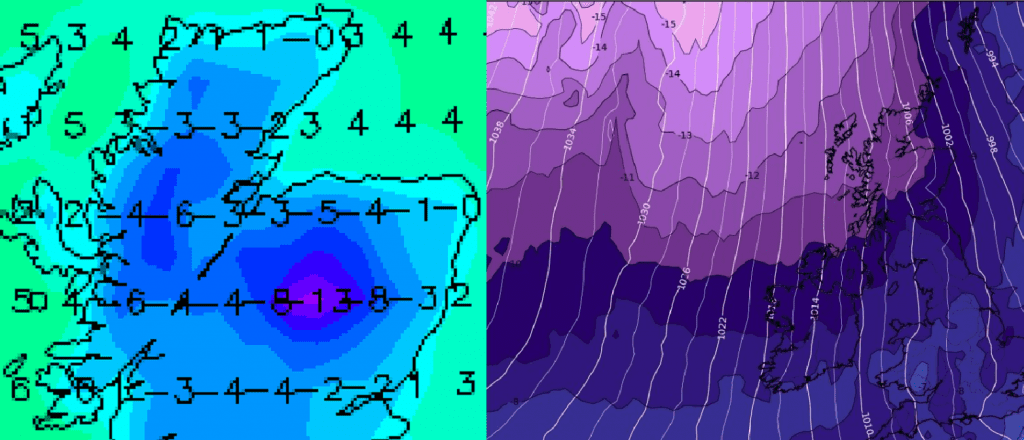 Infographics: wxcharts.com, wetterzentrale.de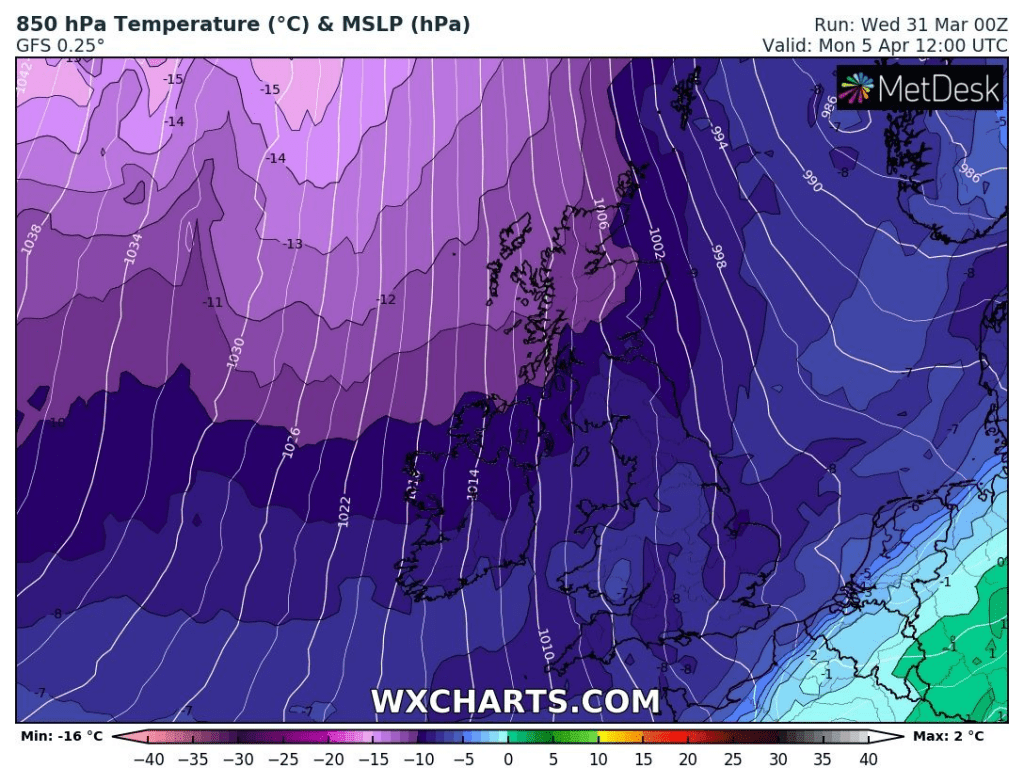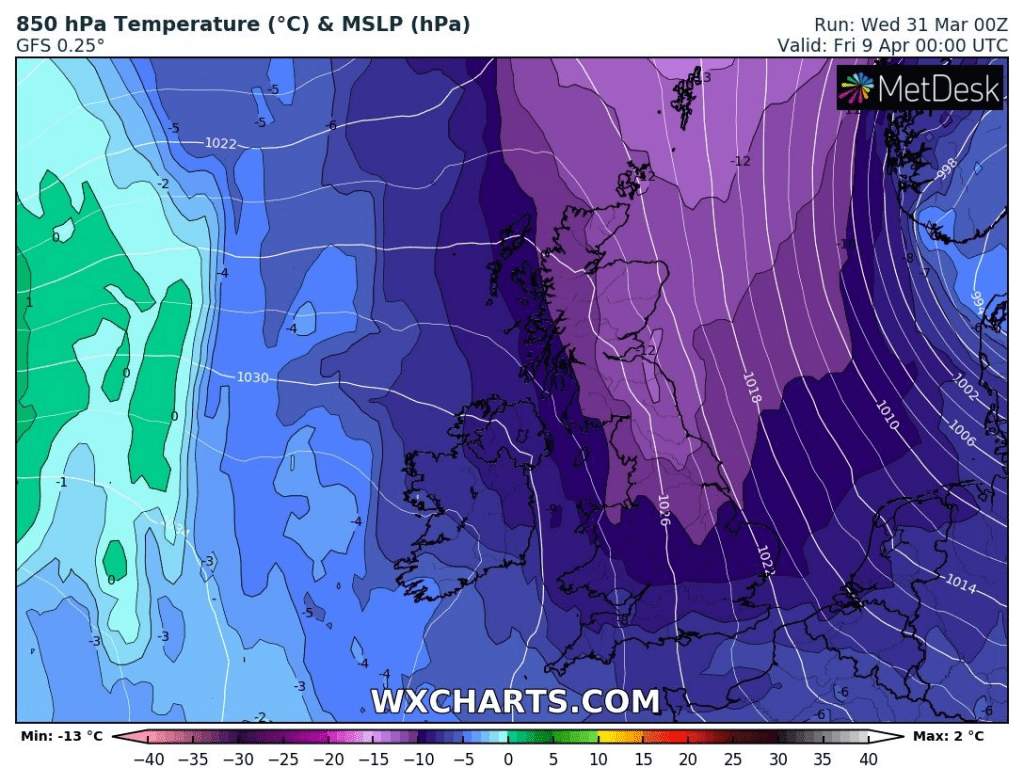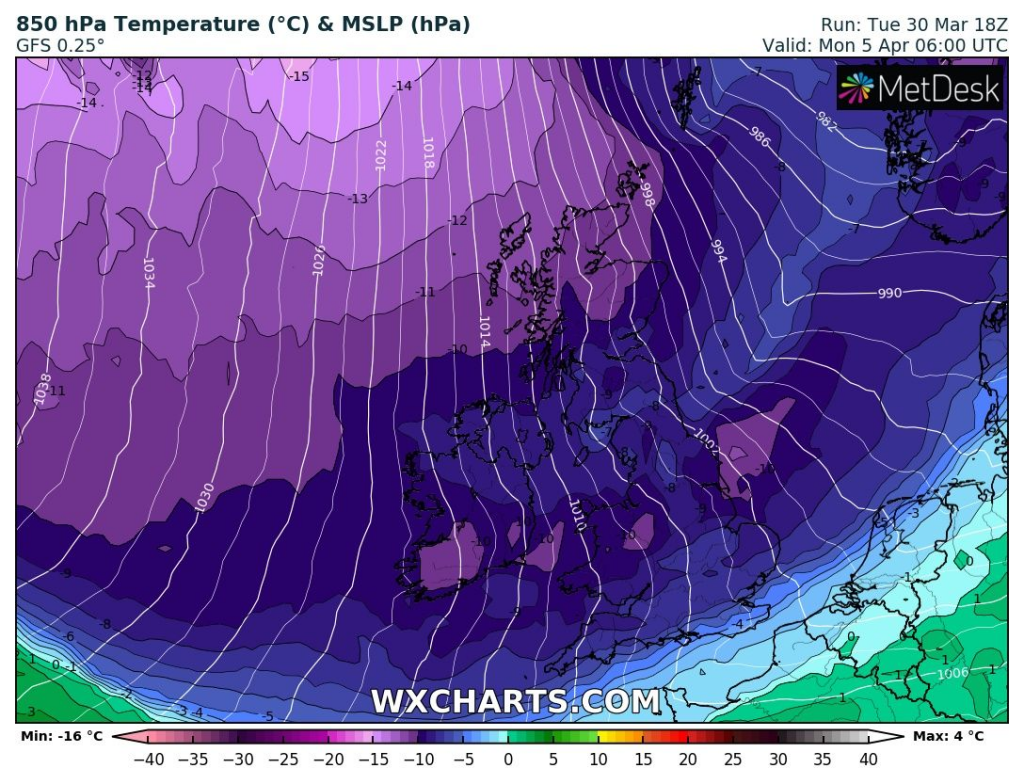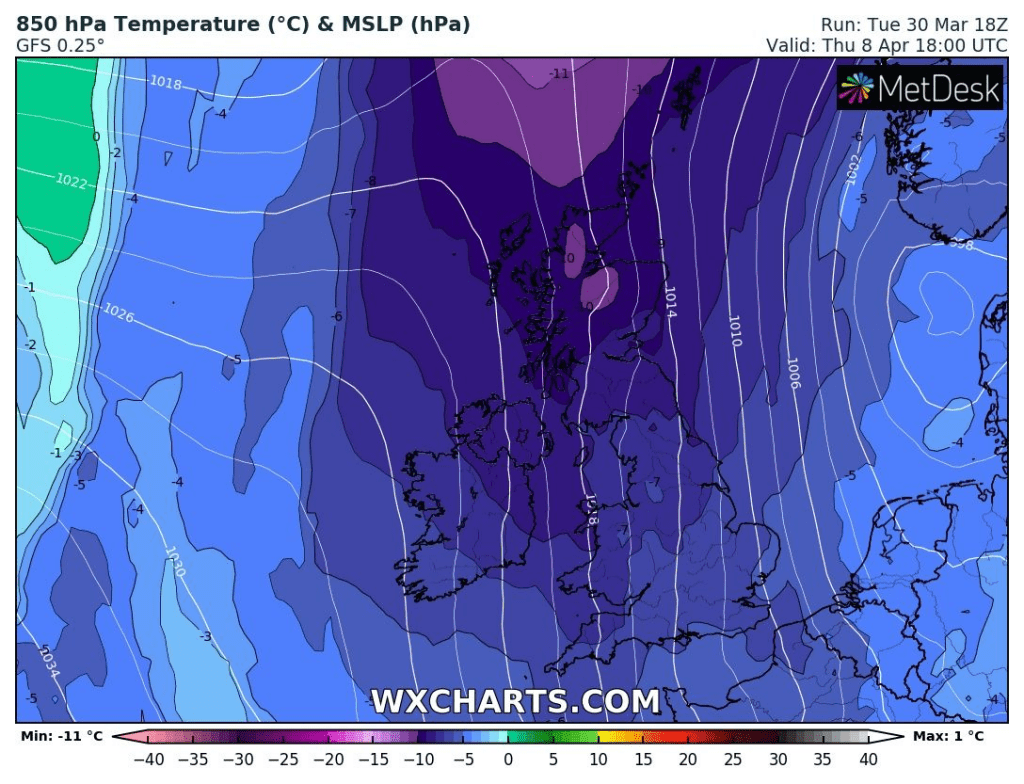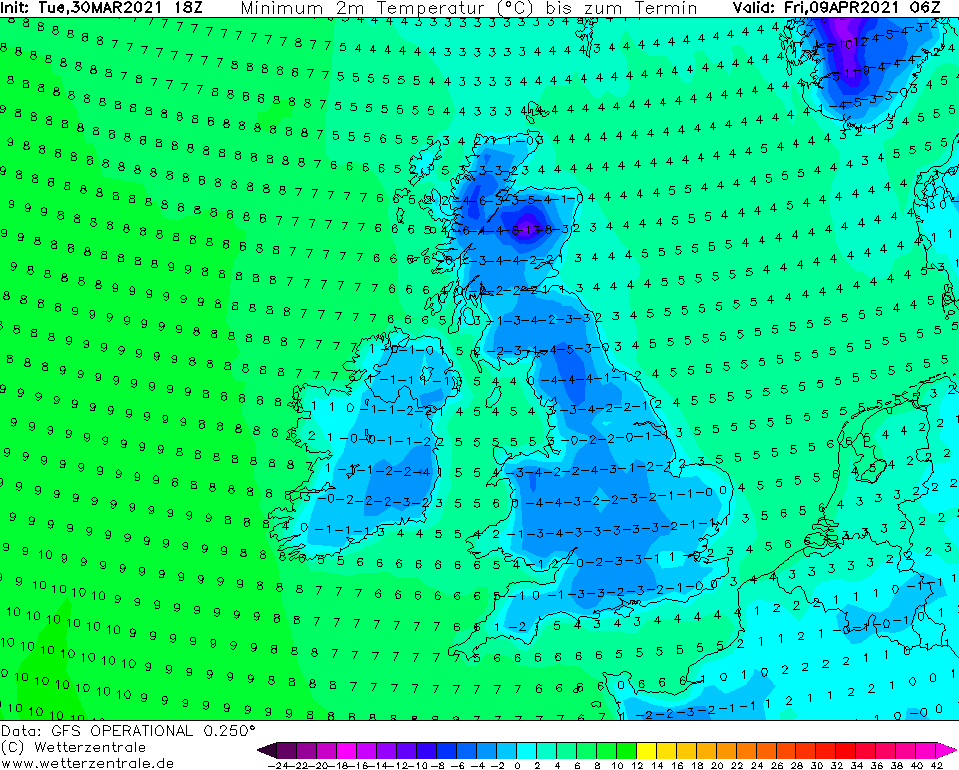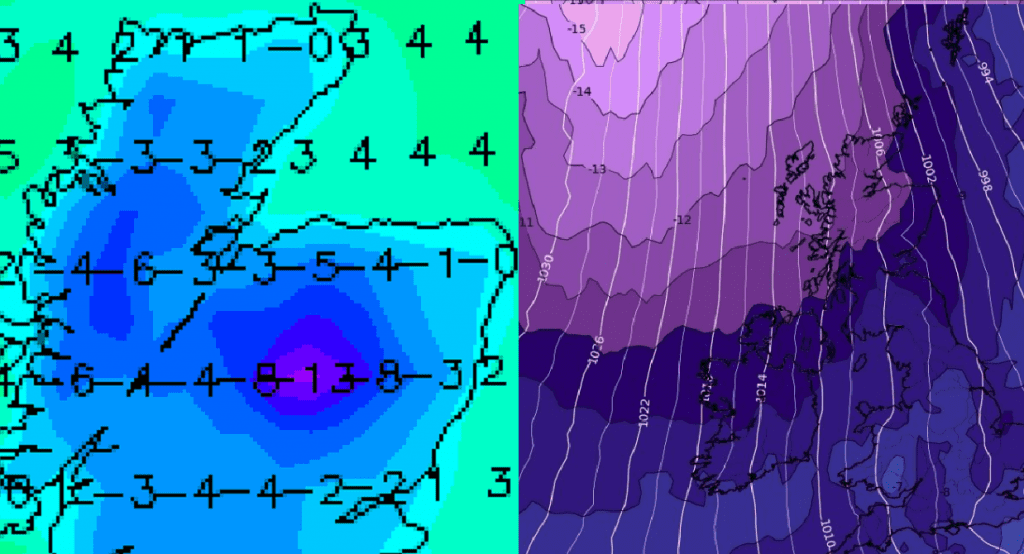 Read more:
Wednesday brings summer: Paris +27°C, Frankfurt aM +26°C, London +25°C, Wroclaw +24°C | mkweather
Canada under the snow, spring is coming very slowly | mkweather
India and Pakistan with heatwave, after floods and snow in the mountains | mkweather
Middle East almost +45°C, its very early, Central Asia +38°C already | mkweather
The UK -10°C, Greece +35°C? Extreme temperature differences across Europe after an Easter? | mkweather