Severe storms hit Europe, in Mediterranean, tornadoes are possible
Round of severe storms hit mainly southern half of the continent between Thursday and Saturday, 1.-3. April 2021 and next 2 stormy days are in Mediterranean expected.
All after extreme late March and early April heatwave in Europe /https://mkweather.com/the-spain-323c-france-299c-germany-272c-the-netherlands-261c-theuk-247c-poland-243c-sweden-197c/; https://mkweather.com/african-air-in-europe-cordoba-283c-paris-255c-vienna-248c-diepenbeek-244c-london-243c-heatwave/; https://mkweather.com/man-in-high-tatras-was-hit-by-lighting-heavy-storms-in-the-alps-and-carpathians-after-another-hot-day//.
T-storms are gradually shifting from central parts of Europe – mainly the Alps and Carpathians above southern France, Italy, Balkan and Turkey and the next storm system has shifted from Atlantic into Spain and Portugal.
During the next hours, around Sunday and Monday, 4.-5. April, severe storms will shift above southern European parts of Mediterranean, with tornado risk, meanwhile Europe will be gradually flooded by extremely cold Arctic air /https://mkweather.com/where-will-the-april-coldwave-be-strongest-heavy-frosts-estimates-of-potential-national-tops-of-minimum-temperatures-below-1000-masl-in-europe/; https://mkweather.com/polar-vortex-brings-snowing-3-14-april-parts-of-europe-with-blizzard-50-cm-of-snow/; https://mkweather.com/the-next-coldwave-in-europe-will-be-drastic-temperature-records-snow-and-extreme-frosts//.
Storms brought mainly in the Carpathians widespread hailstorms (eastern and northwestern Slovakia, northeastern Hungary) and storms in Eastern Mediterranean have brought earlier hailstorms and several tornadoes to Turkey and Greece.
Now, severe storms should bring damaging lighting, hails or locally strong winds or heavy rains into southern Spain, southern Italy, Greece and Turkey in next days, while continent should surprise blizzard conditions or severe frosts during the next week.
The next round of storms is possible in Europe during the second April 2021 decade, when the next warm spell is possible and big temperature and pressure gradient is expected to create between northern and southern parts of Europe.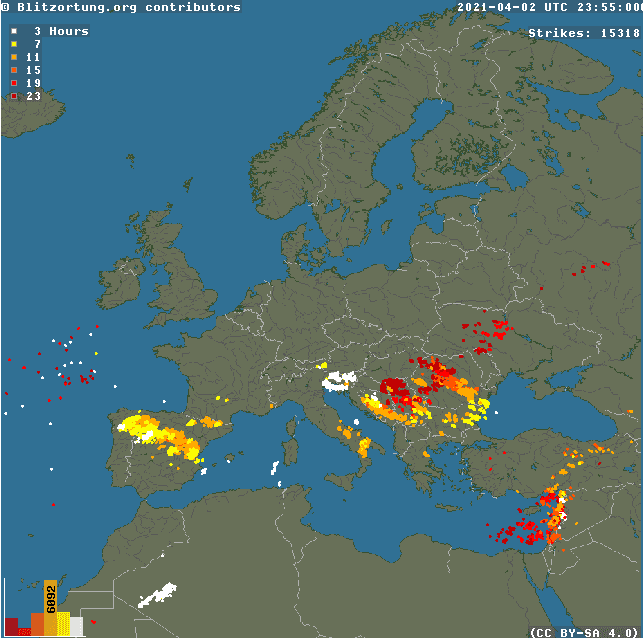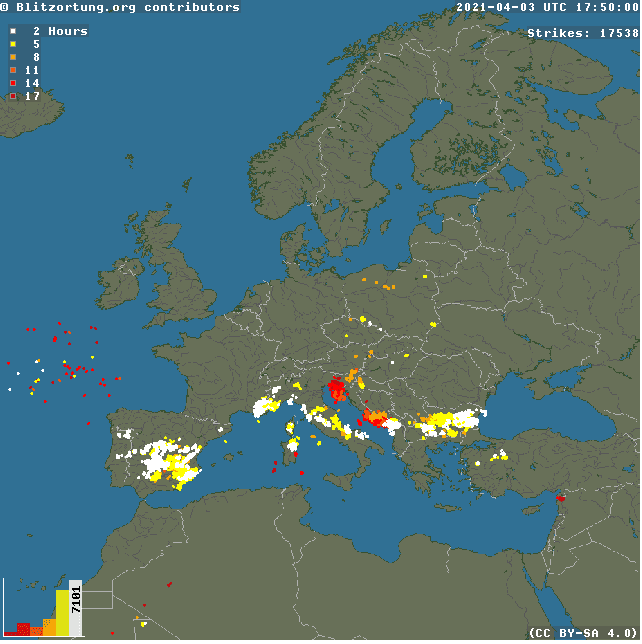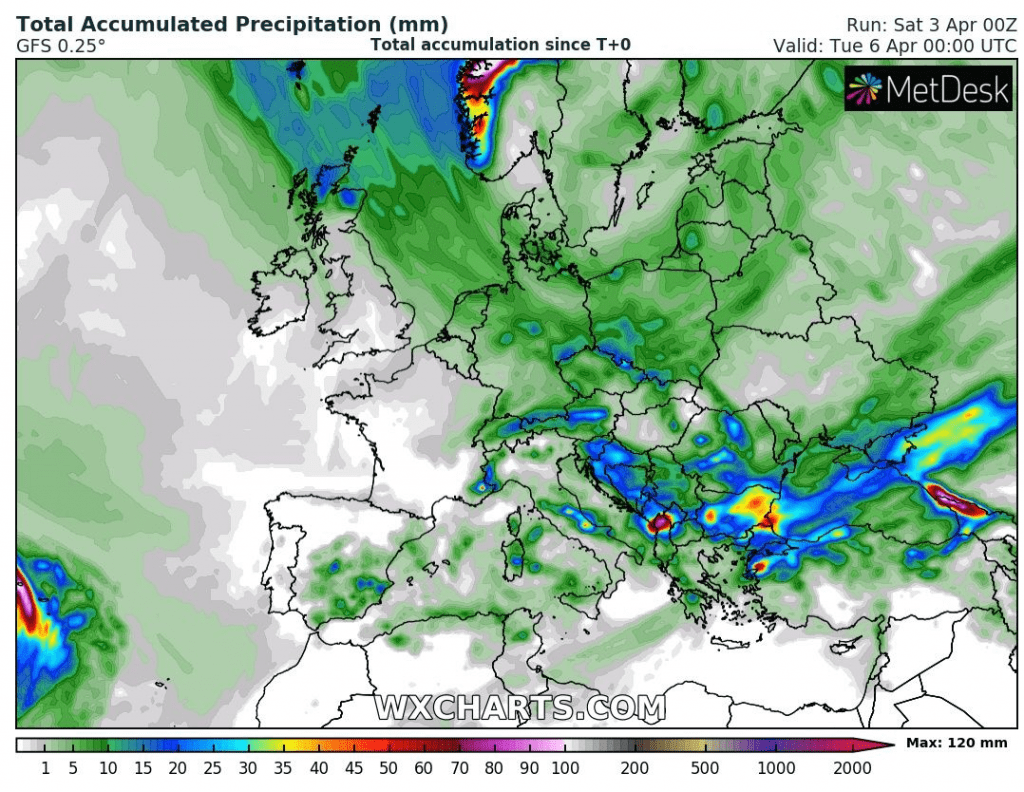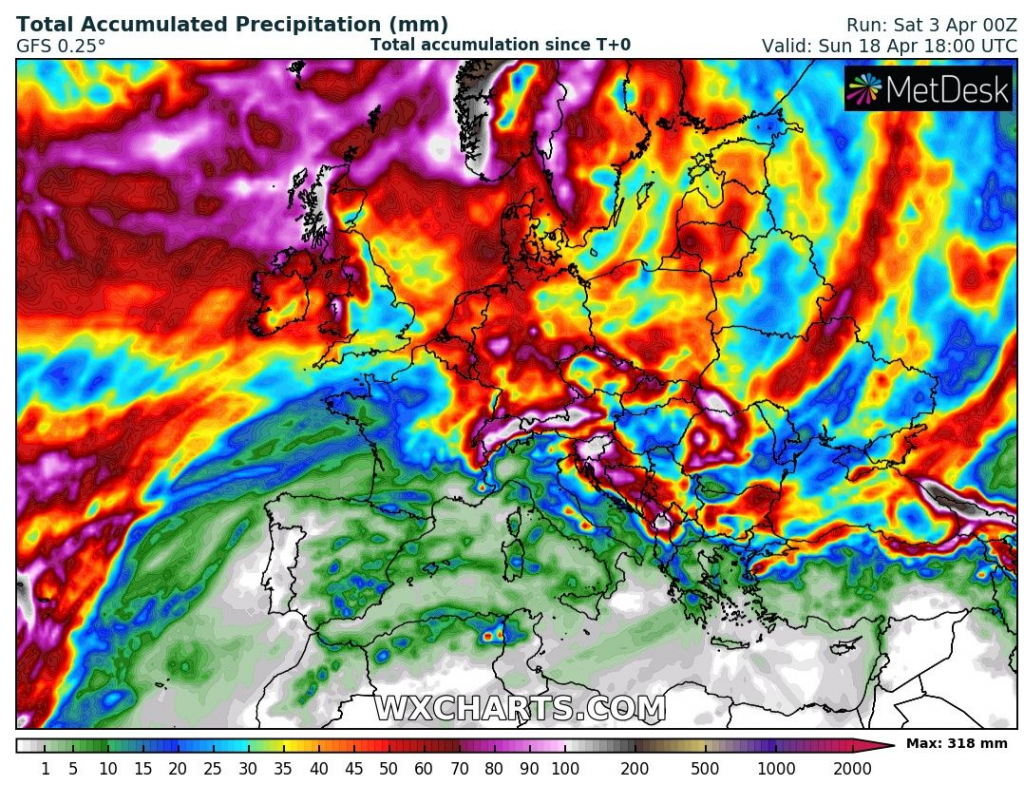 Read more:
Man in High Tatras was hit by lighting! Heavy storms in the Alps and Carpathians after another hot day! | mkweather
IMD warned before deadly heatwaves from April to June: Markapuram +45,9°C, Bhubaneswar +44,6°C, Delhi +40,1°C | mkweather
Big heatwave for North America! | mkweather
Temperature in Indianapolis should drop to 20°F / -7°C: Record cold start of April possible | mkweather
Wednesday brings summer: Paris +27°C, Frankfurt aM +26°C, London +25°C, Wroclaw +24°C | mkweather
Canada under the snow, spring is coming very slowly | mkweather
India and Pakistan with heatwave, after floods and snow in the mountains | mkweather
Middle East almost +45°C, its very early, Central Asia +38°C already | mkweather
The UK -10°C, Greece +35°C? Extreme temperature differences across Europe after an Easter? | mkweather