Regional frosts and snowfall for W/Ctrl, storms and floods for S/E Europe until 30.April 2021!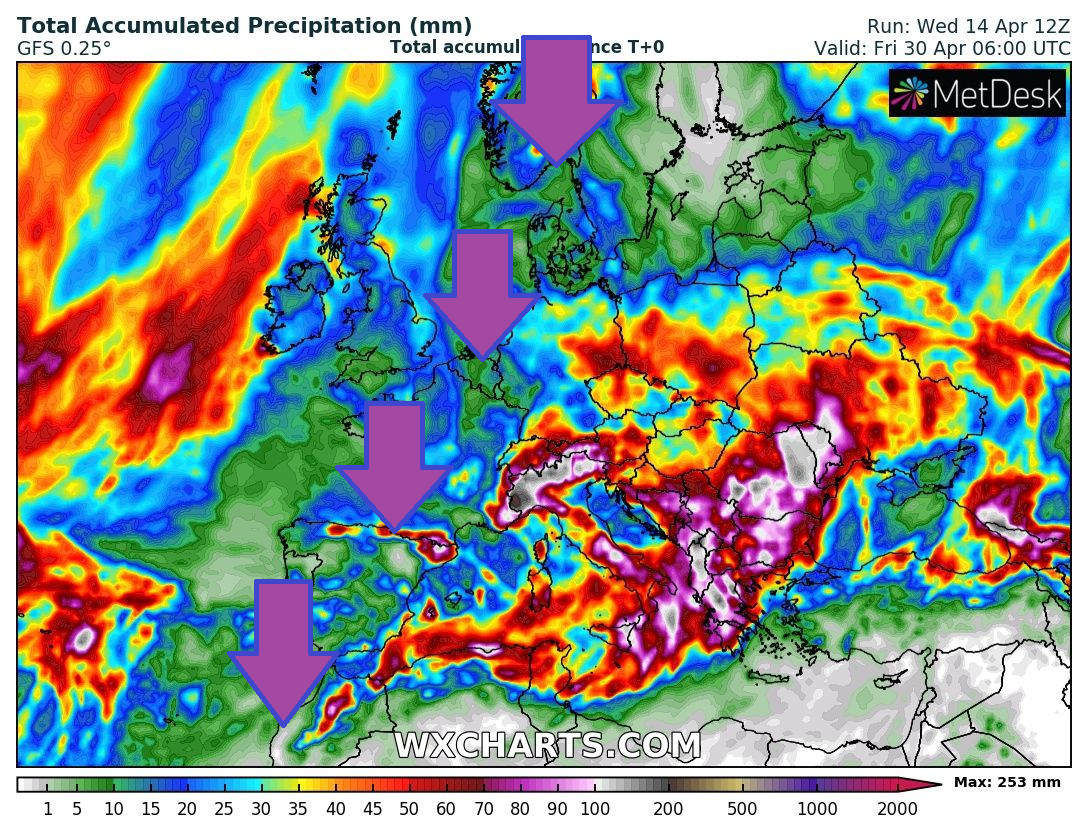 Large cyclonic system is expected to shifting above southern and eastern Europe during the third April 2021 decade, what means the next cold times for many parts of western and central Europe, until the start of May 2021.
As we should see on wxcharts forecast tool below, rainfall up to 250 mm / 16 days are forecasted from northern Algeria to southern Ukraine, with possibility of severe storms in northern Africa, Italy, Balkan, Ukraine and partly East-Central Europe.
Meanwhile, on the back side of this cyclonic system, the next doses of Arctic air will be flowing above British Islands, Scandinavia, France, Benelux, Germany, the Spain and Portugal, with the next expected light frosts 0/-5°C, rarely up to -8°C during the coldest mornings.
In Central Europe on the other hand, regional snowfall in lower situated regions should appear, again, with some late- snow records in Apline, Carpathian region and Poland.
Although the frosts are not expected to be so strong such as during the first or second April 2021 decade, fruit trees, subtropical plants and flowers will be in advanced stage of development, what should have for harvest similar devastating effects such as earlier frosts, without blossoming.
Current circulation conditions are a results of ongoing La nina /https://mkweather.com/march-2021-as-the-2nd-month-below-temperature-average-on-the-earth-for-last-7-years// combined with the strongest negative phase of North Atlantic Oscillation since record October 2020 /https://mkweather.com/nao-the-strongest-since-october-2020-tripole-of-air-pressure-systems-from-azores-to-scandinavia-causes-unique-arctic-blasts-negative-north-atlantic-oscillation//, when across Northern Hemisphere, historic temperature records were falling and early cold blasts with frosts and snowing appeared.
In summary, cold weather pattern will continue in Europe minimally until the start of May 2021 and for the next heatwaves we will probably wait long time, yet.
Infographics: wxcharts.com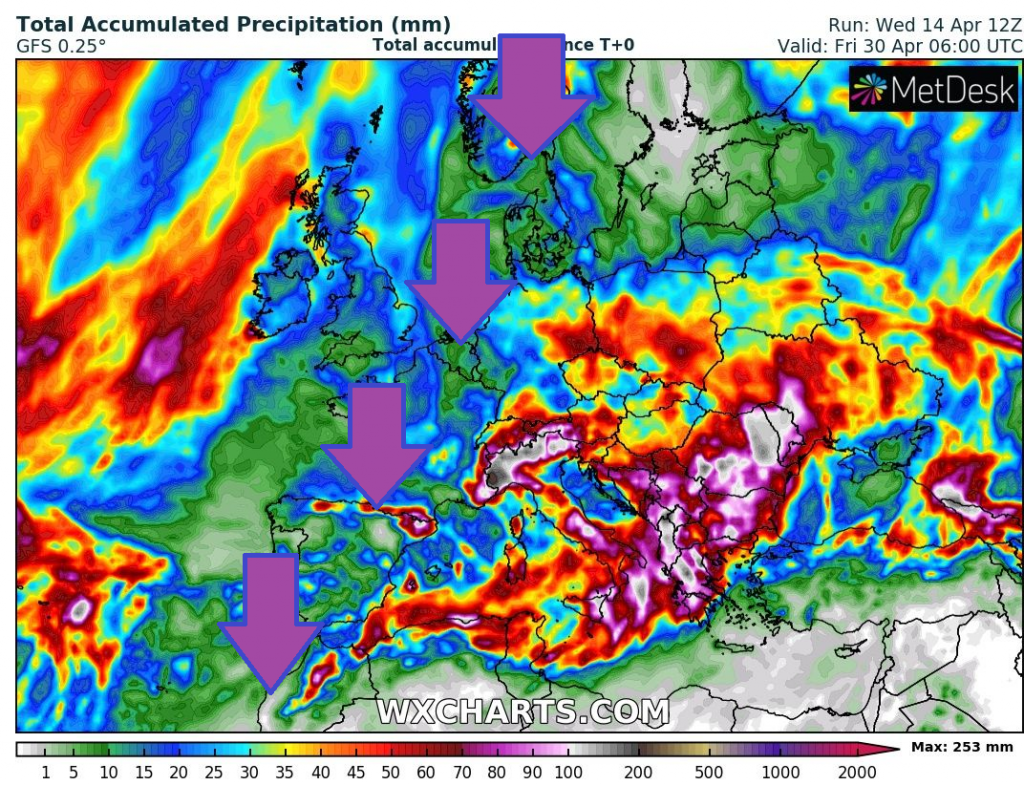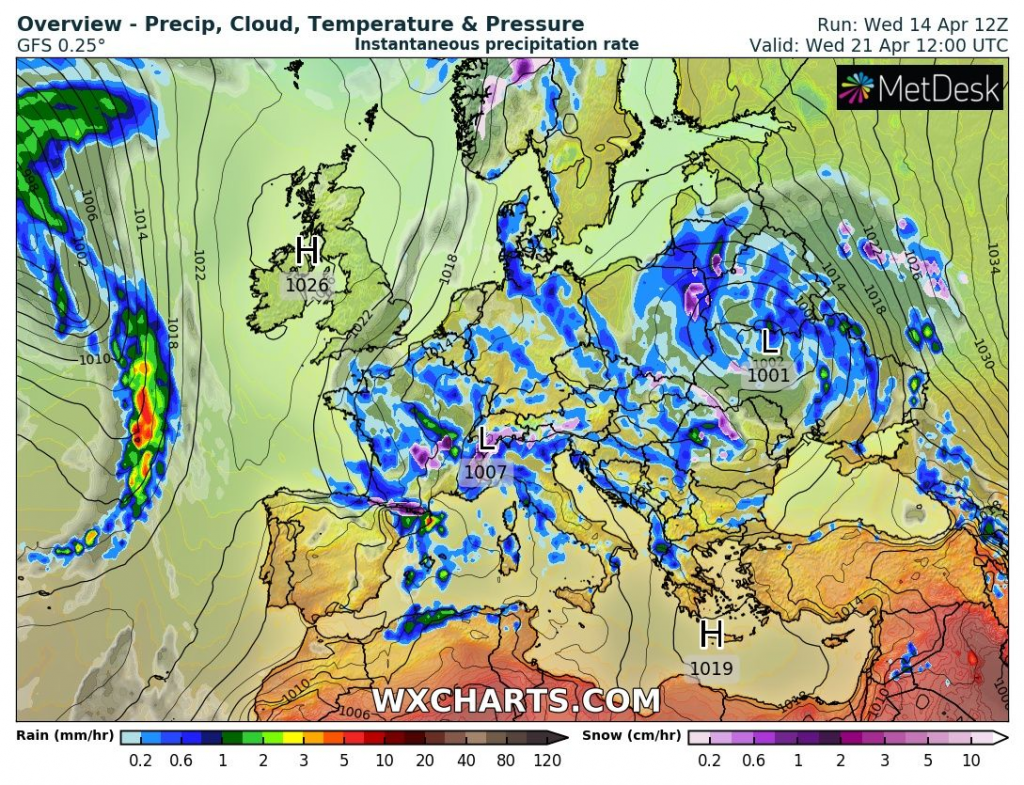 Read more:
https://mkweather.com/switzerland-with-deadly-avalanches-50-worse-than-other-seasons-27-died/