Temperature in Indianapolis should drop to 20°F / -7°C: Record cold start of April possible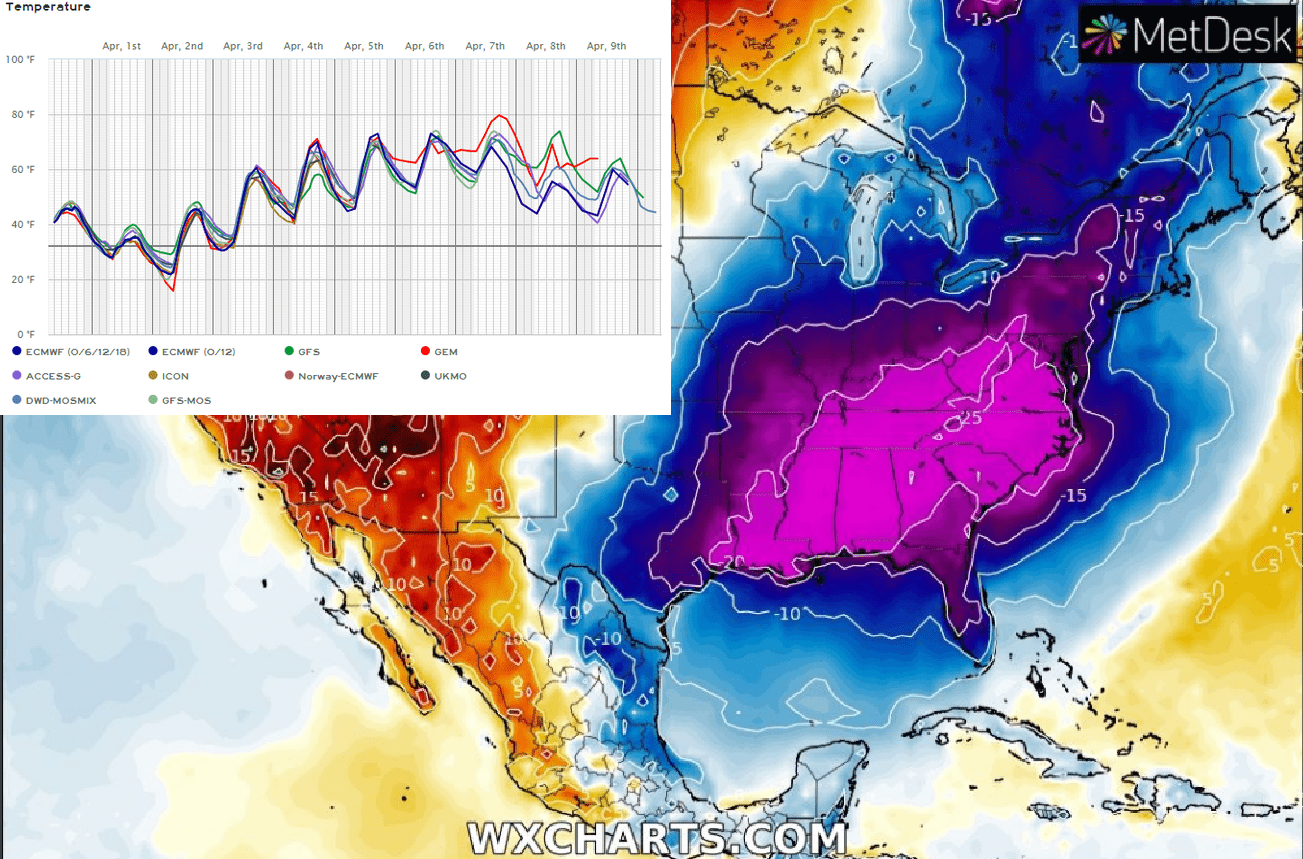 After 3 cyclonic systems with cold fronts /https://mkweather.com/deadly-tornadoes-in-the-usa-possible-3-storm-systems-until-1-april-expected//, which brought the next tornado outbreak and regional floods at the end of March 2021 /https://mkweather.com/nashville-tennessee-after-floods-7-dead-over-130-rescued//, extremely cold air has shifted above parts of eastern half of the USA.
The coldest times are forecasted in borders of Midwest with Northeast and Southeast – e.g. Indianapolis expects possible the coldest start of April in all-time history, on minimally, for several decades!
Temperatures in the city are expected to drop up to 20°F (-7°C) on Friday, 2. April according to a few forecast models.
The highest T2m anomaly from long-term average is expected southward from the city, in Virginia, West Virginia, Kentucky and Tennessee, where should reach locally below -25°F (-15°C).
Meantime, in Southwest is beginning an extreme heatwave, which will spread across the continent during the first April 2021 decade, including Canada and western Greenland.
This heatwave hit almost all territory of the USA for a time and in Indianapolis, 80°F / summer +27°C, is around 7. April already possible.
Region of Northern Plains and East Coast already experienced with the first warm spell in late March 2021, when 84°F / +29°C in Minnesota, 86°F / +30°C in Virginia or +83°F / +28°C in New York was measured /https://mkweather.com/almost-tropical-day-near-canadian-borders-madison-minnesota-29c-84f/; https://mkweather.com/hot-air-from-mexico-467c-has-shifted-above-florida-35c-virginia-30c-and-new-york-28c//.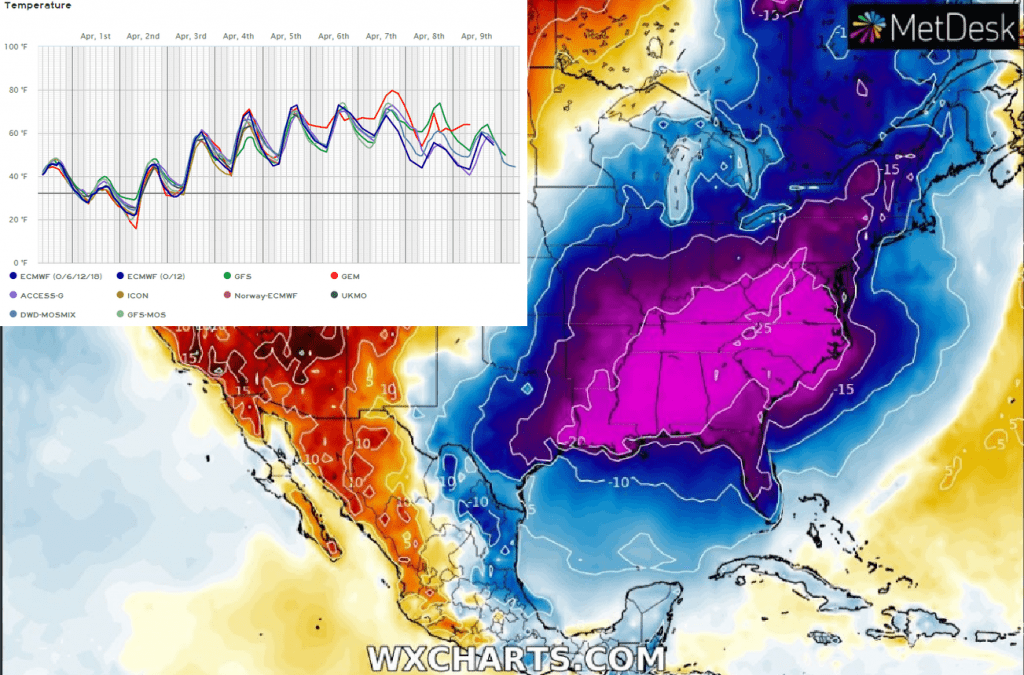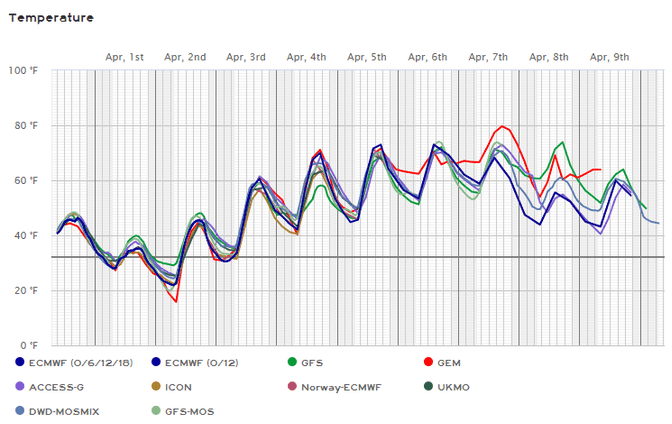 T2m anomalies on 1. and 2. April 2021 across the USA /wxcharts.com: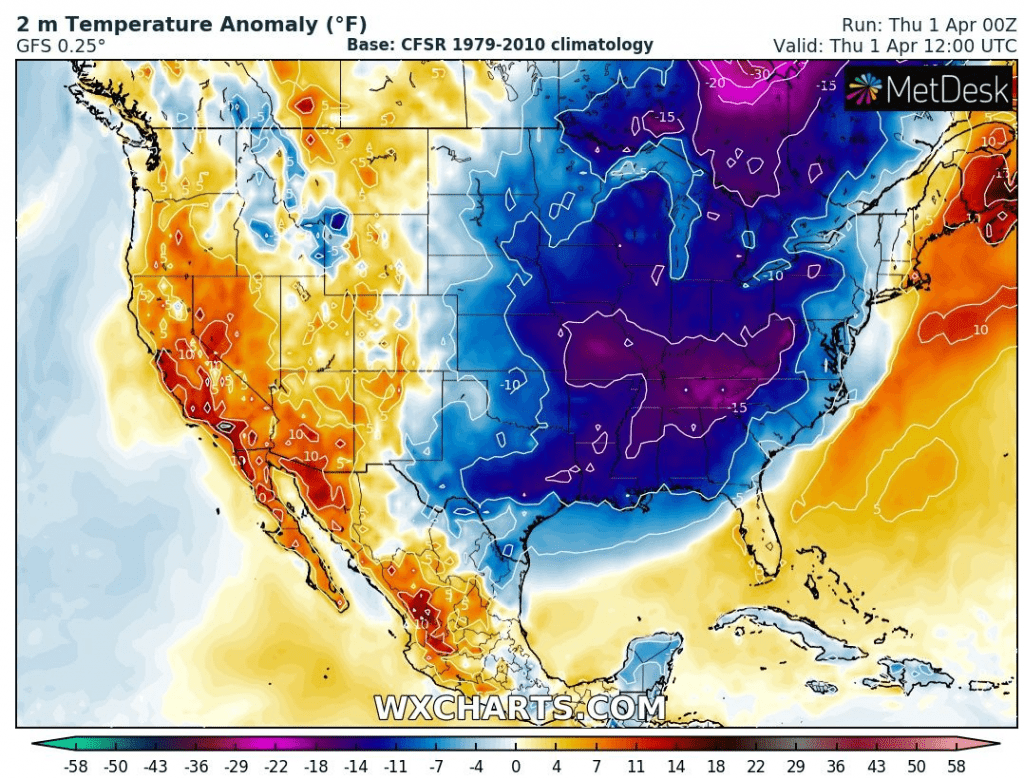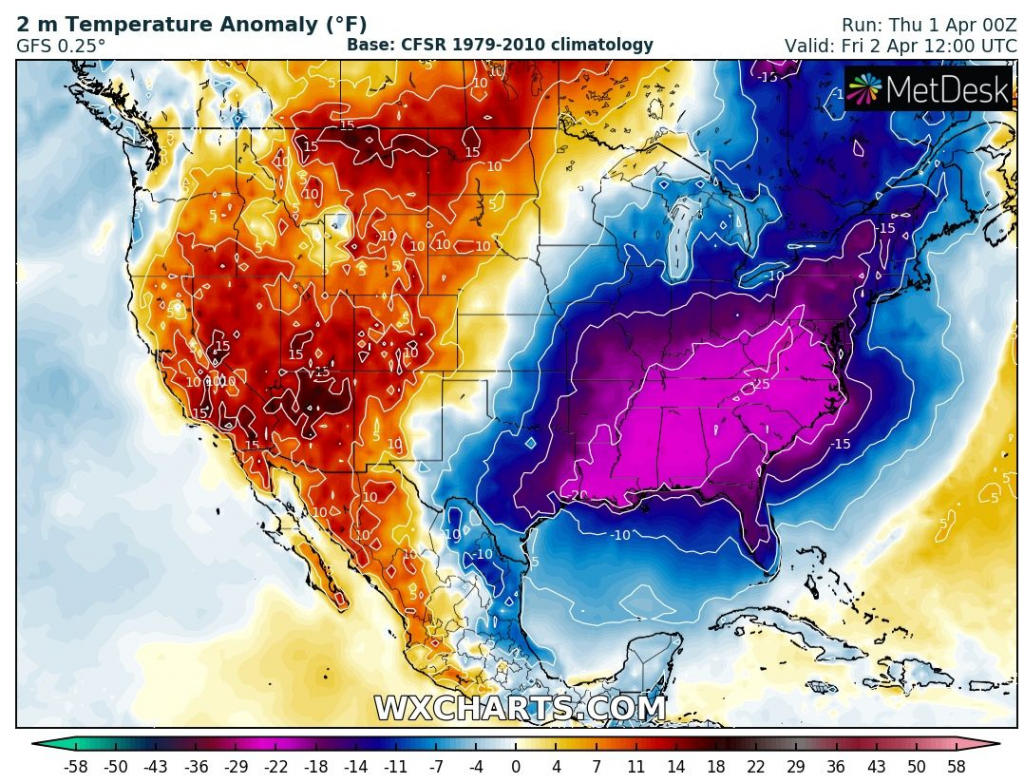 Read more:
Wednesday brings summer: Paris +27°C, Frankfurt aM +26°C, London +25°C, Wroclaw +24°C | mkweather
Canada under the snow, spring is coming very slowly | mkweather
India and Pakistan with heatwave, after floods and snow in the mountains | mkweather
Middle East almost +45°C, its very early, Central Asia +38°C already | mkweather
The UK -10°C, Greece +35°C? Extreme temperature differences across Europe after an Easter? | mkweather