Snow calamity in southern Poland!
It´s Thursday, 15. April and southern Poland is fighting with untraditional mid-spring snow calamity!
According to ESWD database /https://www.eswd.eu//, many regions in southern Poland was hit by blizzard. It´s damaging effect on the roads – many traffic accidents and fallen trees were from Thursday to Friday, 14.-15. April 2021, reported. /https://www.gov.pl/web/kmpsp-nowy-sacz/wiosenny-atak-zimy-na-sadecczyznie/
Many power outages is reported, too /https://miastons.pl/sadeckie/snieg-uszkodzil-stacje-transformatorowe-2000-odbiorcow-bez-pradu//.
About snow conditions informed IMGW, which measured in Zakopane 20 cm of snow and in stations Hala Gąsienicowa and Istebna-Stecówka 19 cm of a new snow cover.
Reality in some windy Carpathian slopes should be even worse, with local 40 – 50 cm of snow in elevations below 1000 MASL.
In the mountains, up to 170 cm of snow (Kasprowy Wierch, 1987 MASL) is reported.
On Friday, the most of precipitation, around 13 mm is forecasted for Czenstochowa region and on Saturday, around 17 cm for Zamosc region – a lot of precipitation is / will be falling in the form of snow.
Snow calamity therefore should be even worse, than was expected on Friday, mainly in Wojewodztvo Podkarpackie in southeastern of Poland.
Situation will start to be calmer at the weekend, when last snowing is expected on borders with Czechia in Saturday´s morning.
Forecasts until the end of April are cold /https://mkweather.com/regional-frosts-and-snowfall-for-w-ctrl-storms-and-floods-for-s-e-europe-until-30-april-2021// – on the back side of large cyclonic system above eastern and southern Europe will be flowing above western and central Europe very cold air.
The next frosts, or even local night snowing is not until the end of month still excluded.
April 2021 therefore should end in many European regions such as one of the coldest Aprils in meteorological history.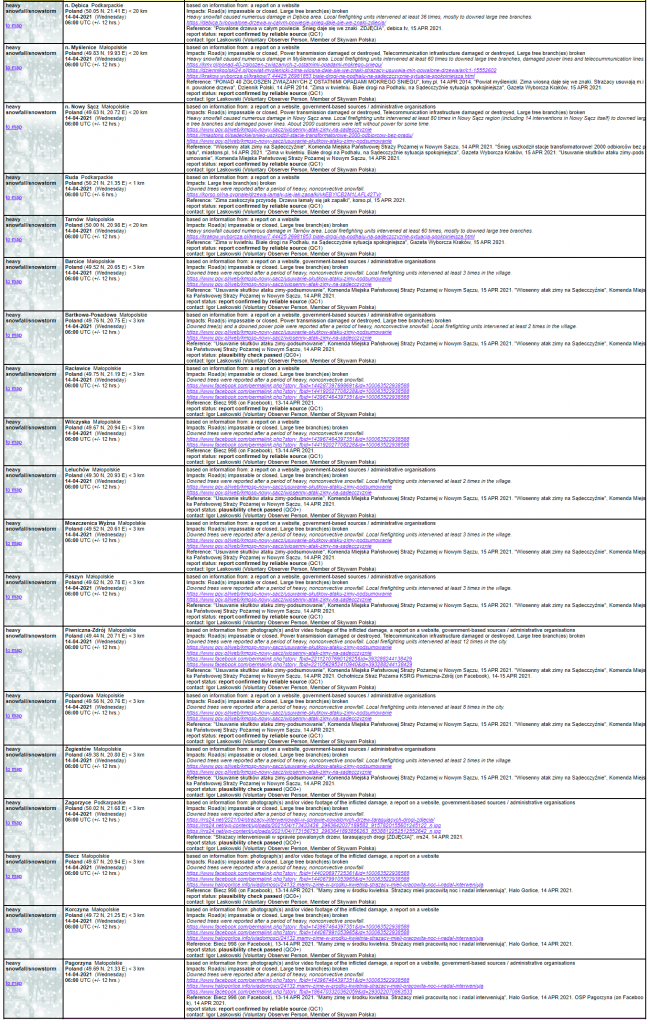 Read more:
https://mkweather.com/switzerland-with-deadly-avalanches-50-worse-than-other-seasons-27-died/