France, -7,4°C, Austria -7,1°C, the UK -6,3°C, Denmark -5,5°C, Germany -5,2°C, Italy -3,8°C, the Netherlands -3,7°C
Thursday, 15. April is in some places in Europe colder than the coldest days during the previous coldwave in the first decade of April 2021.
Méteo France informed about the next freezing morning in lower situated regions, with minimum temperatues up to -7,4°C in Auberive (around 400 MASL) /https://meteofrance.com/actualites-et-dossiers/actualites/previsions/lente-disparition-des-gelees-les-prochains-jours/. Extremely cold was too in Romantarin, 85 MASL, only -6,1°C.
According International Exchange Database, extremely cold was too in Saint Michael Im Lungau, 1094 MASL, Austria, only -7,1°C (1,6°C warmer than the first April coldwave), Aboyne, 140 MASL, UK, only -6,3°C (0,1°C colder than the first colwave, 15th day with frost in a row – all the first half of April 2021 with frosts), Skrydstrup, 43 MASL, Denmark, only -5,5°C (3°C colder than the first coldwave), Nurnberg, 314 MASL, Germany, -5,2°C (2,7°C colder than the first coldwave), Tarvisio, 777 MASL, Italy, -3,8°C (after 20 cm snowfall, 2,4°C warmer than the first coldwave) and Gilze-Rijen, 15 MASL, the Netherlands with -3,7°C (3,4°C colder than the first coldwave).
According to coolwx.com weather tool, stations in the UK, France, the Netherlands, Germany, Austria and Italy should see on 15. April new daily temperature records.
Meanwhile, in East-Central Europe, snow calamity is observed /https://mkweather.com/snow-calamity-in-southern-poland/; https://mkweather.com/peak-of-winter-2020-21-in-april-near-bratislava-has-fallen-24-cm-of-snow-border-region-slovakia-poland-czechia-with-30-40-cm//.
During the next mornings, severe frost will gradually shift eastward, with the second round of severe frosts in Czechia, Poland, Austria, Slovakia, Hungary, Slovenia, Croatia, Bosnia, other Balkan countries and Eastern Europe.
Severe late frosts will have significant impact to 2021´s European harvest, from subtropical plants /https://mkweather.com/french-vineyards-are-fighting-with-extreme-frosts-temperatures-dropped-up-to-12c/; https://mkweather.com/italy-subtropical-crops-suffer-10c-frosts-harvest-in-a-danger/; https://mkweather.com/abnormal-temperature-in-sardinia-mediterranean-80c-in-500-masl/; https://mkweather.com/late-frosts-destroyed-most-of-grape-harvest-in-france-spain-italy// to fruit trees in central and northern parts of the continent /https://mkweather.com/apple-pear-plum-or-cherry-trees-in-danger-after-snowstorm-next-severe-frost-10c-around-15-april-in-continental-europe-extreme//.
Cold weather is forecasted minimally until the end of April, when cold air will be flowing mainly above western and central parts of Europe on the back side of cyclonic system above southern and eastern Europe /https://mkweather.com/regional-frosts-and-snowfall-for-w-ctrl-storms-and-floods-for-s-e-europe-until-30-april-2021//.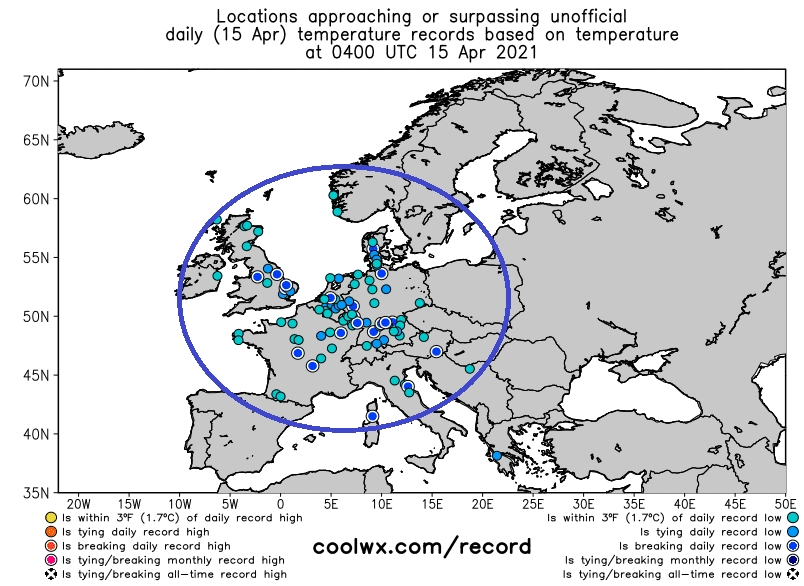 Read more:
https://mkweather.com/switzerland-with-deadly-avalanches-50-worse-than-other-seasons-27-died/