Powerful heatwave is already peaking and countries from Finland to Italy have currently valid warnings of 1-3 level on meteoalarm.eu.
The worst situation with heatwaves is forecasted for parts of southern Italy, Bosnia and Herzegovina, Romania and Hungary, where 40-47°C temperatures are expected and 3rd level of warnings is valid.
In northeastern Europe on Wednesday, 23. June were broken the next temperature records – in Belarus was measured +36,7°C, in Estonia +35,2°C, in St. Petersburg +35,9°C and in Moscow +34,8°C /Extreme Temperatures Around The World (@extremetemps) / Twitter/ – it will be a topic of Thursday´s Mkweather articles (together with coldwaves in South Africa, South America, Australia, Canada and the USA).
In the next articles we will see more detailed on Balkan and SE Central Europe, where +36,5°C in Slovakia and +37,8°C in Hungary, +40,2°C in Bosnia and Herzegovina and +41,1°C in North Macedonia was on Wednesday, 23. June measured and on Thursday, 24. June, even higher temperatures are forecasted – in Slovakia up to +38°C (at level of all-time June records), in Hungary +40°C, in northern Balkan +42°C, in southern Balkan +44°C.
Abnormally hot, only 1-2°C below all-time temperature records should be Italy and Greece, with maximum temperatures up to +46/+47°C in southern / continental parts with a sirocco. Already on Wednesday, 23. June, +46,0°C was in Italy measured and it should be worse on Thursday /+46,0°C in Caltagirone, Italy (!!!) Dangerous, anomalous and deadly heatwave is peaking! Even stronger heatwave next week! – mkweather/.
Meanwhile, in eastern Poland, Baltic states and Finland, such as in Alpine region, cold front will bring the next round of severe storms, with possibility of large hails, flash floods, damaging winds, lighting and very rare tornadoes.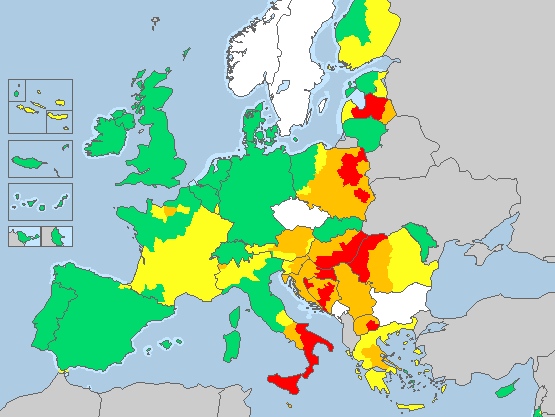 king in Central Europe, too.

(Visited 44 times, 1 visits today)