California hit extreme heatwaves and wildfires! Almost a week above 90°F / +32°C, Death Valley already 94°F / +35°C. The state after the 2nd driest January on record, wildfires are coming very early!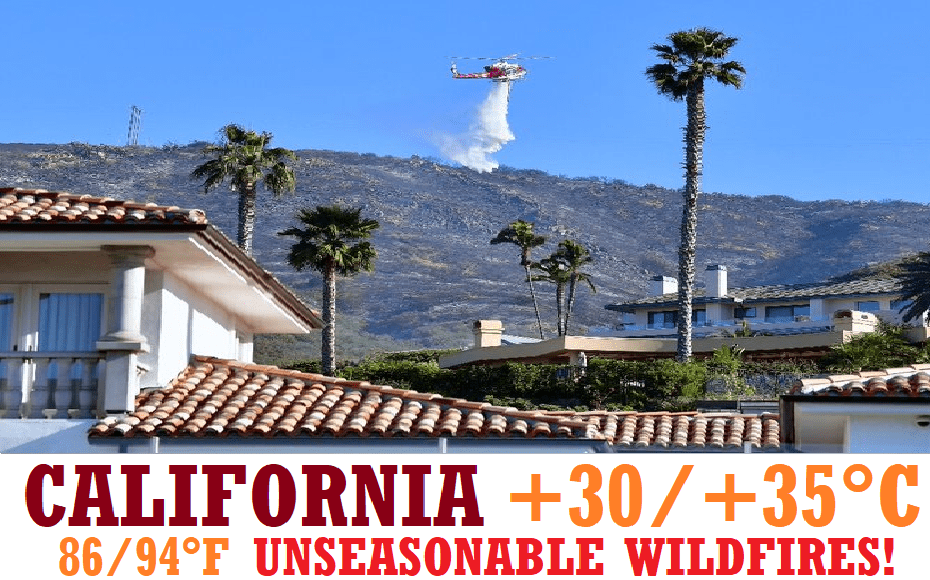 Early spring 2022 is coming and the southern and eastern half of the USA report gradual warming up, in the last days already with historic winter heatwaves and severe early wildfires in California.
Temperatures above 90°F / +32°C are forecasted for the period lasting almost a week and hot days have started already at the end of the previous workweek.
On Friday, 11. February 2022, Death Valley reported 94°F / +34,4°C, and many monthly records in California were broken.
In San Francisco, 78°F / +25,6°C was measured (monthly record), Salinas reported 87°F / +30,6°C (monthly record), Newport Beach reported 90°F / +32°C (monthly record) on Thursday, 10. February 2022.
In Red Bluff, 86°F / +30,0°C and in Half Moon Bay 78°F / +25,6°C was measured on Friday, 11. February 2022 (new monthly record, too).
In Palm Springs, 90°F / +32°C was measured on 11. February 2022.
In many parts of California, hundreds of wildfires appeared and the spring wildfire season has started very early.
All after the second driest January in history, which brought many surprising wildfires in the state, too.
Summer weather appeared in parts of Nevada, Arizona, Oregon, Utah, or New Mexico, too, such as in Texas and soon in parts of the Midwest and Southeast.
Heatwave is forecast to continue in the following workweek with the next possible historic temperature records.
It´s only around 10.-15. February, but monthly records were already falling, which should mean a very hot summer season, with deadly wildfires in the region (agree with Mkweather Spring and Summer 2022 forecasts for North America: https://mkweather.com/spring-2022-forecast-for-north-america/; https://mkweather.com/summer-2022-forecast-for-north-america-strong-wildfire-season-and-early-hurricane-season-are-predicted/).
In Summer 2022, even, the next "heat domes" above the Pacific coast will be according to long-term outlooks possible, with heatwaves far in the north, up to SW Canada.
Very hot, early spring weather is forecast in many parts of the Northern Hemisphere thanks to persisting AO+ / NAO+ phases until the end of March 2022, therefore, if you live in zones affected often with wildfires, we recommend you to watch current weather news, forecasts, warnings, and advisories.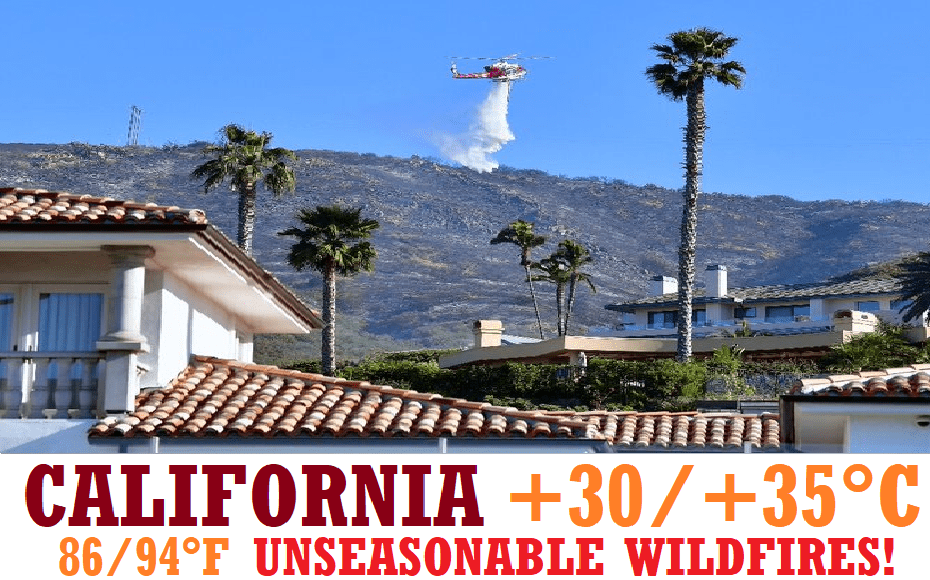 Illustration picture: phys.org