Indian summer in Northeast almost until 15. November, Canada and Rocky Mountains with summer temperatures almost 80°F / 27°C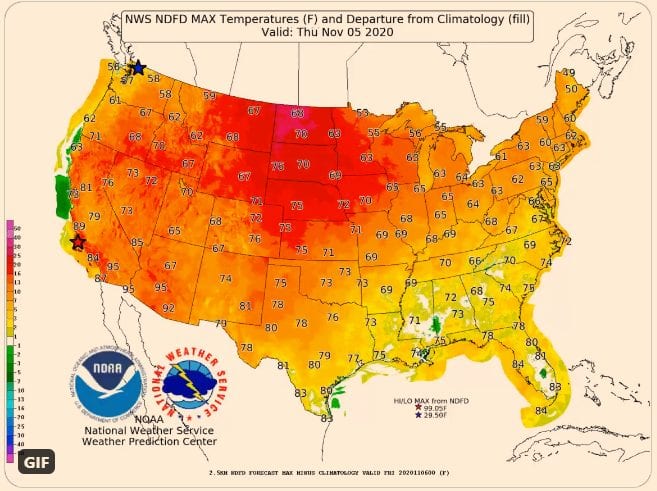 Indian summer has come into northern USA and southern Canada from the west and regions, which has reported 33-degree Celsius / 29-degree Fahrenheit frosts at the end of October, now enjoy real summer weather with temperatures more then +25°C / 77°F up to southern Canada (Alberta)!
While West will be bothered by next coldwave already after 6. November, very to extremely warm weather is expected in Northeast until 14. November, with highly above average temperatures.
Late Indian November summer has surprised on Monday with summer temperatures in Alberta, Canada (Bassano / Drumheller +25,9°C /78.6°F) and summer temperatures in northern USA and Rocky Mountains (North Plate, Nebraska, +25,6°C / 78.1°F, Denver, Colorado and Sherida, Wyoming +25,0°C / 77°F).
Very warm was in the cities, where before a week temperatures dropped below -20°C / -4°F – Cheyenne and Rapid City has reported +23,3°C / 73.9°F, Billings +22,2°C / 72°F, Casper +21,7°C / 71.1°F or Great Falls +21,1°C / 70°F. In Sioux Falls meteorologists measured +20,0°C / 68°F.
While western and central USA hits powerful coldwave with regional blizzard conditions between 6.-14. November 2020 /forecast of potential blizzard snowfall will be updated in the next articles/, in Northeast should this coldwave take a shorter time.
If you live in the USA, use next sunny and very warm Indian summer weather to outdoor activities, but be careful in the morning, because it was investigated, that virus is spreading in colder and dry conditions – mornings during incoming period stays still relatively cold.
Forecast from NOAA:
Temperature anomalies in 850 hPa over the region /wetterzentrale.de: