Snowing in Portugal only at 1000 MASL! The coldest times since March 2021!
Heatwave in Portugal was only very short, with maximum temperature only +27,0°C /https://mkweather.com/europe-after-tropical-heatwaves-from-scandinavia-to-mediterranean-extreme-storms-344-mm-24-h// and warmer air was quickly alternated by the next dose of extremely cold air with Greenland´s origin.
Temperatures in elevations above 1000 MASL dropped near 0°C and mountainous regions in northern Portugal above 1000 MASL (sleet) and above 1300 MASL (snow cover) reported early current week unseasonable snowing near T850 anomalies around -12°C.
In basins and valleys in 500-1000 MASL surprised ground frosts and situation was very similar such as in early May 2021, when Iberian Peninsula reported record cold weather /https://mkweather.com/frosts-ground-frosts-and-monthly-records-in-the-spain-northwestern-spain-30c-andalusia-46c//.
E.g. in Braganca, 691 MASL, maximum temperature on Tuesday, 11. May 2021 reached only +11,6°C, Viseu, 644 MASL reported only +11,1°C near rain.
In Penhas Douradas, 1380 MASL, minimum temperature on Tuesday, 11. May, dropped only to 0,0°C, what is the lowest temperature in the station since 20. March 2021.
Situation in the region, such a part of NW European coast we have described in /https://mkweather.com/245c-in-iceland-signalizes-extremely-cold-conditions-until-early-summer-2021-in-n-w-europe-year-without-spring/; https://mkweather.com/a-big-european-circulation-anomaly-in-2021-totally-oppositely-such-as-in-the-world-and-showing-what-climate-change-should-bring-until-2100//.
Heatwaves in the region are in 2021 weaker, while persisting cold airflow from N-NW is bringing repeating rounds of extremely cold weather, thanks to air from Greenland.
Snow in May 2021 already occurred in the Ireland, the UK, northern France, Belgium, the Netherlands or Germany /https://mkweather.com/snowing-in-the-netherlands-on-7-may-extremely-rare-snowstorm/; https://mkweather.com/snowing-in-potsdam-berlin-germany-in-may-after-50-years/; https://mkweather.com/scotland-and-northern-england-under-the-snow-in-may-exceptionally-cold-spring-2021-continues//.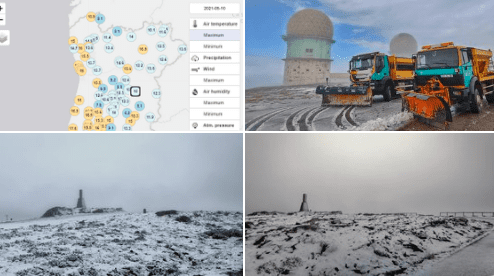 Read more: