Warm spell has shifted from Europe to Eastern Mediterranean and Middle East: Saudi Arabia +41,0°C, Israel +39,3°C, Turkey +39,2°C, Kuwait +37,2°C Egypt +36,8°C, Iraq +36,7°C, Iran +35,9°C and Cyprus +35,6°C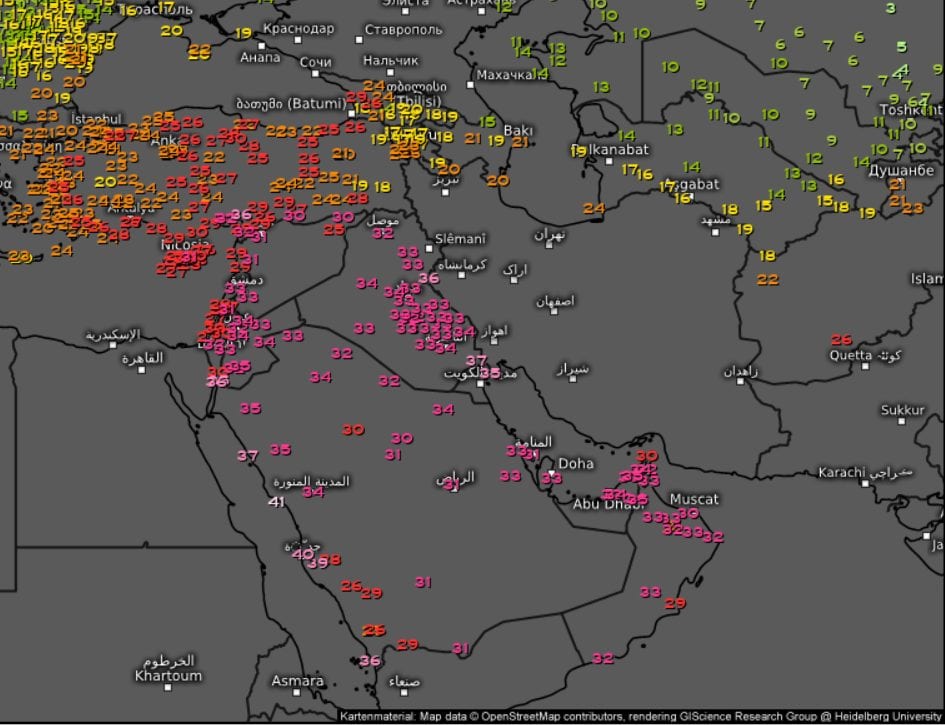 During last 10 days, we have informed in our main page about Indian summer-measured temperatures in western, central and eastern / southeastern Europe.
Now, when cold front linked with ex-hurricane Epsilon is bringing rain and cooldown above continental Europe, very, regionally extremely hot air has shifted more eastward – to southern Russia, Caucasus, Eastern Mediterranean and Middle East.
Already in previous article we have informed about measured temperatures in Turkey, Russia, Cyprus or Georgia during last 3 days (Monday – Wednesday, 26.-28. October 2020) /https://mkweather.com/2020/10/28/late-indian-summer-with-short-breaks-of-rain-in-europe-during-the-first-half-of-november-2020//.
Maximum temperature in Turkey and Cyprus, however, was higher at the weekend such as in last 3 days – in Adana has been measured +39,2°C – so hot it has never been so late in the city during the fall season.
Cyprus, Gecitkale, reported +35,6°C at the weekend, Egypt reported +36,8°C on Tuesday.
In Eilat, Israel, meteorologists measured +39,3°C on Monday, 26. October. It is very possible, that this maximum temperature is for Israel recorded for this season, because all-time November record for Eilat in desert parts of Israel has value only +38,1°C.
Extremely hot air from Greece and Israel is slowly shifting above more eastern and southern parts of Middle East – Yenbo in Saudi Arabia has reported +41,0°C, Sulaibiya in Kuwait +37,2°C, Basrah in Iraq +36,7°C and Abadan in Iran +35,9°C on Wednesday, 28. October.
If hot weather in region will persist, wildfires should return during the next period /https://mkweather.com/2020/10/14/lebanon-syria-israel-and-turkey-with-deadly-wildfires-in-lebanon-the-worst-for-decades-russia-318c-89-2f//.
Infographics: meteologix.com