May and MJJ outlook for the USA from NOAA
Stormy East and dry West – forecasts for Summer 2021 for North America are still very similar such as before a month /https://mkweather.com/summer-2021-forecast-for-north-america-hot-stormy-east-and-dry-west//.
May 2021 however should be according to NOAA more colorful, with cold temperature anomalies in Alaska, major storm activity in Northeast, Upper Midwest and East Coast, while region from Louisiana to Arizona, Colorado and Oklahoma should be drier.
Only in northern states of the USA aren´t forecasted except for Alaska warm temperature anomaly for May 2021, the hottest should be in Texas and Southeast.
During MJJ (May-June-July) 3-month period, hot temperature anomaly will shift more above Southwest and Alaska and northern states should experience with warmer conditions such as average, too.
Drought will shift mainly into Northwest and Rocky Mountains, while stormy weather pattern will stay above East, with very stormy East Coast.
Moreover, powerful Tornado and Hurricane season 2021 is forecasted for the USA thanks to La nina /https://mkweather.com/hurricane-and-tornado-season-2021-in-the-usa-above-average-expected-thanks-to-la-nina-forecast//.
Predicted cold temperature anomalies in Alaska and colder northern states on jet-stream are too a result of La nina pattern.
La nina updates for 2021 became more favor for persisting La nina phase during the year 2021 in comparison with outputs from Winter 2020/2021 and last months surprised very cold Earth conditions /https://mkweather.com/march-2021-as-the-2nd-month-below-temperature-average-on-the-earth-for-last-7-years//.
These conditions are surely associated with late-season coldwaves across North Hemisphere, too – the next coldwaves are prepared for central and eastern USA together with tornado outbreaks until 15. May 2021 /https://mkweather.com/dangerous-may-frosts-for-the-usa-between-5-15-may-2021-world-map-of-late-frosts-trends-1959-2017/; https://mkweather.com/heatwaves-frosts-and-tornadoes-forecast-for-the-usa-until-15-may-2021//.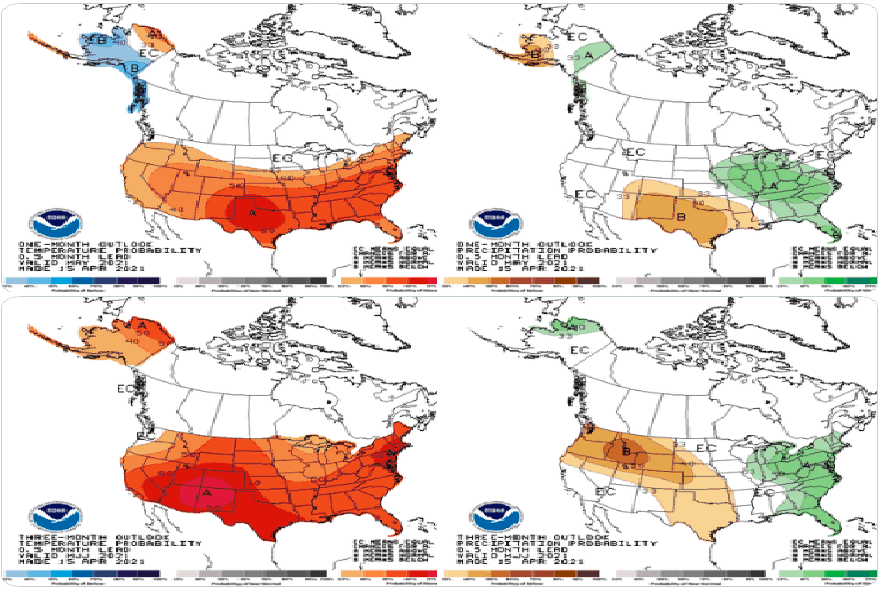 Read more: