Extreme frosts still bother Europe: 3rd April coldwave the strongest in Poland, -7,2°C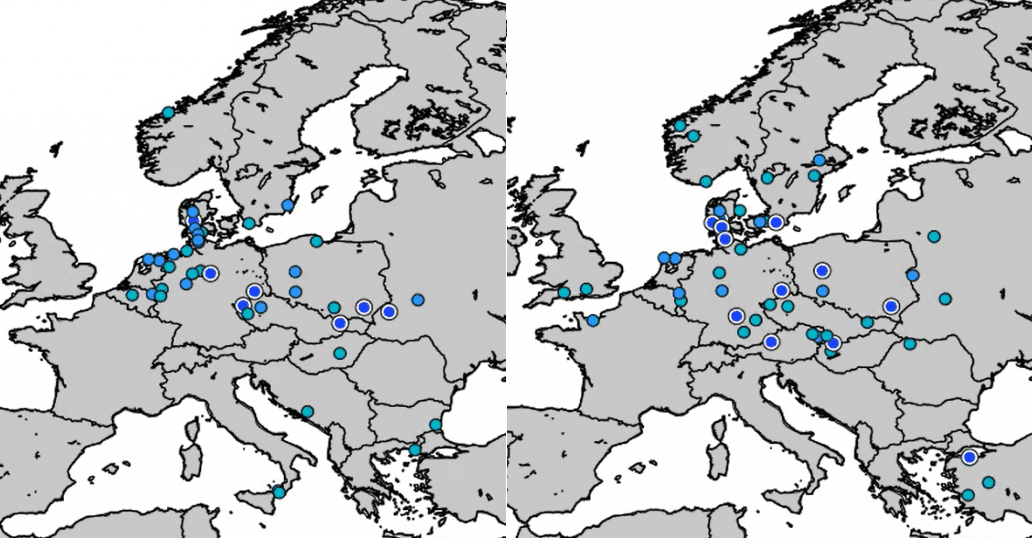 While in the USA was situation with late frosts on Monday and Tuesday, 26.-27. April 2021 calmer and coldwave only started above West Coast, in Europe we have very probably experienced with the peak of the 3rd April coldwave.
The coldest was in Central Europe, but extreme frosts were reported too from southern Scandinavia, Benelux, England, Ukraine, Belarus or Lithuania, with few cold records in Balkan or France, too.
Accroring to coolwx.com weather tool, daily temperature records should fall on Monday in Germany, Poland, Czechia, Slovakia and Ukraine, while on Tuesday in Denmark, Germany, Poland, Austria, Slovakia, southern Sweden, and maybe too in Czechia, Hungary, western Ukraine or near Istanbul, Turkey.
Absolute TOP minimum temperature of the 3rd coldwave in Europe should be reached in Poland on Monday – within stations form International Exchange Site was the coldest in Cewice, only -7,2°C.
From next countires with frosts below -2°C on Monday: Poprad, Slovakia, -6,1°C, Isenvad, Denmark, -6,0°C, Pec Pod Snežkou, Czechia, -5,8°C, Elseborn, Belgium, -4,6°C, Groningen, the Netherlands, -4,5°C, Bragin, Belarus, -4,3°C, Cottbus, Germany, -4,0°C, Sarny, Ukraine, -3,9°C, Szecseny, Hungary, -3,7°C, Zwettl, Austria, -3,5°C, Shap, the UK, -3,0°C, Varena, Lithuania, -2,8°C, Charleville, France, -2,5°C.
Tuesday´s morning was only little warmer, in some countries colder than previous: Horsens in Denmark reported -6,2°C, Lodz, Poland only -5,6°C (metropolitan area!), Pec Pod Snežkou, Czechia, -5,3°C, Liesek, Slovakia, -4,1°C, Marnitz, Germany, -3,9°C, Puchenberg, Austria, -3,8°C, Elseborn, Belgium, -3,5°C, Leewerden, the Nethelrands, -3,2°C, Rivne, Ukraine, -3,2°C, Mazyr, Belarus, -2,9°C, Szecseny, Hungary, -2,7°C, Farnborough, the UK, -2,6°C and Varena, Lithuania, -2,4°C.
In wide region of Central Europe, fruit trees should get strong strike and harvest should be in 2021 very week, mainly plums, cherries and apples.
Potential damages should be caused in greenhouses, too, on tomatoes, cucumbers or pepper.
Frosts are still possible in Poland, Germany, Denmark, Czechia, Slovakia, Austria, Hungary and Eastern Europe on Wednesday, 28. April 2021.
From Friday to Sunday, 30.4.-2.5. should be again hit mainly parts of the UK, Benelux an neighboring parts of France and Germany.
The next workweek we should still count with widespread ground frosts in British Island and continental Europe, both (3.-7. May 2021).
Then (8.-13. May 2021) should eastern and southern parts of continental Europe after long time report summer days above +25°C, but British Island and western Europe should stay cold, with next ground frosts, in British Island frosts.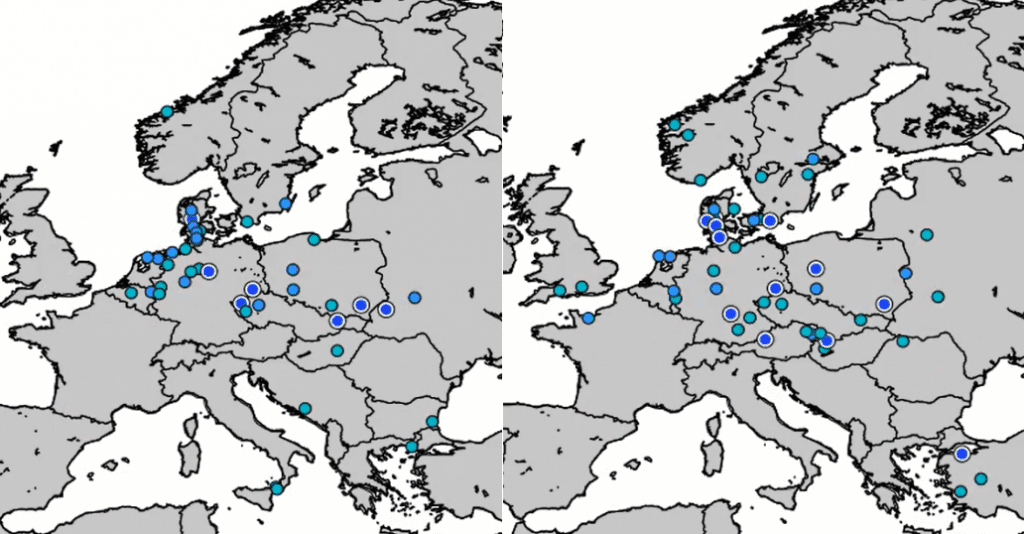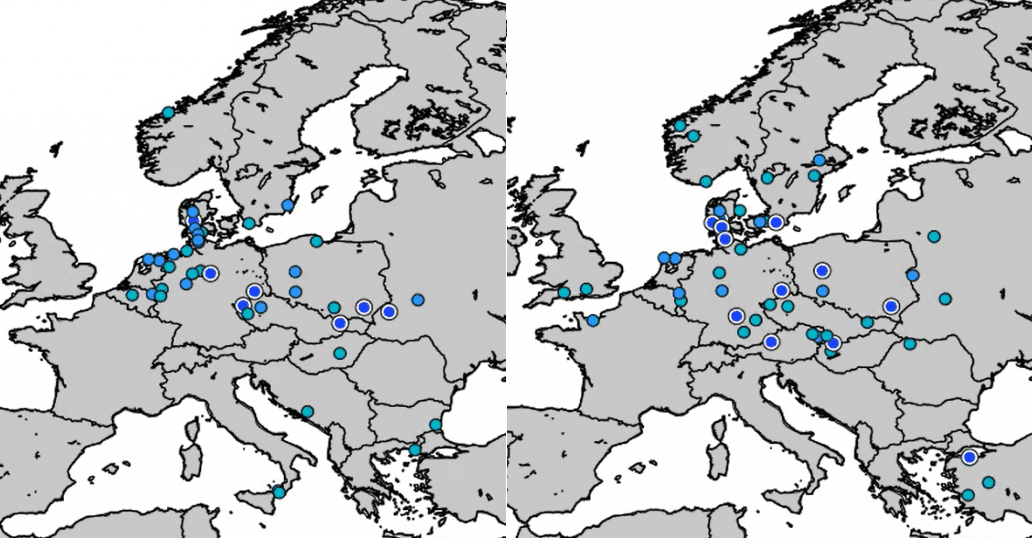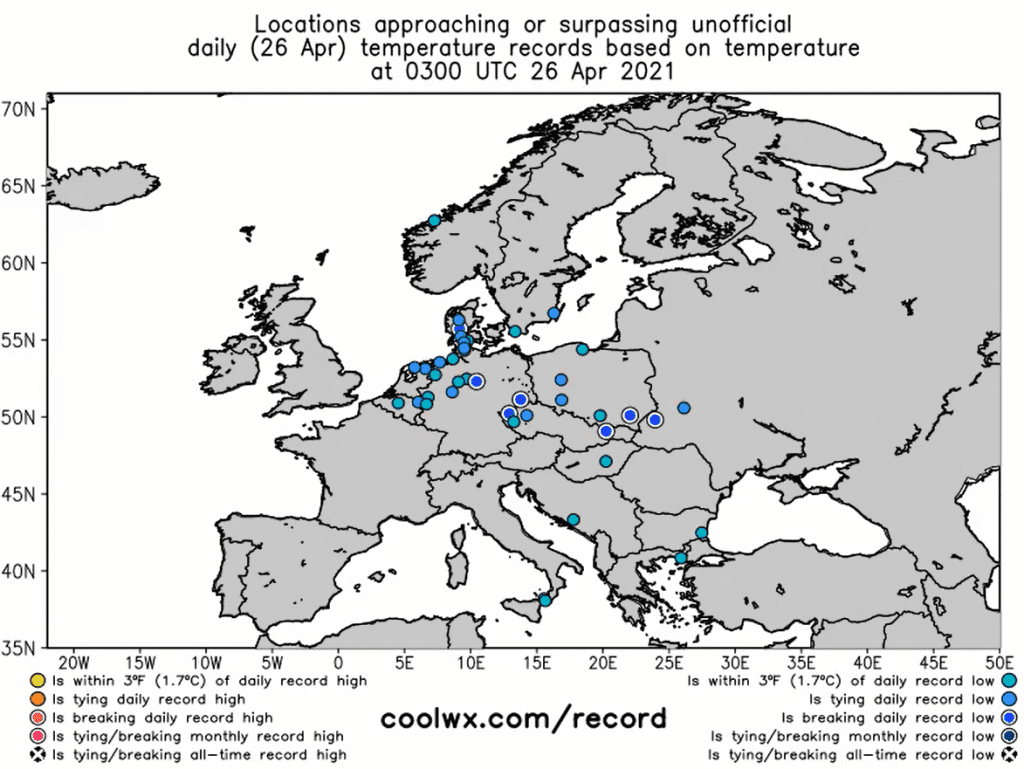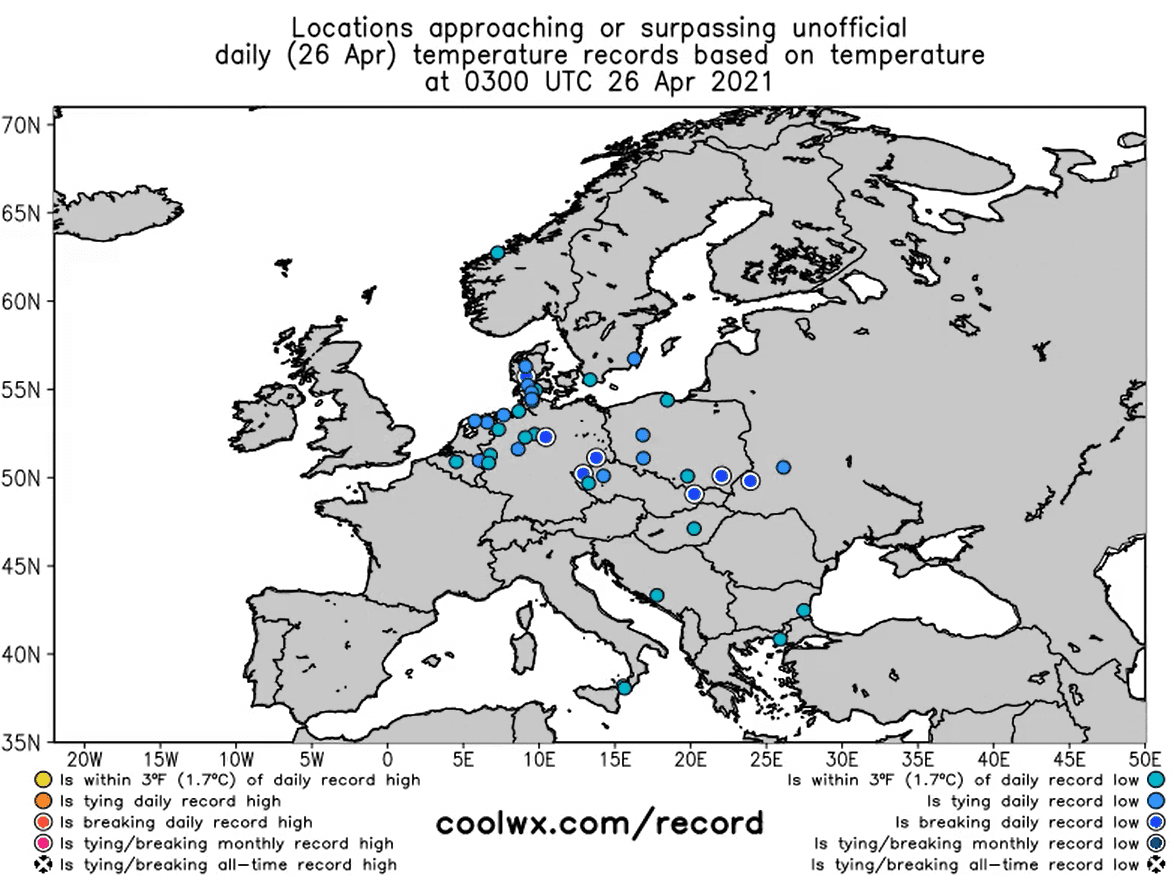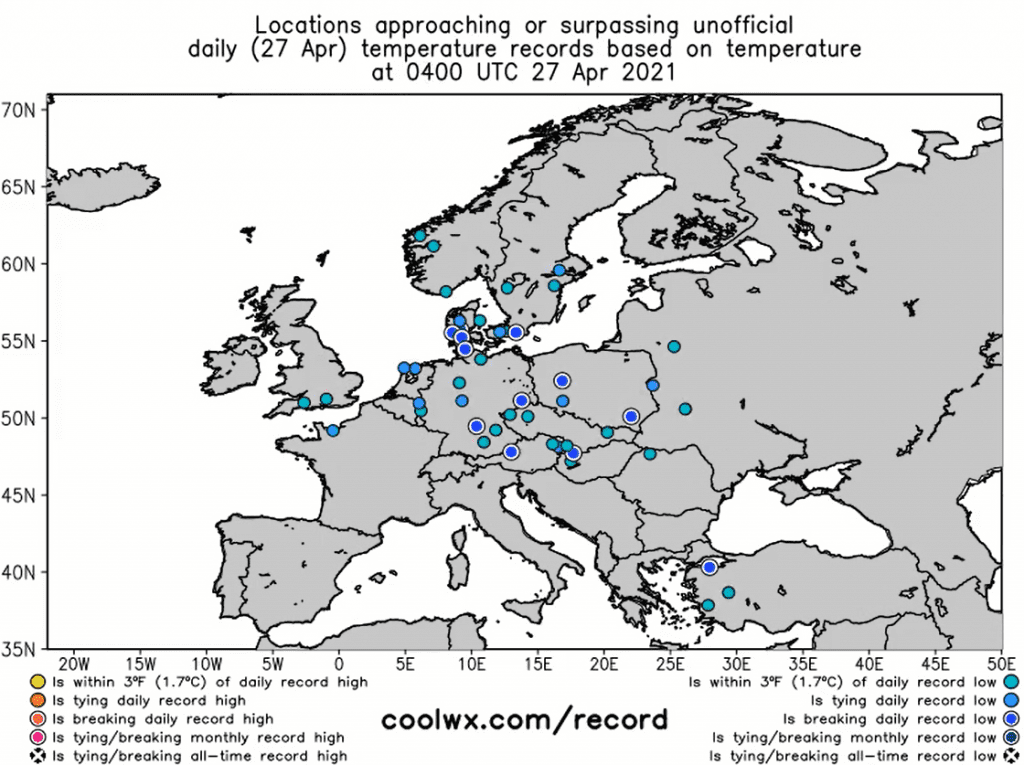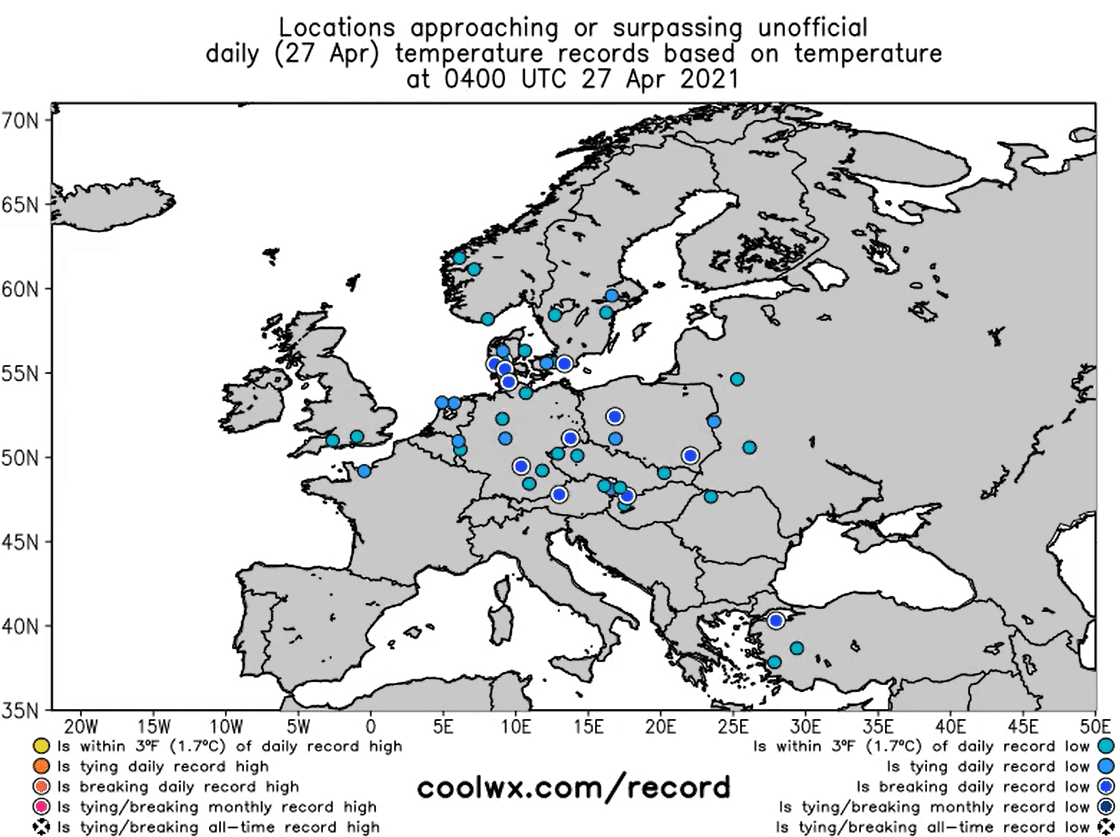 Read more: