Extremely hot air pushed from the USA and Canada above Cuba and Alaska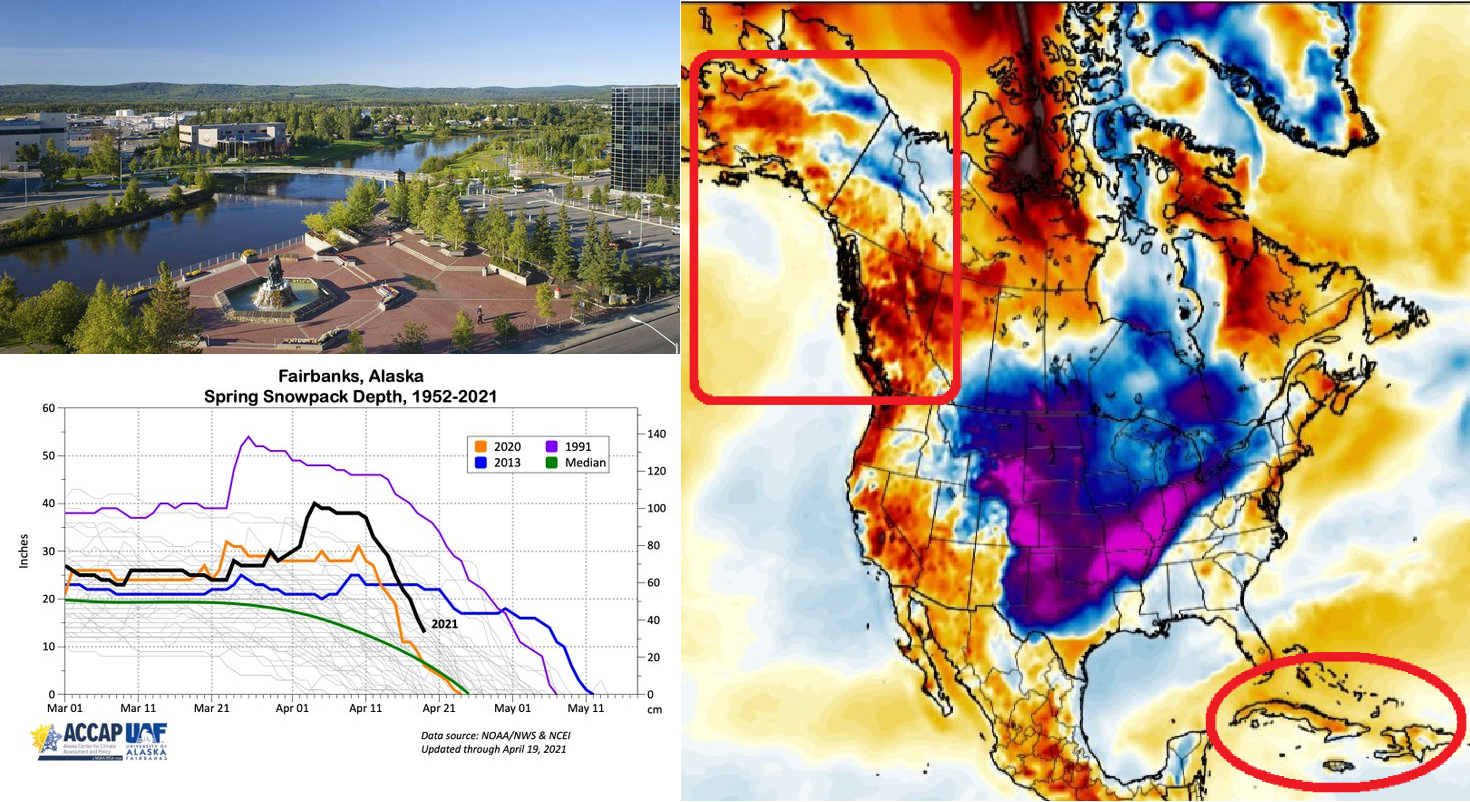 While Alaskan and Canadian air has flooded Central USA and is prepared to hit eastern parts of the USA /https://mkweather.com/almost-90-million-americans-under-frost-or-freeze-warnings//, very warm air from the continent was pushed into its edges – above western Canada, Alaska, southern Mexico, Cuba, Dominican republic or Haiti, with interesting measured temperatures in southern Alaska and Cuba.
While in Klawock Alaska, +23,9°C / 75°F was measured at the weekend, what is the earliest 75°F on this place in history, in Jurarito, Cuba, +38,4°C / 100.4°F was measured /https://twitter.com/extremetemps/, what is very close to all-time temperature records.
Only last year, on 11. April 2020, all-time national record for Cuba was measured, with value only +39,3°C /https://watchers.news/2020/04/17/cuba-breaks-all-time-temperature-record//, what is less than all-time records in many central European countries.
Season of drought is peaking in Caribbean just during the spring months and then every year, hurricane season is coming.
In 2021, very strong, maybe TOP3 Hurricane season is in western Atlantic expected /https://mkweather.com/hurricane-and-tornado-season-2021-in-the-usa-above-average-expected-thanks-to-la-nina-forecast//.
Moreover, expected strong Tornado season 2021 is associated with more often Arctic outbreaks into Gulf Coast and Caribbean, therefore some tornadoes should appear is Caribbean islands, too.
On the other hand, Alaska is during La nina suffering persisting cold conditions, what are documenting measured extreme temperatures up to -42,7°C / 45°F in early April 2021 and snowfall records /https://mkweather.com/alaska-expects-record-april-coldwave-50f-below-45c-after-all-time-snow-records/; https://mkweather.com/extremely-cold-air-from-alaska-will-shift-above-the-usa-late-frosts-and-snowing-in-outlook//.
Despite of these cruel conditions, sometimes warm temperature anomaly will shift above these parts of the continent, including too cold northwestern Canada, and intensive warming up should surprise.
In next days, attention in the USA will be focused mainly on severe Arctic blast, which hits around 90 millions of people and brings a big threat for 2021´s harvest /https://mkweather.com/almost-90-million-americans-under-frost-or-freeze-warnings//.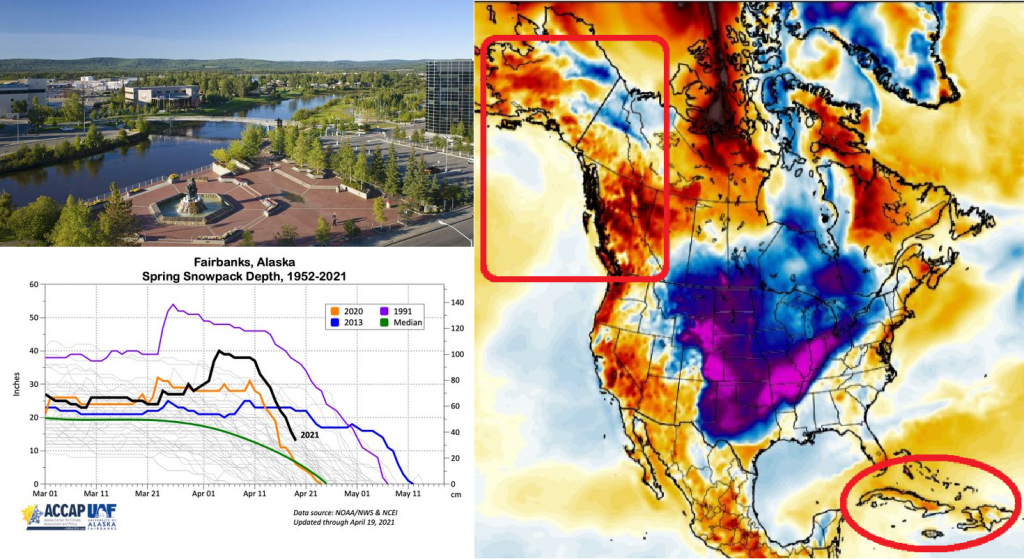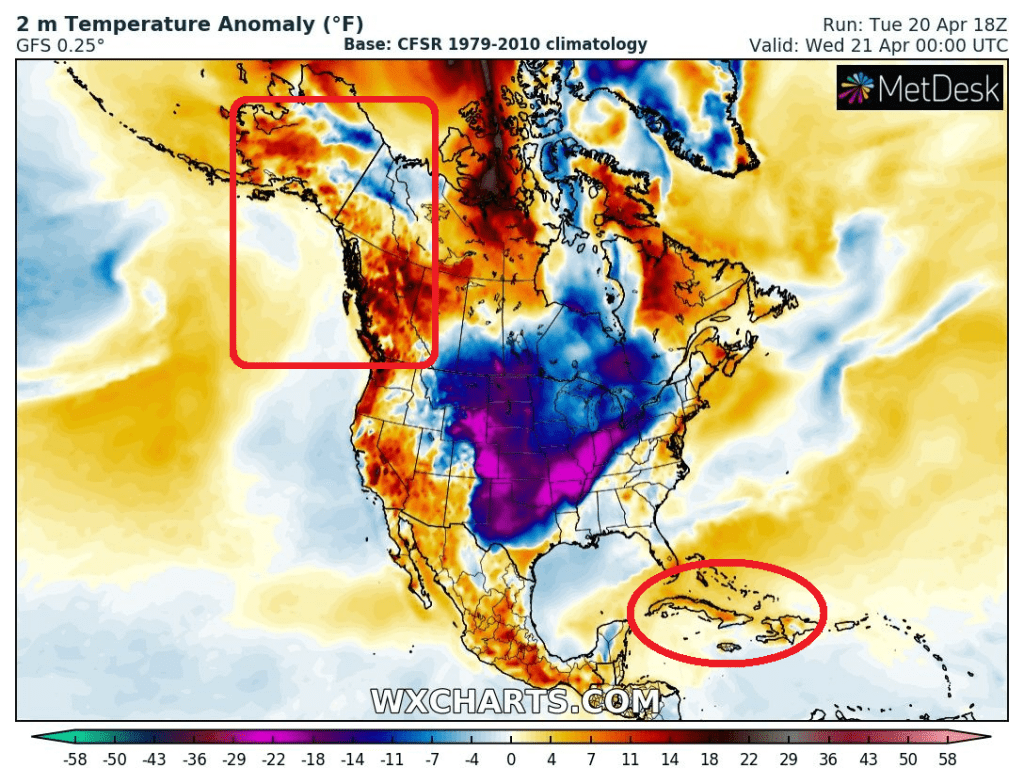 Read more: