Tanzania: The first tropical storm since 1952! Jobo hit the country in full power
Only the 3rd tropical storm in country in history, Jobo, early this week hit Tanzania, with some impact in Kenya, Mozambique and Madagascar.
Very rare tropical system was accompanied by 10-minnute sustained winds 120 km/h and wind gusts in coastal regions of Tanzania up to 150 km/h.
Pressure in the center of system dropped into 985 hPa.
A broad clockwise circulation near Mauritius was monitored already around 10. April 2021. Poor disturbance was shifting westward until 15. April without significant storm activity.
On 20. April the system reached a status of a tropical depression, while only 215 km from Madagascar coast didn´t strengthen to a tropical storm Jobo.
Jobo began to rapidly in favorable conditions with a moist atmosphere and low wind shear after 21. April and hit coast of Tanzania until 24. April 2021.
Remnants of the system were bringing heavy rains into Tanzania, including Tanzania´s capital Dar Es Salam. In Zanzibar was suspended all marine travel on 24. April.
Rainfall totals regionally around 200 mm (8 inches) were observed, what is equivalent of monthly rainfall for some regions.
Several interesting cyclones have appeared during ending African cyclone season 2020/2021, including South Africa or Somalia //https://mkweather.com/cyclone-eloise-hit-south-africa-mozambique-and-zimbabwe; https://mkweather.com/tropical-storm-guambe-with-155-km-h-winds-hit-south-africa-eswatini-mozambique-and-madagascar/; https://mkweather.com/the-first-somalian-hurricane-gati-category-4is-bringing-2-year-rainfall-for-48-hours//.
Thanks to La nina, powerful cyclone, typhoon and hurricane seasons are in various parts of the world in 2021 possible.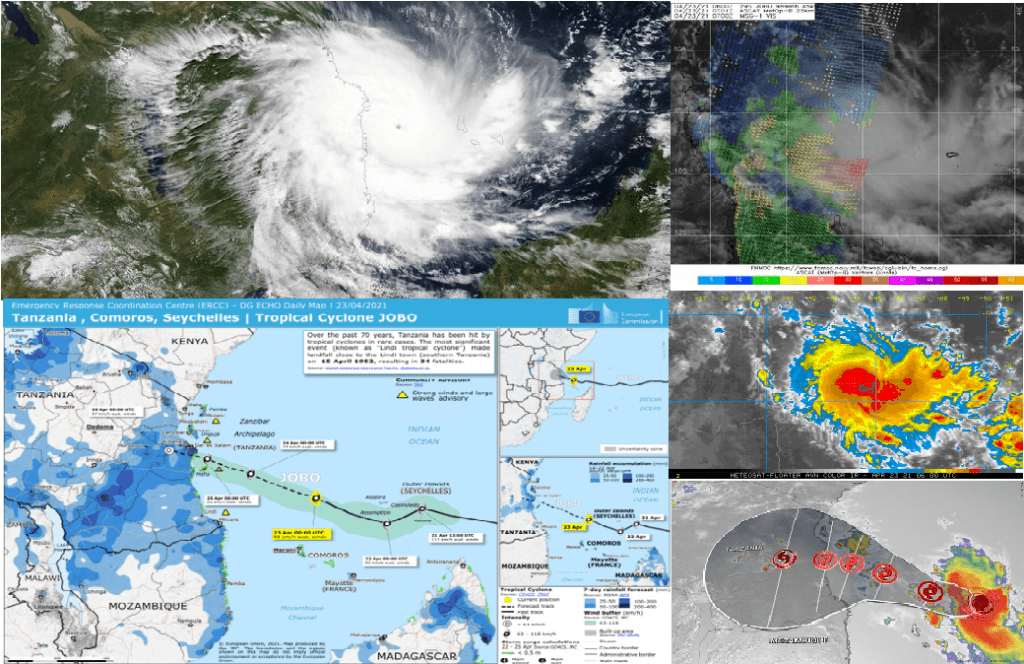 Read more: