France, Spain and Algeria still with late frosts, Norway, Sweden and Finland extremely warm
Another freezing morning in France, Spain and even Algeria and very warm weather in Scandinavia and too the beginning heatwave in Eastern Mediterranean and Turkey. That´s Monday, 19. April 2021 in Europe.
According to coolwx.com weather tool, in France were on Monday, 19. April still region, with the new daily temperature records. Extremely cold was too in northeastern Spain and northern Algeria.
The coldest was in Aurillac, France, 640 MASL, -3,4°C, Vitoria, the Spain, 503 MASL reported -2,0°C and Oum El Bouaghi, Algeria, 889 MASL -1,5°C.
On the other hand, the first +20°C of the year was recorded in Scandinavia – Goteborg in Sweden reported +20,1°C, Bergen in Norway +19,1°C and Ylistaro, Finland +17,9°C.
Even hotter was already in southern Turkey, in Osmaiye, +34,3°C. Above Eastern Mediterranean is flowing extremely hot air from Sahara and together with Middle East it will be a topic one of the next articles /https://mkweather.com/egypt-442c-libya-420c-hot-summer-in-southern-mediterranean-too-next-weekend-will-be-even-hotter//.
Frosts in Europe are forecasted to continue minimally until the start of the next, around 27. April, then cyclonic system will bring rains and then, the first serious heatwave is possible in Central Europe, Italy, Balkan and western parts of Eastern Europe /https://mkweather.com/europe-cold-mornings-until-25-april-then-cold-cyclonic-days/; https://mkweather.com/gfs-predicts-30c-for-central-europe-during-the-first-days-of-may-heatwave-should-hit-italy-balkan-and-eastern-europe-too//.
After cold spring weather, heatwaves and drought are forecasted for Summer 2021 from ECMWF /https://mkweather.com/deadly-heatwaves-in-europe-soon//. The first days above +30°C should arrive already in May 2021. April however will end in many parts of Europe such as one of the coldest in history.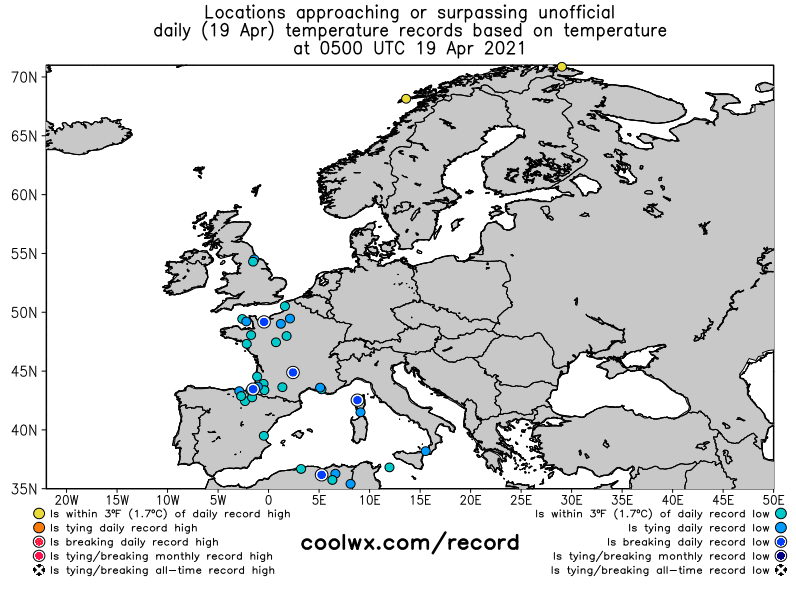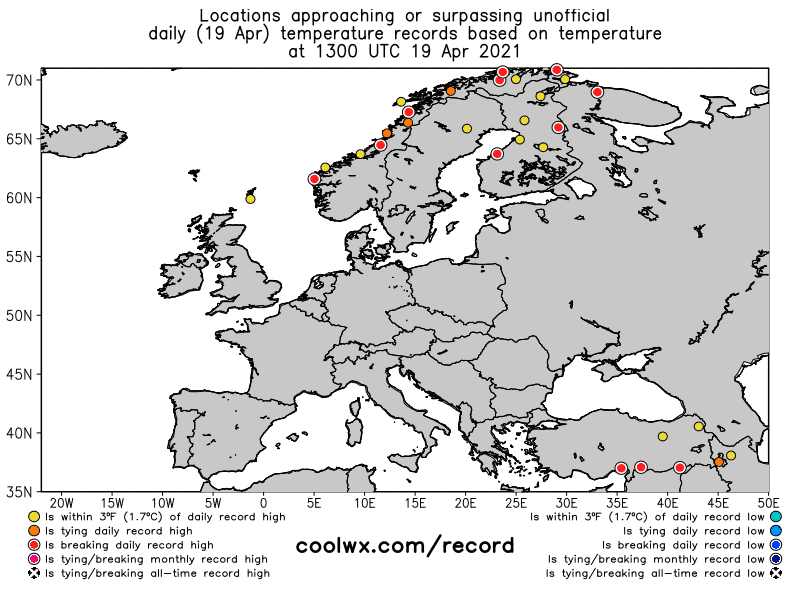 Source: coolwx.com
Read more: