Third round of April frosts is here: The UK -5,8°C, , the Netherlands -3,1°C, Germany -3,0°C, Belgium -2,0°C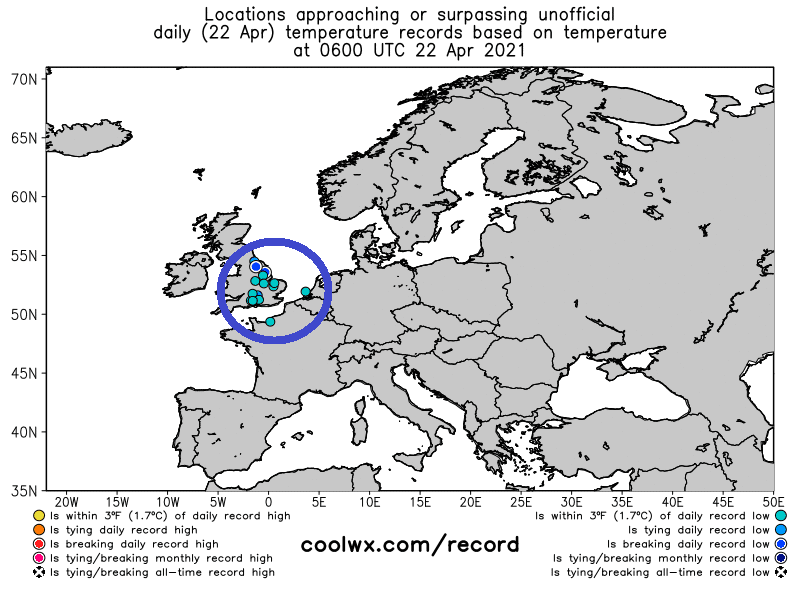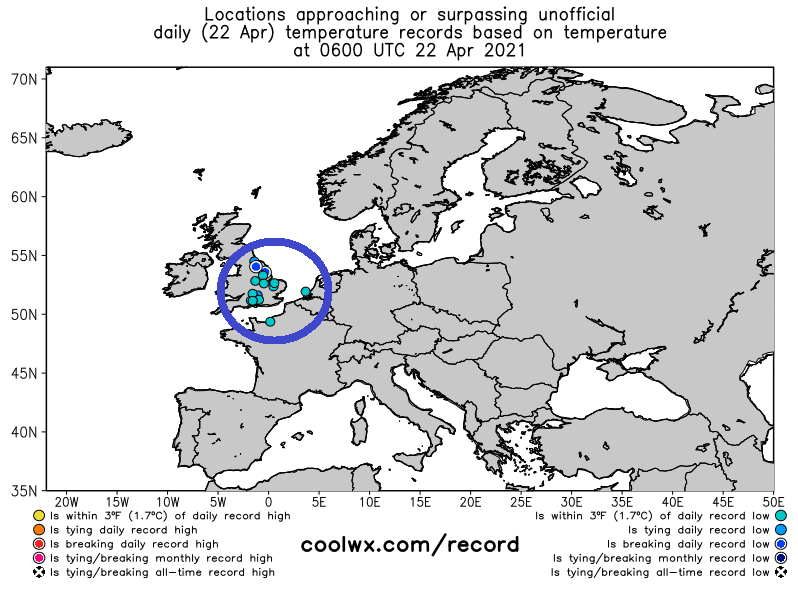 It´s Thursday, 22. April 2021 and in Europe is beginning the third round of severe frosts.
April 2021 in parts of Europe is extremely cold, in some parts the coldest in cca 100 years /https://mkweather.com/germany-suffers-the-coldest-april-since-1917-extreme/; https://mkweather.com/england-april-is-colder-as-march-the-coldest-since-1922//.
According to coolwx.xom weather tool, in the UK, daily temperature records should be on Thursday regionally overcame, but very cold was too in northern France, Benelux and Germany.
The coldest temperatures were measured in the UK – up to -5,8°C in Altnaharra. Aboyne, Scotland had 20 from 22 April 2021 days with frosts and the next frosts are expected in next days.
Very cold was in Benelux – Gilze – Rijen in the Netherlands reported -3,1°C and Mont Rigi in Belgium -2,0°C.
Kahlen Asten in Germany reported -3,0°C on Thursday, but frosts below -5°C, maybe in valleys up to -8°C are in next days expected.
Series of late frosts is expected in British Islands and continental Europe mainly between 22.-27. April 2021 /https://mkweather.com/the-next-round-of-frosts-between-22-27-april-hope-for-summer-in-early-may// and then summer outbreak is at the beginning of May 2021 possible – mainly in southern half of Europe /https://mkweather.com/summer-for-southern-half-of-europe-at-the-start-of-may-2021//.
It is possible, that during the next days, many parts of continental Europe will report frosts 0/-5°C, in valleys rarely up to -8°C, or maybe -10°C.
Forecasted models often underrate minimum temperatures, it means, that it should be 2-3, rarely 5°C colder near clear nights, such as e.g. GFS is showing.
If you are gardener, your plants and flowers probably will need the next protection in the region in next mornings.
Updated information about daily measured temperatures during the outbreak you will find furthermore on Mkweather.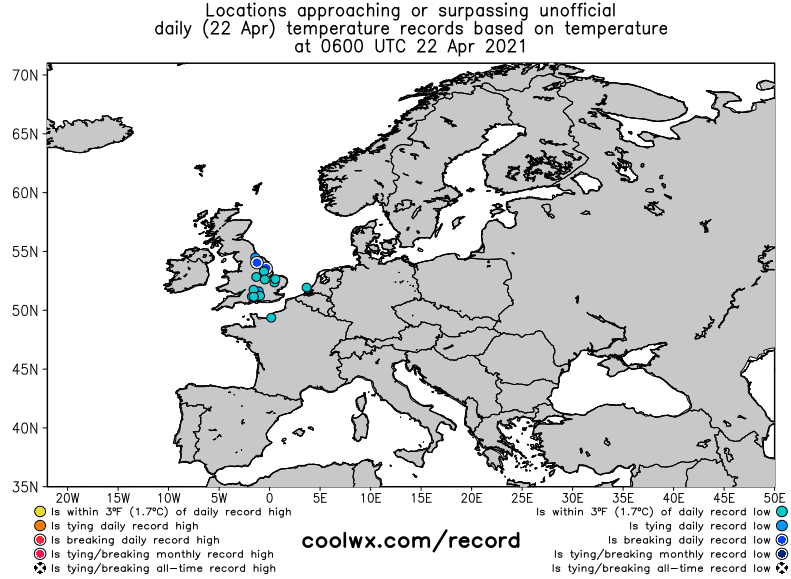 Read more: