The next cold morning in the Spain (-4,3°C), France (-4,1°C), the UK (-2,9°C) and the Netherlands (-2,3°C)
Only in last series of articles we have warned, that weaker, but still damaging late-season frosts in Europe will continue minimally until 25. April 2021 /https://mkweather.com/europe-cold-mornings-until-25-april-then-cold-cyclonic-days// and then, cyclonic character of weather with rain, is until the start of May 2021 in Europe expected.
Very cold air finally hasn´t move above Central Europe and stayed on west of the continent during the weekend.
After freezing Saturday (https://mkweather.com/wp-content/uploads/2021/04/image-519.png) and snow and temperature records from previous workweek /see our homepage/, the next freezing morning hit on Sunday, 18. April parts of the UK, France, the Spain, Belgium and the Netherlands, with regional all-time daily records for 18. April according to coolwx.com weather tool.
Locally, in northeastern Spain, all-time monthly records should be overcame.
Within stations from International Exchange Database, the coldest was untraditionally in the Spain, up to -4,3°C in Polyentes Casye, 720 MASL.
Frosts were strong mainly in northern parts of France and the coldest was in Geuret St. Laurent, 365 MASL, only -4,1°C.
In the UK, the coldest was in England, including London region. In Benson, 63 MASL, -2,9°C was measured.
Finally, Dellen, 48 MASL, the Netherlands, reported only -2,3°C.
Ground frosts in these locations should be even stronger, between -5/-10°C, therefore impact of frosts to harvest should be still regionally very damaging.
According to current prognoses of GFS, the strongest frosts, 0/-5°C, rarely up to -8°C should appear across continental Europe around Friday, 23. April 2021.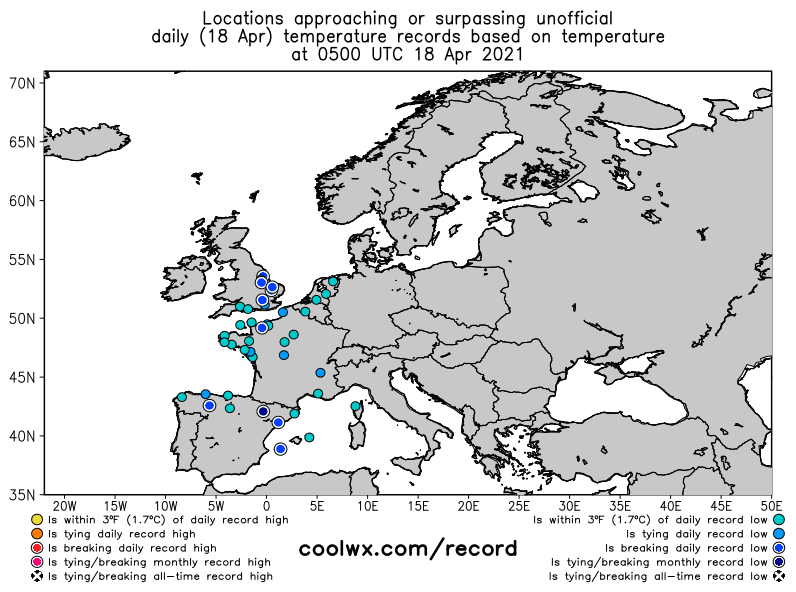 Read more: