Heatwave in the Arctic! Arkhangelsk +29,0°C, Finland +28,7°C, Sweden +26,5°C
While Europe experiences with cold and stormy weather and only before a week, Finland was hit by severe snowstorm /https://mkweather.com/finland-hit-severe-snowstorm-with-30cm-of-fresh-snow-oulu-only-3-days-above-10c-since-winter-year-without-spring//, northern European Russia, Finland, Estonia and eastern Sweden report strong heatwave.
It´s the first powerful heatwave in region around Arctic Circle in 2021.
In Arkhangelsk, northern Russia, on shores of Arctic Ocean, maximum temperature +29,0°C was observed on Thursday, 13. May 2021.
All-time May record for Arkhangelsk is +31,4°C from the last days of May, in summer should temperature in region reach up to +37,0°C.
Heatwaves in the Arctic, however, should be even more effective in far Siberia or Canada /https://mkweather.com/38c-101f-behind-polar-circle-in-siberia-5-years-after-unprecedent-event-with-40c-104f-in-nunavut-northern-canada//.
Summer weather surprised on Thursday Finland and Sweden, too, including northern parts, with temperatures up to +28,7°C in Ylivieska (morning temperature minimum only +3,3°C), Finland and +26,7°C in Torpshammar (morning temperature minimum only +2,3°C), Sweden.
In Finland, it´s earliest +28°C in history and heatwave will significantly contribute to snow melting /https://mkweather.com/finland-sweden-and-norway-fears-that-snow-wont-melt-in-the-summer//. However, in Lapland, duration of hot weather was limited and while Rovaniemi (capital of Lapland) reported on Thursday +24,4°C, Inari, not so far away, reports on Friday, 14. May already ice day, with maximum temperature only -0,1°C.
In Narva, Estonia, +27,2°C, was measured.
Summer and tropical weather was in last days observed from many parts of European Russia and Western Siberia, in Caucasus temperatures reached almost +35°C (+34,8°C in Zugdidi, Georgia).
Across southern Siberia and Kazakhstan, devastating wildfires are moreover reported and fire should expand into Moscow region, in case, that the next severe heatwaves hit Eastern Europe /https://mkweather.com/may-brings-heatwaves-in-europe-estimates-of-national-maximum-temperatures-hot/; https://mkweather.com/ten-times-as-many-wildfires-in-siberia-than-usual-central-asia-abnormal-40c//.
Seasonal forecasts for Summer 2021 expect hot Middle East, Central Asia and eastern and southern Europe in next months, therefore, maybe soon, European Russia, Scandinavia or Eastern Europe will surprise with the next exceptional heatwaves.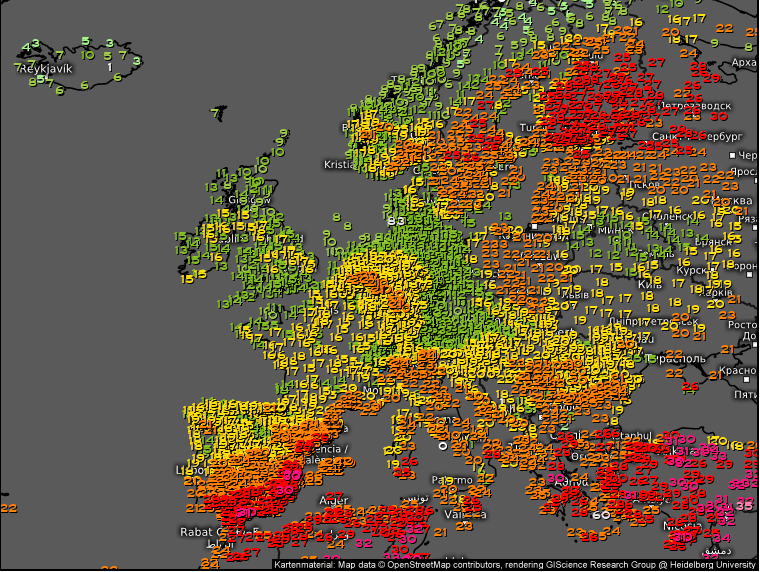 Read more: