The worst drought in 20 years in Brazil! Harvest in danger!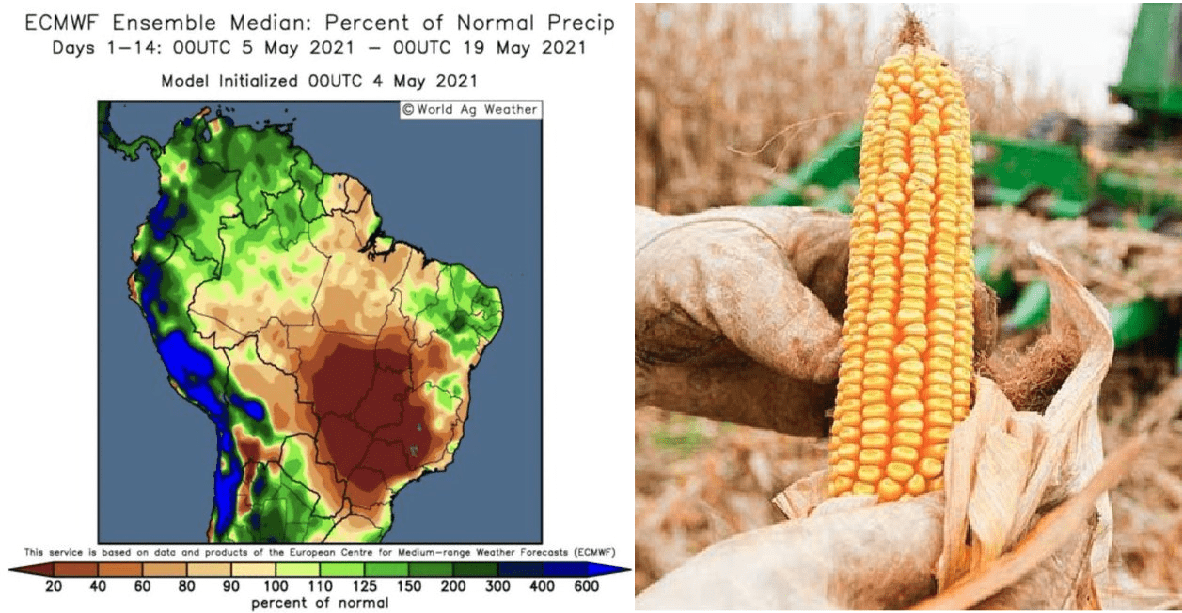 Key corn growing areas in Brazil have gone weeks without significant rain. Drought is expected to have a drastic impact on Brazil's largest annual corn crop.
While Amazon and northern states of South America are suffering severe floods /https://mkweather.com/floods-in-manaus-brazil-and-caracas-venezuela-extreme-heatwave-in-paraguay-370c-south-america// and southern parts of South America are suffering the first serious frosts /https://mkweather.com/winter-arrived-in-patagonia-very-early-maquinchao-argentina-115c-only-68c-from-all-time-may-record//, central parts of the continent report heatwaves and severe drought /https://mkweather.com/heatwaves-in-southern-hemisphere-paraguay-370c-south-africa-355c-new-zealand-282c//.
The worst situation with drought is in southern and central Brazil, mainly Mato Grosso do Sul and Paraná states, which are major producers of corn.
In 14 day period between 5.-19. May 2021, below 20% of precipitation long-term average is expected to fall in the region and harvest of corn, soybean and wheat thanks to persisting drought should be in danger.
Brazil will become more dependent on thermal power plants to compensate for reduced hydroelectric generation resulting from the country's worst drought in two decades according to Reuters.
According to Farm Policy, drought in South-Central Regions Lowers MY 2020/21 Production by 6 Percent.
Moreover, lack of water supplies is present in many parts of the country, since season of drought in southern half of Brazil has started.
Not only extreme late frosts in Europe, North America and Asia, but too severe drought in Brazil contributes to weaker harvest in 2021 globally. Fortunately, La nina is more favorable phase of ENSO for agriculture in the most of warm climates, therefore mainly mid-latitudinal commodities should be affected thanks to severe late frosts in 2021.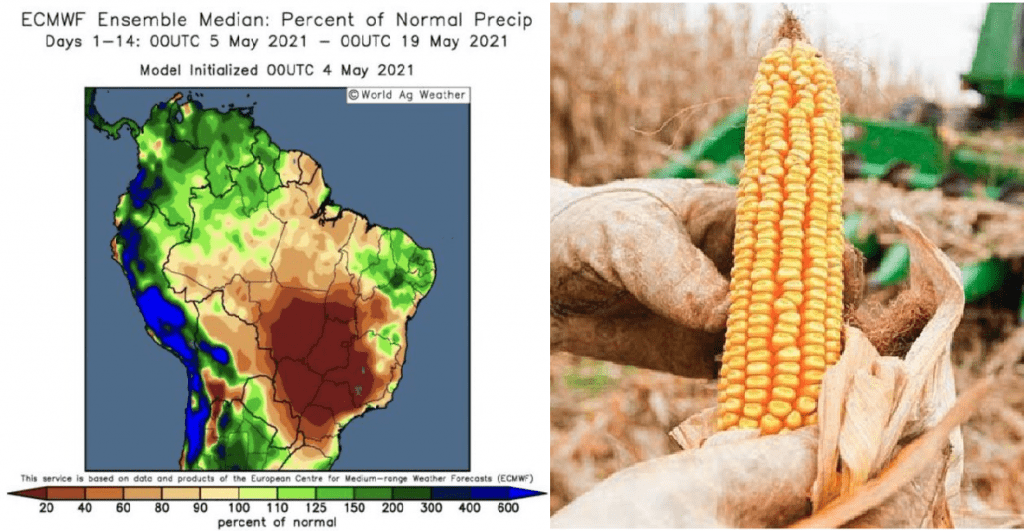 Read more: