-25°C for Slovakia, Czechia, Poland, and Austria?!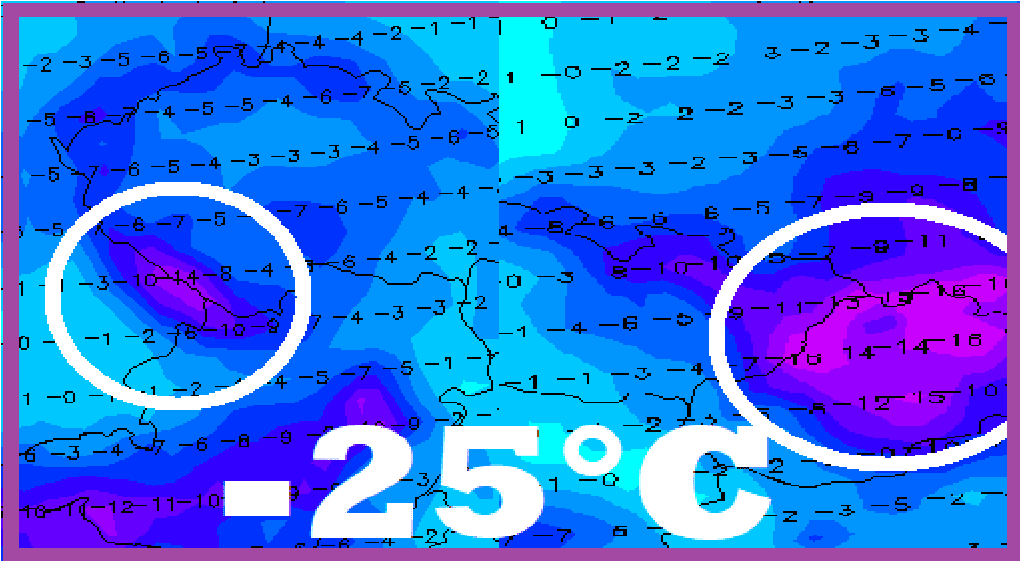 After surprisingly cold GFS outputs for France, Germany, British Islands, or Iberia are coming to the next extreme outputs – for East-Central Europe.
Although isn´t fully clear, which region will be by upcoming coldwaves hit the most, current outputs from 8. November 2021 06Z see chances for extremely cold minimum temperatures up to -25°C for Slovakian, Czechia, Polish, and Austrian frost basins and valleys below 1000 MASL!
Previous outputs predicted -20°C, or even -25°C in France or Germany, -35°C in Scandinavia or -18°C for Scotland /https://mkweather.com/aggressive-gfs-outputs-expect-abnormal-winter-35c-scandinavia-25c-continental-europe-18c-the-uk-the-uk-france-germany-all-under-the-snow/; https://mkweather.com/europe-expects-10-days-of-arctic-winter-continental-europe-20c-scandinavia-and-moscow-region-30c//.
Extreme coldwaves in Europe will be a result of persisting AO- phase in the next weeks, which will end maybe only shortly before Christmas 2021 /https://mkweather.com/be-prepared-for-an-extremely-long-and-strong-coldwave-arctic-blasts-in-europe-between-10-november-15-december-are-expected//
Almost all Central Europe is forecasted to sink under a (regionally very deep) snow cover in the next 16 days, which will be probably the strongest factor of possible anomalous frosts in valleys and basins with deep snow cover 10 – 50 cm, rarely up to 1 meter.
The highest amounts of snow should fall just in the Alps, the Carpathians, and Bohemian Massif in altitudes around 500 – 1000 MASL, including densely populated frost basins.
Extremely cold temperatures below -15°C should appear near a synoptic situation like this in lowlands, rarely, too, if snow cover will be enough deep and air masses very dry during the night.
This type of weather should be associated with problems on roads and highways, bad conditions for outdoor activities and tourism, and a virological situation should be worsened.
Mkweather will be furthermore watching the situation and in the case of the next extreme outputs for parts of Europe, we will bring fresh news about an upcoming severe Arctic blast already in the next days.
The last update of the Winter 2021/2022 forecast you will find here: https://mkweather.com/winter-2021-2022-forecast-for-northern-hemisphere-an-awakening-solar-activity-la-nina-neutral-nao-ao-wet-mjo-and-iod-to-drier-mjo-and-iod-qbo-ne-pacific-warm-blob-aao/.