A few days before Summer 2021 a giant snowstorm in NW USA!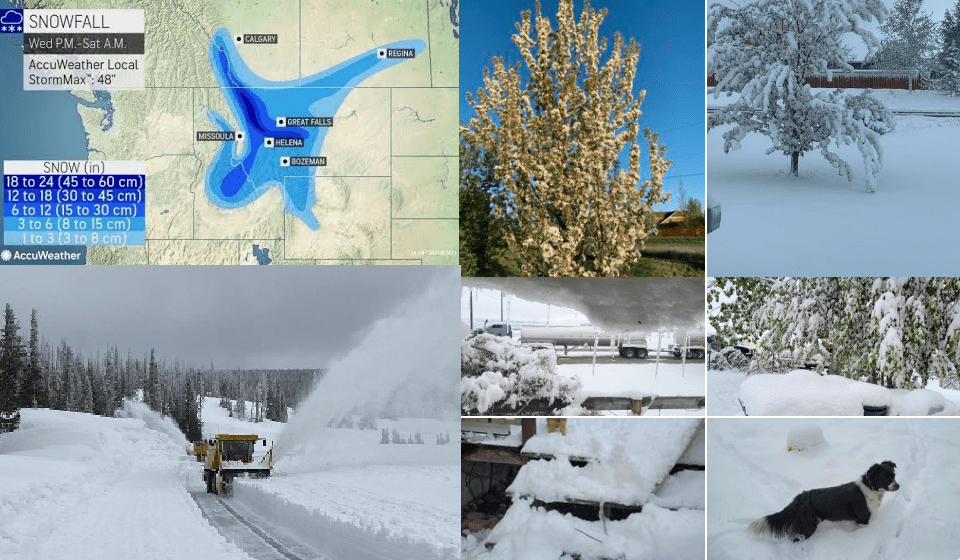 After unseasonably snowfall hit Edmonton, Alberta, Canada /https://mkweather.com/from-summer-into-winter-after-334c-saskatchewan-snowing-in-edmonton-alberta-canada//, extremely cold Arctic air from the Arctic has shifted above northwestern and northern USA with a result of heavy snowfall in Montana and parts of Idaho and Wyoming.
Snowfall appeared too in Canada from British Columbia to Saskatchewan.
In Montana, locally 18 – 24 inches (45 – 60 cm) of fresh snow in last days has fallen and snowstorm hit populated, relatively lower situated areas, too, including Helena, Montana´s capital, Great Falls or Bozeman.
Very rarely, in windward positions of Rocky Mountains, up to 48 inches / 120 cm of snow has fallen.
Region was experiencing during the Spring 2021 with several heatwaves and trees and gardens hit a temperature shock and snowfall really in late season, only cca 10 days before the start of meteorological summer.
"Merry Sprinter! We are buried under 10+ inches of snow this morning in SW Montana. Dogs are confused. It was 85 degrees / +30°C a week ago." wrote watchers of snow event from southwestern Montana on Twitter.
It´s a truth, that western and west-central Canada will be furthermore cold in next months, thanks to La nina and cold blasts in Summer 2021 should surprise with rare "winter in summer" events in selected localities in northern USA below 1000 MASL or Canadian Prairies.
Meanwhile, in western USA, hot and dry Summer 2021 with wildfires is forecasted /https://mkweather.com/wildfire-forecast-for-the-usa-2021-10-millions-acres-burned-the-next-extreme-season-western-usa//, while on East, stormy Summer 2021 is expected /https://mkweather.com/summer-2021-forecast-for-north-america-hot-stormy-east-and-dry-west/; https://mkweather.com/hurricane-and-tornado-season-2021-in-the-usa-above-average-expected-thanks-to-la-nina-forecast//.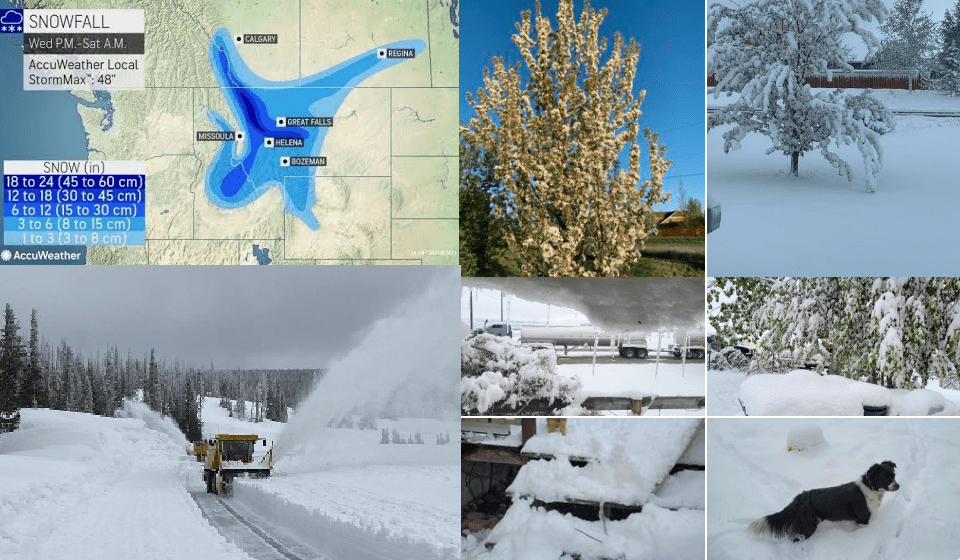 Read more: