Tropical system has appeared on GFS outputs from 15. May 2021 for cca 22. May 2021 on southern coast of the USA.
For now, it´s not known, if system will be classified only such as a tropical depression, a tropical storm or even a hurricane.
System firstly will bring severe storms in Cuba and Florida during workweek, then is forecasted to shift somewhere above Louisiana coast, maybe more eastward, maybe westward.
Conditions mainly near Cuba and Florida will be very good for so early season, but sea surface temperatures in Gulf Coast states is still relatively cold.
Only in last workweek, above Atlanta appeared temperature anomalies -30°F from long-term average, more southward however persists very hot subtropical to tropical weather.
If were forecasts about the first tropical storm of the year 2021 successful, Gulf Coast should be prepared for the first tropical activity warnings in states from Texas to Florida.
Tropical storms should be dangerous mainly thanks to its precipitation activity and heavy rains are often bringing severe floods, despite of weaker wind gusts reached within the system.
Although tornado outbreaks should be in this season in southern USA more dangerous such as tropical systems, it doesn´t need to underrate.
If tropical system will develop into tropical depression or tropical storm in net week, we will inform about it on Mkweather.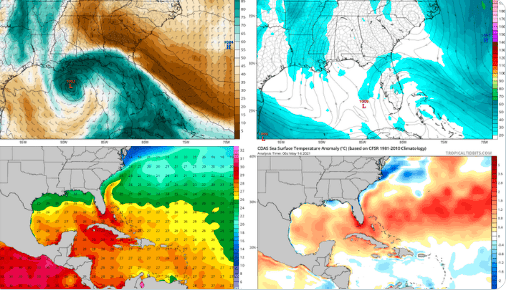 Read more:
(Visited 15 times, 1 visits today)