Satu Mare, Romania: The worst storm in 20 years
Severe storms on Thursday, 13. May 2021 didn´t hit only Poland and neighboring countries /https://mkweather.com/severe-storms-flooded-poland//, but the worst floods in 20 years were reported too from northwestern Romania.
While in neighboring western Ukraine, tornado has occurred, in Satu Mare region on Hungarian / Ukrainian border, floodwater surprised several cities and villages.
The worst situation was in Răteşti and Supur, on Crasna river.
Only in 3 hours fell 70 mm of rain, what is the strongest rainfall in short time since 2000.
150 of households were evacuated and thousands of livestock have been lost.
Severe storms are forecasted for the Carpathians and the Alps until the end of May 2021, with the next risk of regional flash floods.
Severe storms with heavy rainfall should appear in Poland, Belarus, Germany, Benelux or British Islands, too, in other parts of Europe should appear hails, winds or damaging lighting.
According to wxcharts.com weather tool, accumulated precipitation up to 125 mm (what should mean local amounts 200 mm) is forecasted for Carpathian parts of Romania until the end of May 2021.
At the end of May 2021, powerful heatwave for Europe is still forecasted /https://mkweather.com/heatwaves-in-late-may-and-early-june-2021-are-confirming-should-hit-all-europe//.
Before the heatwave, and during nights with clear skies in cold air (after storms), last ground frosts should appear in Carpathian basins and valleys /https://mkweather.com/top5-coldest-mornings-with-ground-frosts-in-europe-until-25-may-2021//.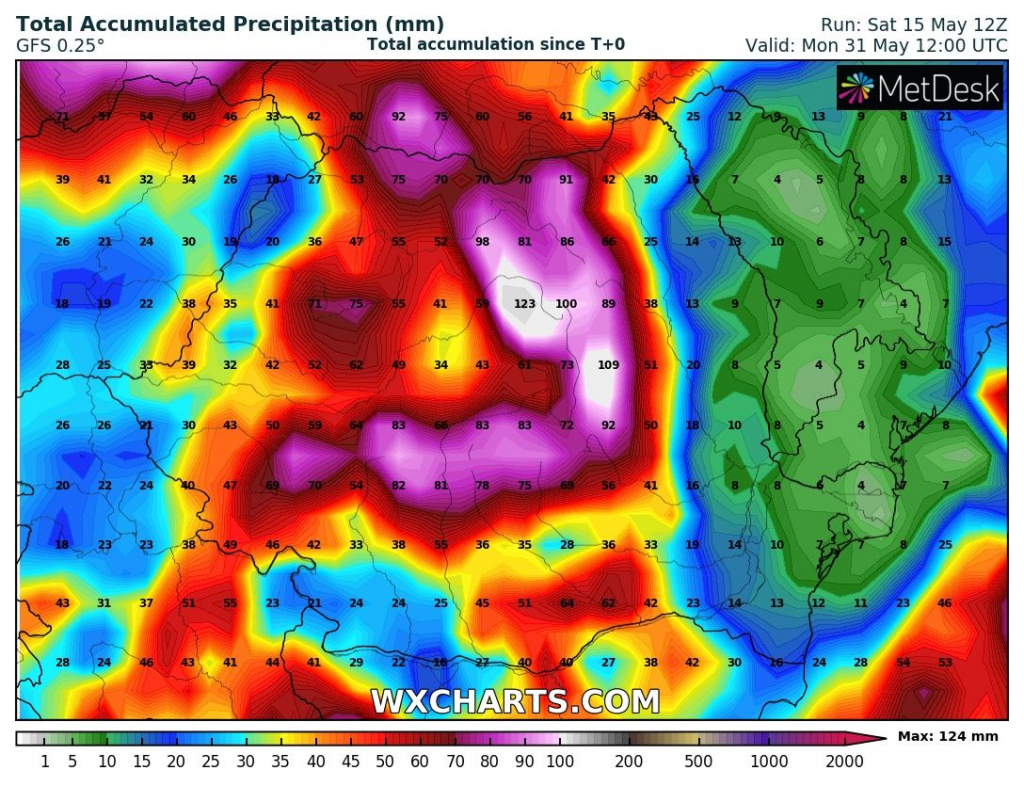 Read more: