Possibility of summer (+25°C) or even tropical heatwave (+30°C) in continental Europe between 5.-15. May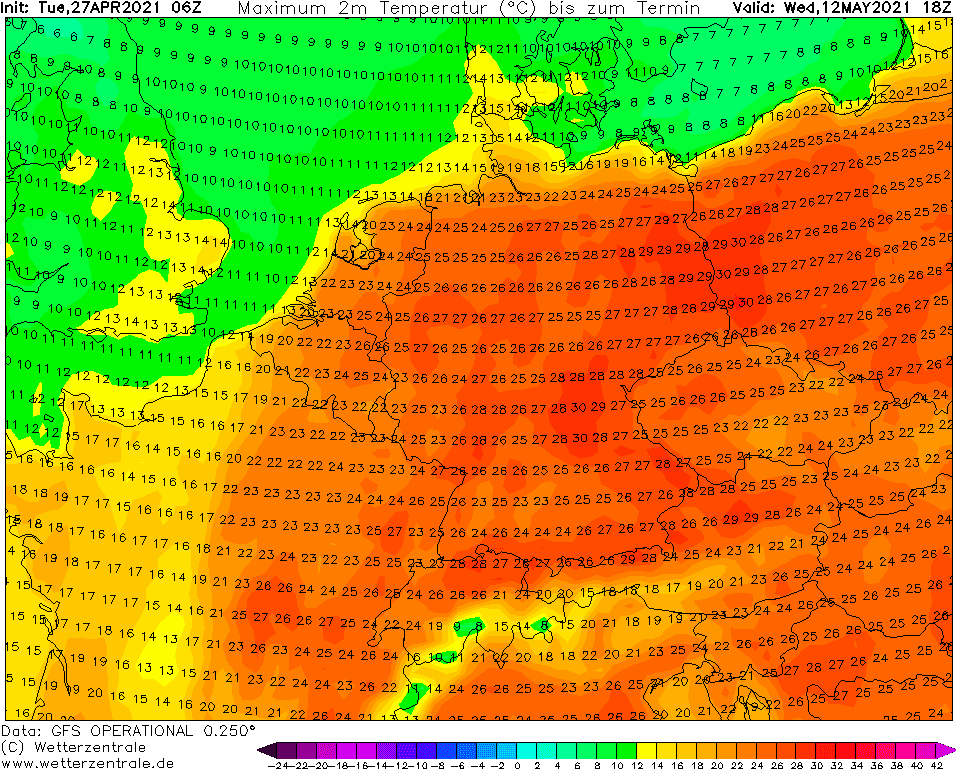 Europe experiences with extremely cold April 2021 and only early current week was peaking the third April coldwave with temperatures up to -7,2°C in Poland /https://mkweather.com/extreme-frosts-still-bother-europe-3rd-april-coldwave-the-strongest-in-poland-72c-harvest//.
Only in last series articles we wrote about the coldest April in Benelux in last 30-50 years and the coldest mid-Spring period in France in all-time history  /https://mkweather.com/coldest-april-in-the-netherlands-in-30-50-years-in-belgium-in-35-years/; https://mkweather.com/france-the-coldest-mid-spring-in-all-time-history//.
Parts of the UK or Germany even reported before 20. April the coldest conditions since 1922 and 1917 /https://mkweather.com/england-april-is-colder-as-march-the-coldest-since-1922/; https://mkweather.com/germany-suffers-the-coldest-april-since-1917-extreme//.
After very long and extremely cold weather is appears for better times for Europe, with summer or even tropical temperatures in parts of continental Europe.
Until 7. May 2021 however, the next light frosts or ground frosts should appear in British Islands or above continent.
Although expected heatwave has shifted from early May 2021 to period between 5.-15. May 2021, according to ensembles, fields with summer or tropical temperatures above Central Europe should make happy many of us after never-ending frosts and cold weather warnings.
While some runs of GFS are more careful, with only +25°C possibility (22°C on maps and more, note: it needs to add cca 3°C to reach the absolute national maximum) mainly above eastern parts of Central Europe (and too very hot weather in Italy, Balkan, Greece, parts of Eastern Europe…), some are extremely hot, with +30°C values above Germany or Poland, what means temperatures locally up to +33°C!
For the first +30°C in the region is needed to reach minimally +14°C in 850 hPa, while for 33°C minimally +17°C in 850 hPa. +25°C will be reach with only +9°C in 850 hPa.
Almost all runs expect minimally +10°C in 850 hPa and more and approximately 1/2 of runs expect +15°C in 850 hPa or more during the peak of potential heatwave, therefore chance for summer days between 5.-15. May is now very high, above 90%, while chance for tropical days should be 50:50.
+25°C however should surprise already in the first May 2021 days – in Central Europe mainly in Hungary, Slovakia or Poland. Balkan, Greece and Italy will be already during the first May 2021 days very hot.
Problematic should stay during all the first half of May 2021 British Islands and parts of western and northern Europe, without more significant heatwave or warm spell. Mainly in British Island, the next strong frosts, in Scotland or northern England below -5°C are in May 2021 still possible.
GFS Ensemble from 27.4. 06Z for Vienna /wetterzentrale.de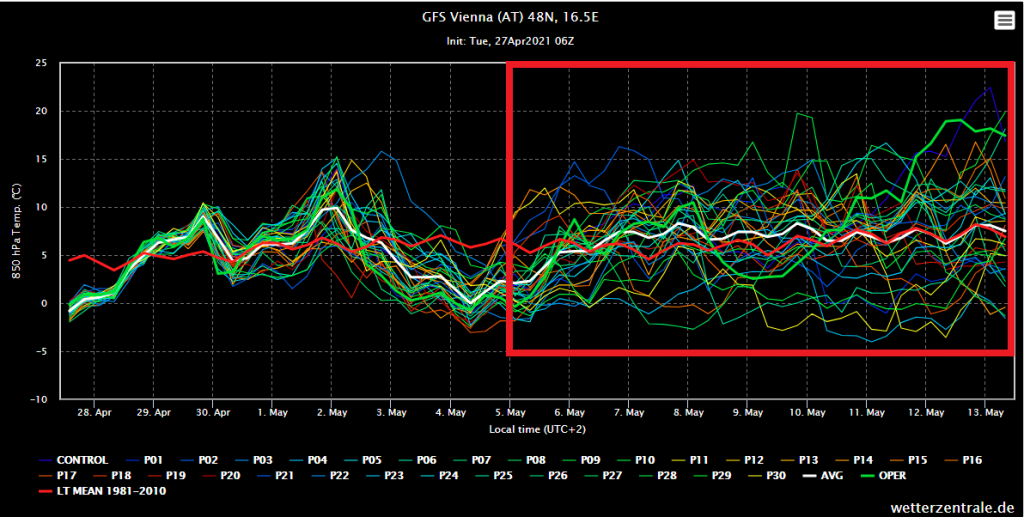 The peak of heatwave according to last 4 main runs of GFS /wetterzentrale.de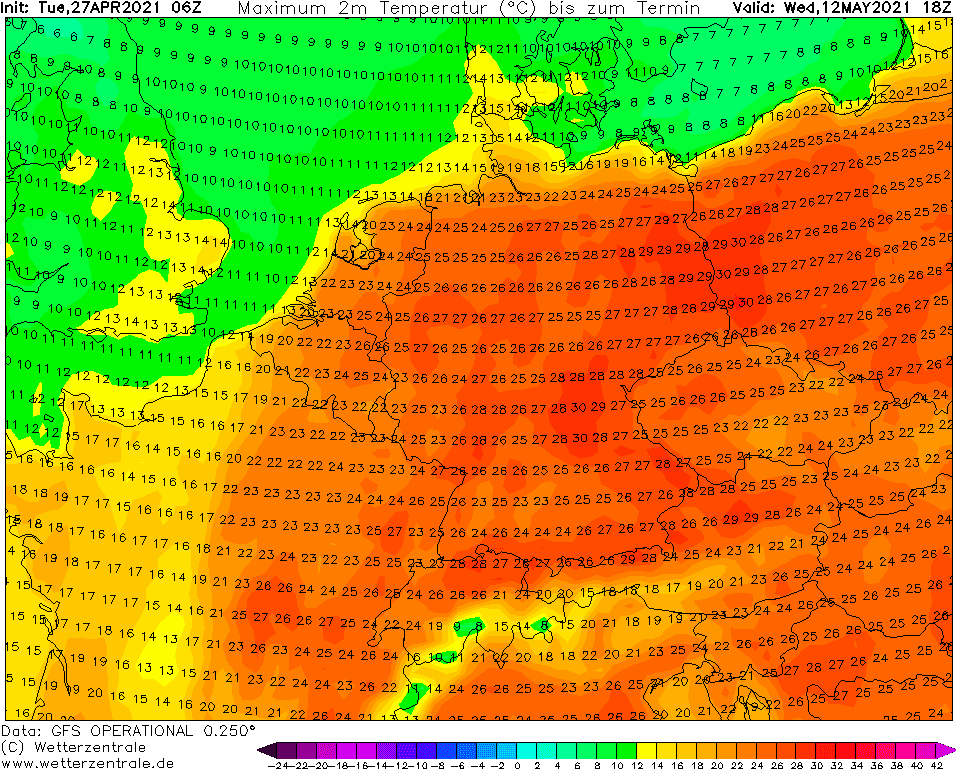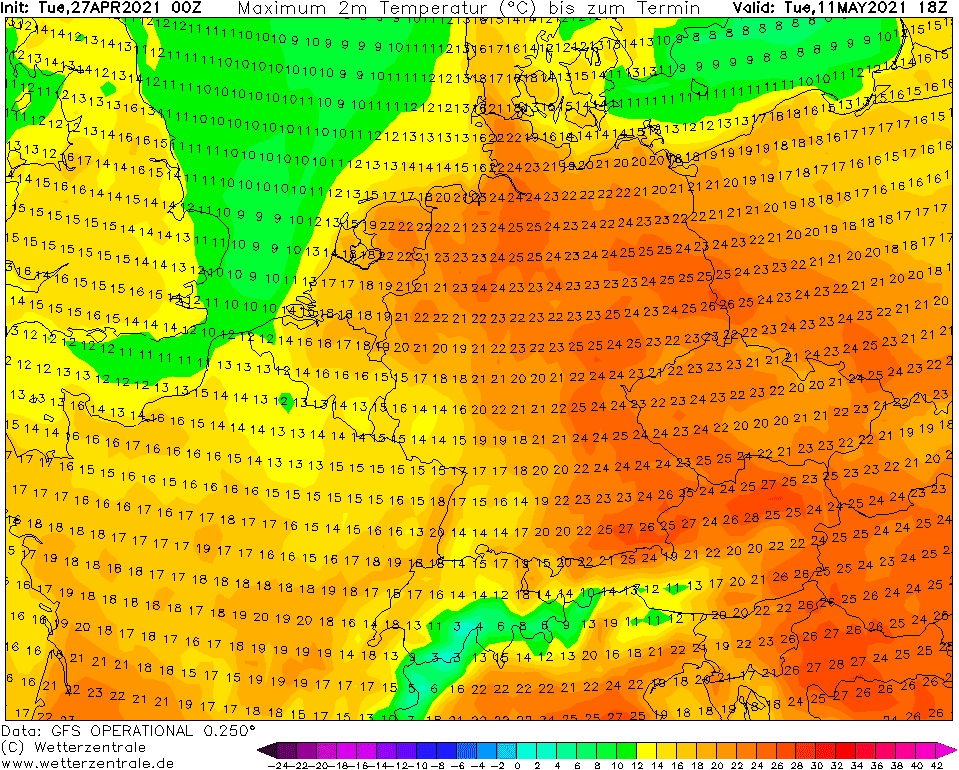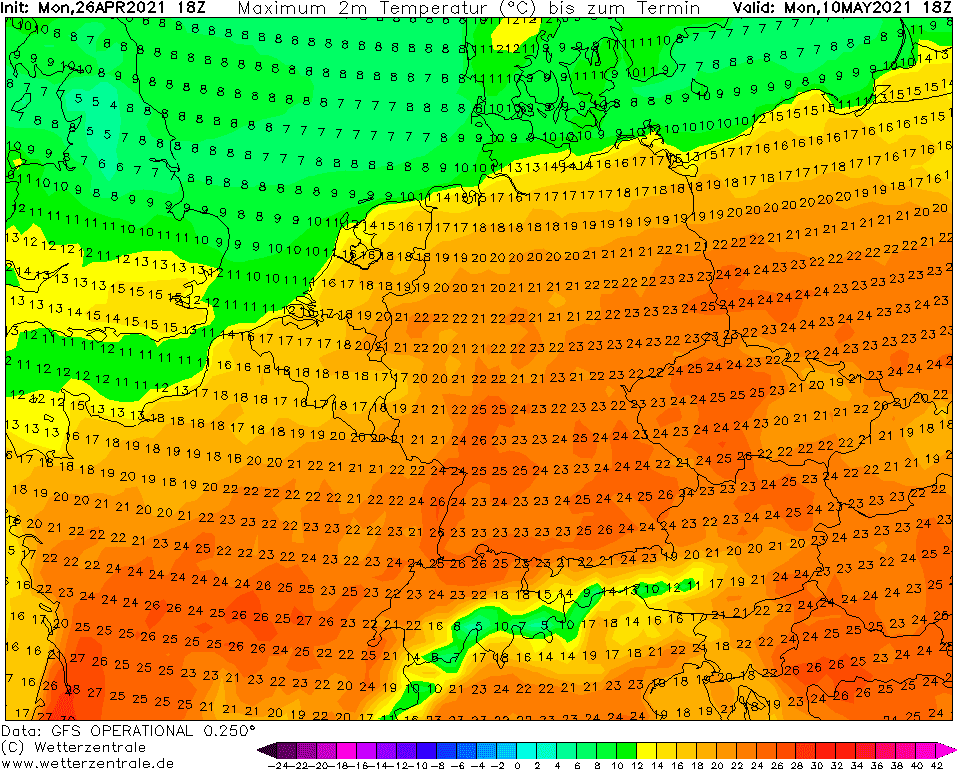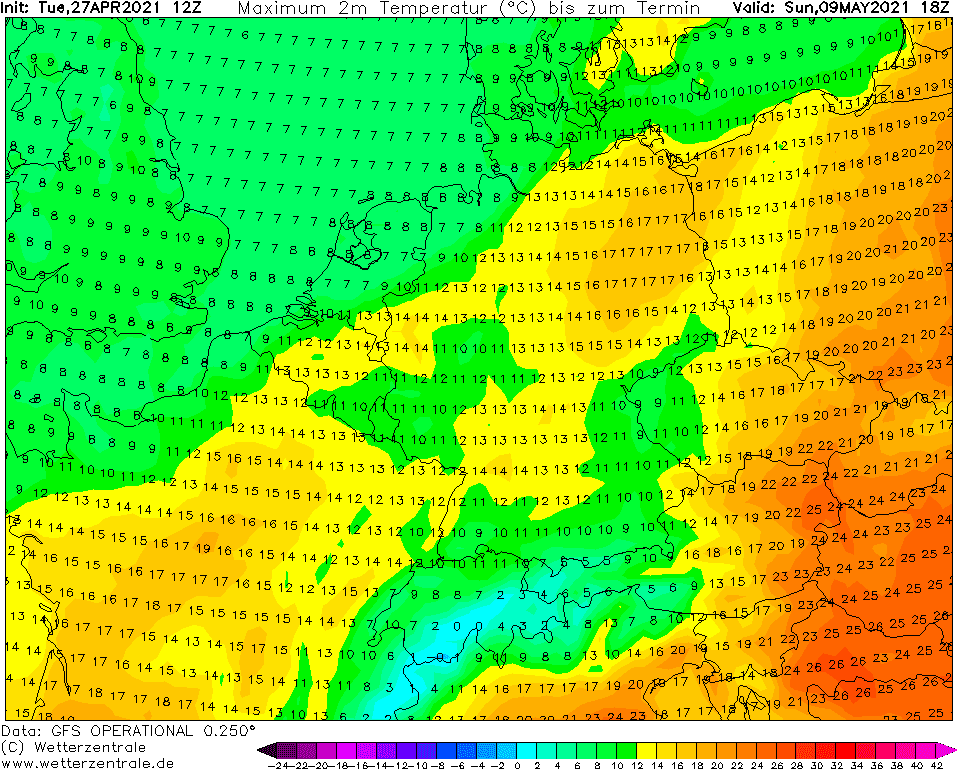 Heatwave at the start of May 2021 hits mainly Italy, Greece and Balkan (but too Hungary and maybe parts of Slovakia and Poland) /wetterzentrale.de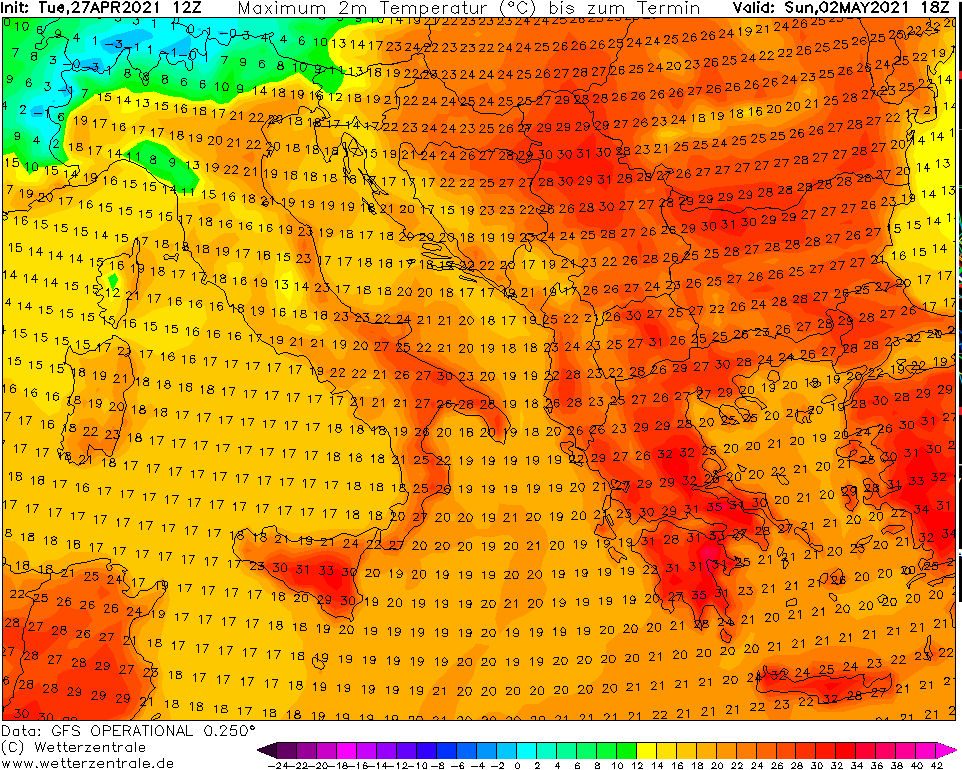 Read more: