The Arctic sea ice extent is the 2nd highest in 18 years!
It's even colder than we thought!
Only in November 2021 Mkweather informed about anomalously low Arctic Sea Ice Extent, which was the 2nd highest in the last 15 years /https://mkweather.com/arctic-sea-ice-extent-is-the-2nd-highest-in-15-years//.
After extreme early North-Hemispheric coldwaves /e.g. https://mkweather.com/historical-times-for-siberia-610c-has-never-been-measured-so-early/; https://mkweather.com/the-worst-predictions-came-true-sweden-427c-the-lowest-temperature-in-naimakka-in-december-in-all-time-history/; https://mkweather.com/canada-511c-the-first-50c-and-lower-temperature-in-december-since-1998//, the Arctic has become even colder, with a current (from the last December 2021 days) status of seasonal record of the Arctic Sea Ice Extent, which is the 2nd highest in 18 years (since 2002)!
Signs, that Winter 2021/2022 should be anomalously cold in the Arctic, were evident already around the end of Summer 2021 when vessels in the Canadian Arctic reported all-year sea ice along NW Passage /https://mkweather.com/a-lot-of-arctic-sea-ice-northwest-passage-canadian-arctic-should-be-closed-for-the-first-time-since-2008//, with impossible trips into Arctic Canadian regions during the maximum of sea ice melting.
Ships transiting through the Northern Sea Route were blocked by anomalous sea ice cover in November 2021, too /https://mkweather.com/20-vessels-stuck-and-ice-locked-in-northern-sea-route-the-arctic//.
On 31. December, 13.005 million square km of Arctic Sea Ice was covering the Arctic, partially thanks to Hudson Bay, which has delays around 1 month, but finally, frozen before the end of the year 2021.
Sea ice grew fast particularly in the Greenland Sea, in the Sea of Okhotsk, according to Severe Weather Europe.
Other parts of the Arctic, however, hadn't any delays and some regions were even above the long-term average 1981-2010, e.g. SW Alaska, European Russia, or Hokkaido, Japan.
Below average are still Eastern Canada, Western Greenland, and the region westward from Svalbard.
Although the current sea ice extent is anomalously high, still it´s not enough to reach cold 70-s, 80-s, or 90-years.
Extremely cold conditions hit in the last 1,5-month period mainly north-Asian and Scandinavian sector, but gradually has joined Alaska and NW Canada.
Western Greenland and Eastern Canada had problems with early-season heatwaves with an origin in the USA.
A big switch of circulation patterns is forecasted already in February and March 2022, with an expected NAO+ phase, which will strengthen winter conditions in the north-American sector of the Arctic, while regions affected by Gulf Stream and NAO+ in northern Europe will suffer from the melting of the Arctic sea ice. Late-season frosts from a possibly extremely cold Arctic should flood continents around April 2022, when neutral NAO with NAO- episodes are, for now, forecast.
Will we see a break a record from the year 2014 in the next period, or even, will be recorded the highest Arctic Sea Ice Extent for more than 20 years (in the 21. century)?
Strengthening of the winter is forecast in North American sector, and around 20. January 2022 appears for the next peak of Winter 2021/202 in Europe – a very important sector for the Arctic, therefore the Artic Sea Extent is staying in our watch.
Illustration graph and picture: NSDIC, https://www.bangkokpost.com/world/1954931/climate-change-on-track-to-wipe-out-polar-bears-by-2100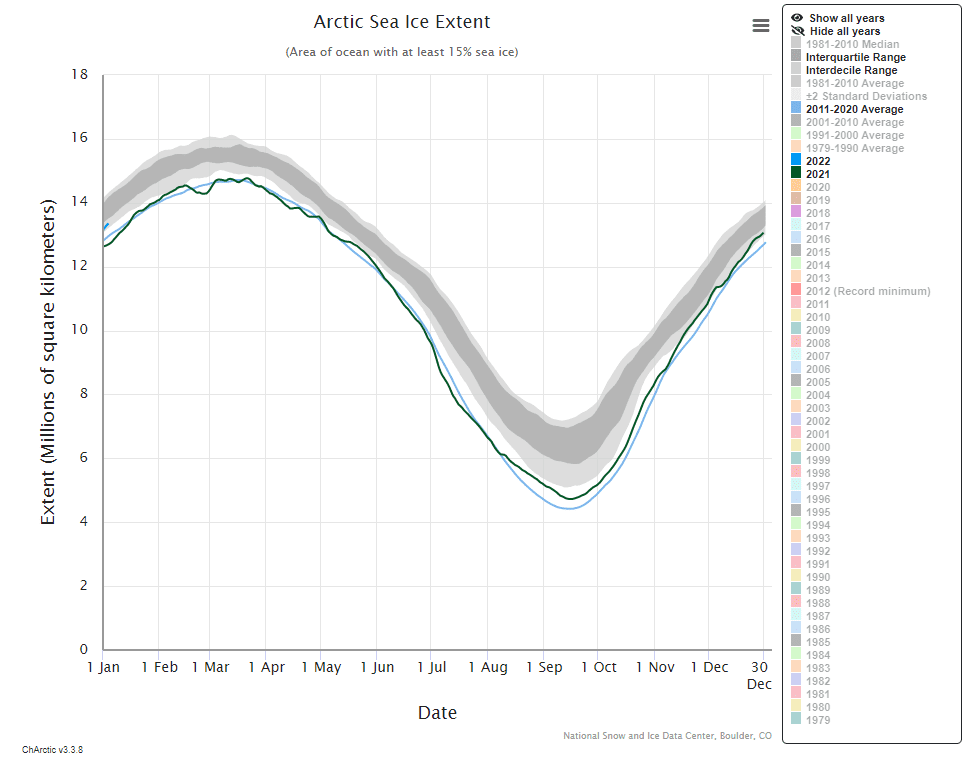 Source: https://nsidc.org/arcticseaicenews/charctic-interactive-sea-ice-graph/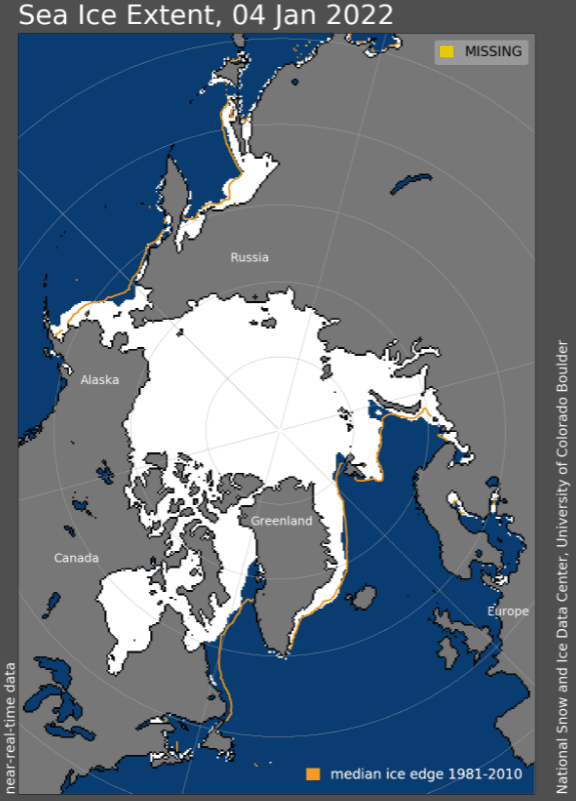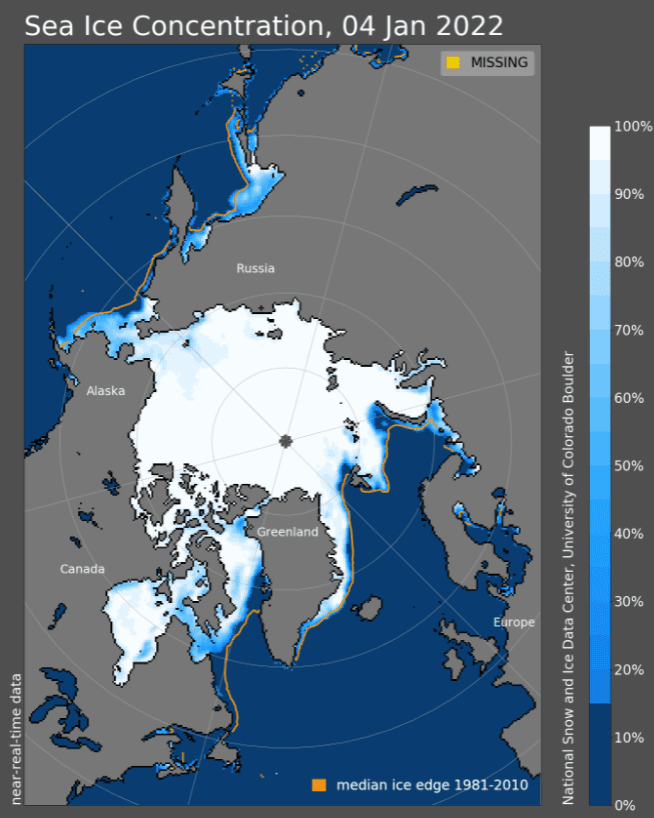 Source: https://nsidc.org/arcticseaicenews/sea-ice-tools/